Erasmus: Recommended resources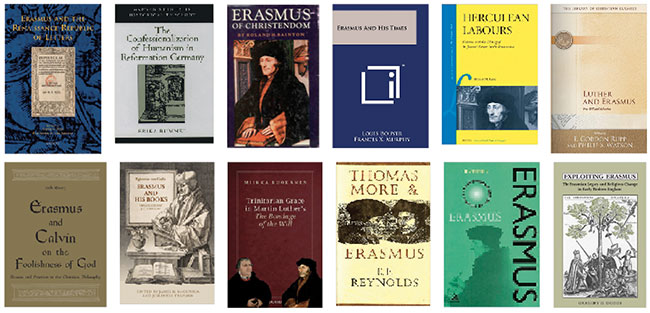 Books
To learn more about humanism, particularly in the fifteenth and sixteenth centuries, see Erika Rummel, The Humanist-Scholastic Debate in the Renaissance and Reformation (1999) and The Confessionalization of Humanism in Reformation Germany (2000); and Stephen Ryle, ed., Erasmus and the Renaissance Republic of Letters (2014).
For more on the life of Erasmus and his thought, consult Louis Bouyer, Erasmus and His Times (1959); Roland Bainton, Erasmus of Christendom (1969); Marjorie O'Rourke Boyle, Erasmus on Language and Method in Theology (1977), Christening Pagan Mysteries (1981), and Rhetoric and Reform (1983); Cornelis Augustijn, Erasmus (1991); Hilmar Pabel, Erasmus's Vision of the Church (1995) and Conversing with God (1997); James Tracy, Erasmus of the Low Countries (1997); Erika Rummel, Erasmus (2004); Greta Grace Kroeker, Erasmus in the Footsteps of Paul (2011); Christine Christ-von Wedel, Erasmus of Rotterdam (2013); and William Barker, Erasmus of Rotterdam (2021). The University of Toronto Press is publishing Erasmus's works in an academic edition.
To understand Erasmus as writer and publisher, read Erika Rummel, Erasmus as a Translator of the Classics (1985); Hilmar Pabel, Holy Scripture Speaks (2002) and Herculean Labours (2008); and Robert Sider, Erasmus on the New Testament (2020). For a look at Erasmus's own library, see Egbertus Van Gulik, Erasmus and His Books (2018).
Some considerations of Erasmus's thought in direct connection to the Reformation include Luther and Erasmus: Free Will and Salvation, compiled by E. Gordon Rupp and Philip Watson (1969); Constance Furey, Erasmus, Contarini, and the Religious Republic of Letters (2006); Kirk Essary, Erasmus and Calvin on the Foolishness of God (2017); and Miikka Ruokanen, Trinitarian Grace in Martin Luther's The Bondage of the Will (2021).
To learn about Erasmus and More, look at E. E. Reynolds, Thomas More and Erasmus (1965); Peter Ackroyd, The Life of Thomas More (1999); and Ross Dealy, Before Utopia (2020). For Erasmus's influence on the Anabaptist movement, see Abraham Friesen, Erasmus, the Anabaptists, and the Great Commission (1998) and Peter Bietenholz, Encounters with a Radical Erasmus (2009). For more on Erasmus's civic vision and its later influence in general, look at James Tracy, The Politics of Erasmus (1978); Douglas Shantz, Crautwald and Erasmus (1992); and Gregory Dodds, Exploiting Erasmus (2009).
Finally, to read some more about colleagues of Erasmus who appear in our gallery (pp. 36–39), check out Diane Poythress, Reformer of Basel: The Life, Thought, and Influence of Johannes Oecolampadius (2011); Valentina Sebastiani, Johann Froben, Printer of Basel (2018); and Noelia García Pérez, Mary of Hungary, Renaissance Patron and Collector (2020).
Christian History issues
Read these past issues on our website—some are still available for purchase:
• 4 Zwingli
• 16 William Tyndale
• 115 Luther Leads the Way
• 118 The People's Reformation
• 120 Calvin, Councils, and Confessions
• 122 The Catholic Reformation
• 131 Women of the Reformation
• 139 Faith and Flourishing: Education
• 141 Faith and Flourishing: Civic Engagement
Videos from Vision Video
Videos on this issue's topic from Vision Video and Redeem TV include 500, God's Outlaw, Protestant Reformation at 500 Years, Reformation Overview, and This Changed Everything.
Websites
English translations of many of Erasmus's works, as well as those of his friends and antagonists, can be found at Project Gutenberg (which also has older secondary sources about him), the Internet Medieval Sourcebook, and Christian Classics Ethereal Library.
The Internet Encyclopedia of Philosophy and Stanford Encyclopedia of Philosophy have brief introductions to Erasmus as a thinker, and one good introductory biography, Erasmus of the Low Countries, has been made open access by the University of California Press. Rotterdam has a tourism website about Erasmus sites in the city with many links to additional resources, and the Erasmus Society promotes study of his life and works, especially through its academic journal, Erasmus Studies. CH
By the authors and editors
[Christian History originally published this article in Christian History Issue #145 in 2022]
Next articles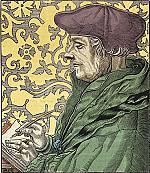 Introduction
Lewis called the Incarnation "the grand miracle"
Jennifer Woodruff Tait and Marjorie Lamp Mead
Introduction
Lent developed out of periods of prayer and fasting by new converts in the early church
Jennifer Woodruff Tait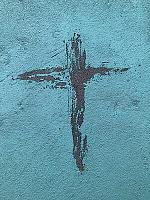 Show more
Subscribe to magazine
Subscription to Christian History magazine is on a donation basis
Subscribe
Support us
Christian History Institute (CHI) is a non-profit Pennsylvania corporation founded in 1982. Your donations support the continuation of this ministry
Donate