Questions for reflection: Jack at home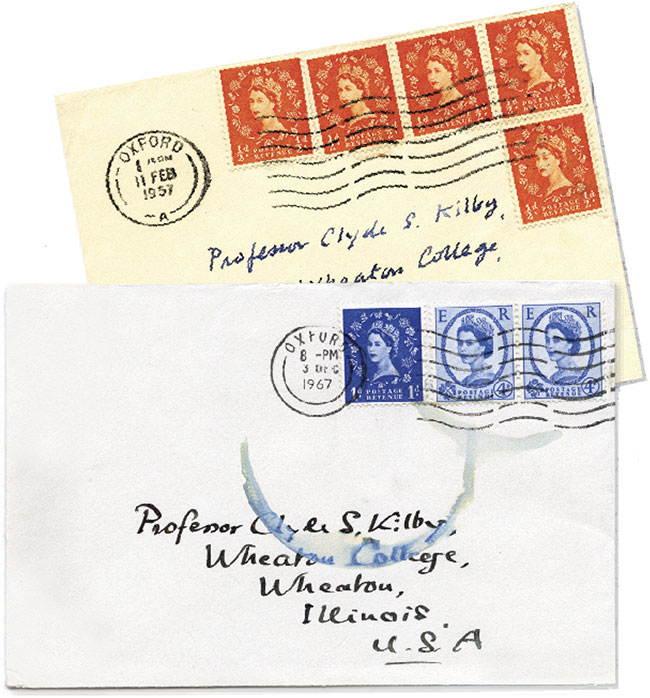 [Above: LONG-DISTANCE FRIENDS Letters to Clyde Kilby attest to his lively correspondence with C. S. Lewis, J. R. R. Tolkien, and Warnie Lewis. Envelopes: C. S. Lewis–Clyde S. Kilby (1957) and J. R. R. Tolkien–Clyde S. Kilby (1967). Used by permission of the Marion E. Wade Center, Wheaton College, Wheaton, IL]
These questions are meant to help you think more deeply about this issue and apply it to your own life and setting. Ponder them on your own, or discuss them in Sunday school or in a study group.
1) If you were familiar with the life and works of C. S. Lewis, how did this issue give you a new perspective on him? If you were unfamiliar, what would you like to learn more about?
2) How is the story of Lewis's life and conversion (pp. 10–14) similar to your own story? How is it different?
3) If you have read any of Lewis's works (pp. 16–18), which ones are your favorites? Why?
4) Were you familiar with Lewis's concept of the "four loves" (p. 19)? Where have you seen instances of each of these loves in your own life? How have they enriched your relationships with others and with Christ?
5) How did Lewis's parents and other relatives influence his life (pp. 20–23)? What spiritual influences do you see in your own life from your ancestors and relatives?
6) How does Lewis distinguish "First" and "Second" Friends (pp. 24–26)? Have you experienced these kinds of friendships? What influences have they had on your life?
7) What kind of influence did W. T. Kirkpatrick (p. 27) have on the young Lewis? Has a teacher or professor had a similar influence on you?
8) How did Warnie Lewis's life and conversion story resemble his brother's, and how was it different (pp. 30–34)? How did the relationship between the two shape their writings? Have you had a similar relationship with a sibling or other relative?
9) Have you ever experienced any kind of "found family" as Lewis did with the Moores (p. 35)? How did this change and shape you?
10) What surprised you about the love story between Lewis and Joy Davidman (pp. 36–39)? How did this relationship shape his later writings, and hers? Have you ever experienced anything similar?
11) Read Matthew 19:14. Why and how did Lewis welcome and appreciate children (pp. 41–43)? Have you read any of Lewis's works with a child? If so, how did the child's perspective surprise you?
12) What interests did Lewis share with his friends from academic and professional worlds (pp. 45–48)? How have you benefited from groups of friends who share your interests?
13) BONUS QUESTION: Ten of our article titles were taken from books by or about Lewis. Were you able to identify them? (Answers at bottom.)
- - - - -
Answers to bonus question: Surprised by Joy (five articles), A Grief Observed, The Four Loves, the Collected Letters, C. S. Lewis: My Godfather by Laurence Harwood, and Brothers and Friends by Warren Lewis (ed. Clyde Kilby and Marjorie Lamp Mead)
By the editors
[Christian History originally published this article in Christian History Issue #140 in 2021]
Next articles
Jack at home: recommended resources
With scores of books by and about C. S. Lewis—where to begin? Here are suggestions compiled by our editors, contributors, and the Wade Center.
the editors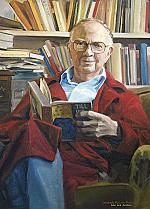 City of Man: Did you know?
What is civic engagement? Church leaders have long reflected on how Christians should live in the world
The editors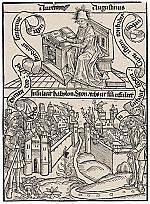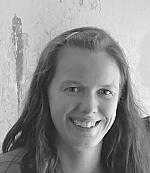 Show more
Subscribe to magazine
Subscription to Christian History magazine is on a donation basis
Subscribe
Support us
Christian History Institute (CHI) is a non-profit Pennsylvania corporation founded in 1982. Your donations support the continuation of this ministry
Donate