Christian History Institute's major new documentary series examines the legacy of the Protestant Reformation as we mark its 500th Anniversary. This Changed Everything: 500 Years of the Reformation celebrates the fruits of the Reformation while grappling with difficult questions surrounding its legacy of division within Christianity.
Today in History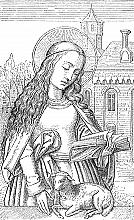 Devotional
Torrents of grace await us
Be strong and let your heart take courage, All you who hope in the LORD. Psalm 31:24 NASB. When you find that weariness...