Dr. Michael Horton, as part of the bonus material from The Reformation: This Changed Everything, a production of Christian History Institute, discusses whether or not we should view the Reformation as a past event or an on-going need of the church.
Today in History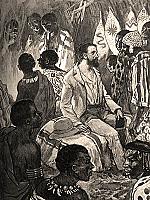 Devotional
Do our lives show trust? (1886)
That combination of swallows with telegraph wire sets in vivid contrast before our mental eye the sort of evidence we pu...