Recommended resources: Lilias Trotter

Books
For a while most of Trotter's own works were out of print. Lilias Trotter Legacy is bringing many of them back into print—consult its site (in the websites section) for the most up-to-date list. Two of Trotter's most famous books, Parables of the Cross and Parables of the Christ-life, have already been reprinted, as have some of her sketchbooks and journals. LTL also publishes other resources connected to or inspired by Trotter's life.
Biographies of Trotter include Blanche Pigott, I . Lilias Trotter, Founder of the Algiers Mission Band (1930); ​I . R . Govan Stewart, The Love that Was Stronger (1958); Patricia St. John, Until the Day Breaks (1990); and Miriam Huffman Rockness, A Passion for the Impossible (2021). Lily: The Girl Who Could See (2015) by Sally Oxley is a biography for children; Elisabeth Elliot's A Path through Suffering (1992) is a devotional book inspired by Trotter's work; so also are Rockness's A Blossom in the Desert (2007) and Images of Faith (2019).
Many of Trotter's colleagues, mentors, and associated organizations are worthy of entire Recommended Resources articles of their own. Here are just a few books to guide you through their stories.
For the world of art and culture Trotter was connected to, see John Rosenberg, The Darkening Glass: A Portrait of Ruskin's Genius (1961); Kenneth Bendiner, An Introduction to Victorian Painting (1985); Rolland Hein, George MacDonald: Victorian Mythmaker (1993) and George MacDonald: Images of His World (2004); Francis O'Gorman, John Ruskin (1999); Herbert Schlossberg, The Silent Revolution and the Making of Victorian England (2000); Stephen Prickett, Victorian Fantasy (rev. ed., 2005); and—for lots of examples of art—Tim Barringer et al., Reading the Pre-Raphaelites (2012).
Learn more about Victorian movements for piety and service in Steven Barabas, So Great Salvation (1952); J. C. Pollock, The Keswick Story (1964); D. W. Bebbington, Evangelicalism in Modern Britain (1993) and The Dominance of Evangelicalism: The Age of Spurgeon and Moody (2005); Bruce Evenson, God's Man for the Gilded Age: D. L. Moody and the Rise of Modern Mass Evangelism (2003); Richard Carwardine, Transatlantic Revivalism (2006); and Kevin Belmonte, D. L. Moody: A Life (2014).
Finally, read about missions and interfaith dialogue (especially to and with Muslims) in J. Christy Wilson, Apostle to Islam (1952) and Flaming Prophet (1970); Willy Normann Heggoy, Fifty Years of Evangelical Missionary Movement in North Africa, 1881–1931 (1960); Francis Rue Steele, Not in Vain: The Story of North Africa Mission (1981); Elisabeth Elliot, A Chance to Die: The Life and Legacy of Amy Carmichael (1987); Sam Wellman, Amy Carmichael (1998); Nehemia Levtzion and Randall Lee Pouwels, The History of Islam in Africa (2000); Thomas Kidd, American Christians and Islam (2009); and Miriam Huffman Rockness, Strong & Courageous: The Daring Adventures of Lilias Trotter and Amy Carmichael (2023).
Christian History magazines
Read these past issues of Christian History related to this issue's theme online; for some issues, printed copies are still available for purchase.
25: Dwight L. Moody
36: William Carey and the Great Missions Century
65: Ten Most Influential 20th Century Christians
82: Phoebe Palmer and the Holiness Movement
86: George MacDonald
107: Debating Darwin
113: Seven Literary Sages
117: Quakers
128: George Müller and the Brethren
132: Spiritual Friendship
Videos from Vision Video
Related videos include The Fantasy Makers, Many Beautiful Things: The Life and Vision of Lilias Trotter, and Speaking the Truth in Love to Muslims.
Websites
For all things Trotter, visit Lilias Trotter Legacy, which has information about Trotter's life and works, as well as the film Many Beautiful Things. The blog Lilias Trotter by Miriam Rockness publishes modern reflections inspired by Trotter's words and art. (Here you can browse through Trotter's art and see why Ruskin was so amazed!) Missiology Blog has posts about her life and downloadable PDFs of the original editions of some of her books and of some older biographies.
The Victorian Web is a comprehensive overview of the Victorian period in general, including in-depth sections on religion, art, and literature.
Some selected websites about Trotter's friends, colleagues, and mentors include the George MacDonald Society, the section devoted to MacDonald at the Wade Center, and the Works of George MacDonald website; two different societies devoted to John Ruskin, in the United Kingdom and the United States, and the Ruskin Museum; resources on John R. Mott at the Nobel Prize and Boston University Missiology websites; resources on Amy Carmichael at the BUM and at Dohnavur Fellowship; and resources on Samuel Zwemer at the BUM and at the Zwemer Center for Muslim Studies. Many of these people's works can be found at the Christian Classics Ethereal Library and Project Gutenberg. You may also want to look at the websites of Keswick Ministries and Arab World Ministries. CH
By the editors
[Christian History originally published this article in Christian History Issue #148 in 2023]
Next articles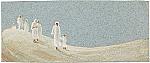 Show more
Subscribe to magazine
Subscription to Christian History magazine is on a donation basis
Subscribe
Support us
Christian History Institute (CHI) is a non-profit Pennsylvania corporation founded in 1982. Your donations support the continuation of this ministry
Donate