Letters to the editor
Many incarcerated individuals receive Christian History, and although we have published their letters before, we decided this time to feature their voices exclusively on our letters to the editor page.
Adding to the list …
Dear CH, I am greatly enjoying your series on the Reformation. The extensive timeline pull-outs are a wonderful bonus. Please keep me on your subscription list! I am an indigent inmate and I am grateful for your generous gift. God be with you. I am curious if you have ever or soon plan to do an issue on the phenomenon of nineteenth and twentieth century Christian cults. —Wendell Scott, Imperial, CA
We'll certainly add that suggestion to our ever-growing list!
A Corrie story
I was recently blessed to read issue 121 that one of my Christian brothers shared with me. The articles were powerful and amazing. One article which touched my heart was about Corrie ten Boom. I'd first heard her name a few years back from Brother John, one of many Christian volunteers who visited our prison unit. He knew Corrie personally, and told us stories of his younger days when he and Corrie would smuggle Bibles into communist Russia. Back then it was practically a death sentence if you were caught, yet the two of them persisted to spread God's love. I'm currently on my thirty-first year on a life sentence and it's rare to receive spiritual blessings from outside sources. I want to let you know that your magazine was one such blessing. Thank you!—David Dowler, Amarillo, TX
Order Christian History #123: Captive Faith: Prison as Parish in print.
Subscribe now to get future print issues in your mailbox (donation requested but not required).
I do enjoy your magazine very much and treasure every copy. The last one on World Wars was the best yet. … I am unable to send any money at this time. God willing I will be released late this year. Upon my release I will send you some money to continue getting your wonderful publication as long as I can still read.—Thomas Little, Rosharon, TX
Resources for prison study
Church history is my favorite area of study, and it was a breath of fresh air discovering your publication. Christian history would have been my major in seminary had I had the opportunity to complete it. What do you all have available that deals with the issue of Textus Receptus? Also, what was the early church fathers' position when it came to holidays like Christmas and Easter?—Nathan Brown, Macon, GA
How We Got Our Bible (#43) and the King James Bible's 400th Anniversary (#100) have a little on your first question, and Worship in the Early Church (#37) has some information on your second.
I have learned a great deal from the two issues I have received so far, and look forward to many more. Thank you and may God bless your ministry! P.S. Issue 119 briefly mentioned the Bruderhof but I would love to know more about the Bruderhof community. —Rick S. Whitman, Bismarck, ND
The Bruderhof publishes the magazine Plough Quarterly. For books, you might start with Called to Community (2016) edited by Charles Moore and Why We Live in Community (2014) by Eberhard Arnold.
Only God can make us whole
Broken into a thousand pieces is my heart made of glass. Shattered, with no regard to the pain.
Seared into the leftover fragments.
No one cares or even notices.
This is all I have to offer.
Can you repair the damage that's been done?
Can you mend the pieces that are broken?
Can you put my glass heart back together again?
Loveless for so long.
Hopeless beyond recognition.
Mourning the losses of a lifetime.
Please take my humble offering.
You say it's damaged, but you can fix it.
You say it's broken, but you can make it whole again.
You say it's not much, but it's enough.
Lord, this is all I have to offer.
The pieces of my broken glass heart,
That's been broken, shattered, and trampled on.
That's been without love, hope, or gladness.
I give it all to You, Almighty, powerful King.
So Lord, I'm trusting You again.
Only You can make me whole again.
Only you can mend my brokenness.
Only you can fill me with love and joy!!
—Kenneth Wells, Red Granite, WI
Thanks for sending us your poem, Kenneth.
This article is from Christian History magazine #123 Captive Faith. Read it in context here!
By various
[Christian History originally published this article in Christian History Issue #123 in 2017]
Next articles
Editor's note: Captive faith
In 2008, our founder Dr. Ken Curtis (1939–2011) wrote this introduction for prison testimonies throughout church history.
Ken Curtis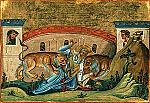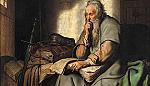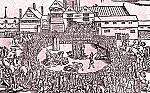 Show more
Subscribe to magazine
Subscription to Christian History magazine is on a donation basis
Subscribe
Support us
Christian History Institute (CHI) is a non-profit Pennsylvania corporation founded in 1982. Your donations support the continuation of this ministry
Donate