"I am hoping God will answer your prayers"
The very first letters we have from an imprisoned Christian are from the apostle Paul, who wrote to the Ephesians, the Philippians, the Colossians, and Philemon while under house arrest.
WHEN I THINK OF ALL THIS, I, Paul, a prisoner of Christ Jesus for the benefit of you Gentiles. … fall to my knees and pray to the Father, the Creator of everything in heaven and on earth. I pray that from his glorious, unlimited resources he will empower you with inner strength through his Spirit. Then Christ will make his home in your hearts as you trust in him. Your roots will grow down into God's love and keep you strong. And may you have the power to understand, as all God's people should, how wide, how long, how high, and how deep his love is. (Ephesians 3:1, 15–18)
[Rembrandt, Paul in Prison. Wikimedia.]
Pray in the Spirit at all times and on every occasion. Stay alert and be persistent in your prayers for all believers everywhere. And pray for me, too. Ask God to give me the right words so I can boldly explain God's mysterious plan that the Good News is for Jews and Gentiles alike.
I am in chains now, still preaching this message as God's ambassador. So pray that I will keep on speaking boldly for him, as I should. To bring you up to date, Tychicus will give you a full report about what I am doing and how I am getting along. He is a beloved brother and faithful helper in the Lord's work. I have sent him to you for this very purpose—to let you know how we are doing and to encourage you. (Ephesians 6:20–22)
I am certain that God, who began the good work within you, will continue his work until it is finally finished on the day when Christ Jesus returns. … And I want you to know, my dear brothers and sisters that everything that has happened to me here has helped to spread the Good News. For everyone here, including the whole palace guard, knows that I am in chains because of Christ. And because of my imprisonment, most of the believers here have gained confidence and boldly speak God's message without fear. (Philippians 1:6, 12–14)
Aristarchus, who is in prison with me, sends you his greetings, and so does Mark, Barnabas's cousin. As you were instructed before, make Mark welcome if he comes your way. Jesus (the one we call Justus) also sends his greetings. These are the only Jewish believers among my co-workers; they are working with me here for the Kingdom of God. And what a comfort they have been! … HERE IS MY GREETING IN MY OWN HANDWRITING—PAUL. Remember my chains. May God's grace be with you. (Colossians 4:10–11, 18)
Order Christian History #123: Captive Faith: Prison as Parish in print.
Subscribe now to get future print issues in your mailbox (donation requested but not required).
This letter is from Paul, a prisoner for preaching the Good News about Christ Jesus, and from our brother Timothy. … Consider this as a request from me—Paul, an old man and now also a prisoner for the sake of Christ Jesus. I appeal to you to show kindness to my child, Onesimus. I became his father in the faith while here in prison.
Onesimus hasn't been of much use to you in the past, but now he is very useful to both of us. I am sending him back to you, and with him comes my own heart.… One more thing—please prepare a guest room for me, for I am hoping that God will answer your prayers and let me return to you soon (Philemon verses 2, 8–12, and 22).
Scripture quotations are taken from the Holy Bible, New Living Translation, copyright ©1996, 2004, 2007 by Tyndale House Foundation. Used by permission of Tyndale House Publishers, Inc., Carol Stream, Illinois 60188. All rights reserved.
This article is from Christian History magazine #123 Captive Faith. Read it in context here!
By Apostle Paul
[Christian History originally published this article in Christian History Issue #123 in 2017]
Next articles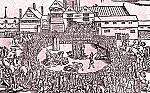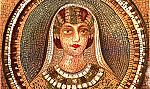 Thinking long thoughts
From prison, Christians have produced classic literature that comforts and challenges.
Catherine Barnett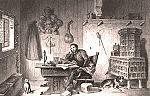 Show more
Subscribe to magazine
Subscription to Christian History magazine is on a donation basis
Subscribe
Support us
Christian History Institute (CHI) is a non-profit Pennsylvania corporation founded in 1982. Your donations support the continuation of this ministry
Donate