Surprised by friendship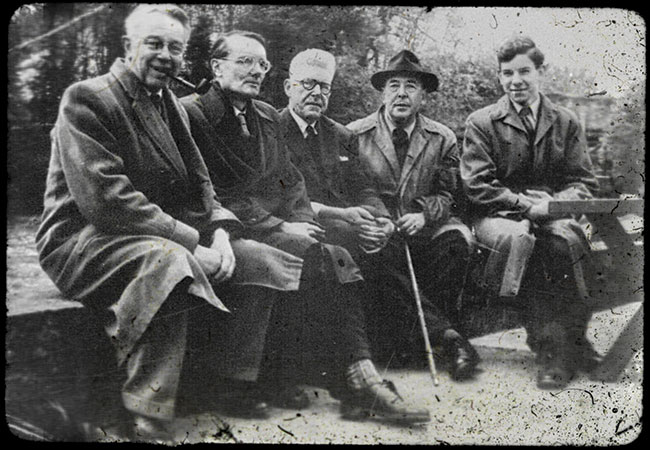 [Inklings—Used by permission of the Marion E. Wade Center, Wheaton College, Wheaton, IL.]
WHEN C. S. LEWIS (1898–1963) and J. R. R. Tolkien (1892–1973) met for the first time at a faculty meeting at Oxford University on May 11, 1926, Lewis's first impression of his colleague was unfavorable. In his diary he described Tolkien as "a smooth, pale, fluent little chap. . . . No harm in him: only needs a smack or so."
As Lewis and Tolkien got to know one another, friction only increased. It became clear they had little in common. Lewis was gregarious; Tolkien quiet and reflective. They had different academic specialties: Tolkien was a philologist, devoted to the study of language, while Lewis was an expert in literature and philosophy. And they came from different religious traditions. Lewis later said that meeting Tolkien triggered two of his old childhood prejudices: "At my first coming into the world I had been (implicitly) warned never to trust a Papist, and at my first coming into the English Faculty (explicitly) never to trust a philologist. Tolkien was both."
It got worse. Within months the faculty at Oxford became entrenched in a bitter debate about which courses should be required for students in the English School, and the two found themselves on opposing sides. Tolkien felt the English curriculum should be based on close study of only ancient and medieval texts. Lewis, on the other hand, believed that students would benefit from a broad survey of texts ancient and modern.
Tolkien fought energetically for his curriculum with an unconventional but brilliantly strategic approach: fostering a love of ancient myths among the faculty. To that end he founded the "Coalbiters" club, which met each week to read Norse myths in their original languages and translate them bit by bit around the circle. Having loved these ancient myths since childhood, Lewis found himself immediately drawn in. As the Coalbiters recited the tales of Odin, Freya, and Loki, Lewis and Tolkien grew in admiration for one another. Soon they forged a friendship.
From coalbiters to Inklings
The group served its purpose: Tolkien won the curriculum debate, and the meetings came to an end. But the two new friends decided to meet each week, first sharing lunch and conversation and then exchanging drafts of the poems and stories they were writing.
This simple plan had a profound impact. Both men thrived as they offered encouragement, criticism, and advice. These critique sessions were so fruitful that they invited others to join them, including Owen Barfield, David Cecil, Hugo Dyson, and Charles Williams. Lewis's brother, Warren Lewis, became a regular member, as did Tolkien's son Christopher. They called themselves the Inklings. All in all 19 men joined this writers' circle, and they met weekly for 17 years. Members brought rough drafts of works in progress. They read them aloud, heard honest critique, and revised their work in response.
These writers had different outlooks, competing interests, contrasting backgrounds, and varied Christian traditions—but found common ground in their common labor. As Lewis once explained: "Friends are not primarily absorbed in each other. It is when we are doing things together that friendship springs up—painting, sailing ships, praying, philosophizing, fighting shoulder
to shoulder. Friends look in the same direction." A stran-ger becomes a friend, said Lewis, when we "fight beside him, read with him, argue with him, pray with him."
The work of the Inklings changed the landscape of literature; the experience transformed their lives. Warren Lewis called the Inklings "a famous and heroic gathering" and said their meetings were characterized by "an outpouring of wit, nonsense, whimsy, dialectical swordplay, and pungent judgment such as I have rarely heard equaled." Tolkien expressed his appreciation with simple enthusiasm: "That was true joy!" And Lewis mused, "Is any pleasure on earth as great as a circle of Christian friends by a good fire?" He added, "What I owe to them all is incalculable."
By Diana Pavlac Glyer
[Christian History originally published this article in Christian History Issue #132 in 2019]
Diana Pavlac Glyer, professor, Honors College of Azusa Pacific University and author of Bandersnatch: C. S. Lewis, J. R. R. Tolkien, and the Creative Collaboration of the Inklings (from which this was adapted).
Next articles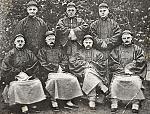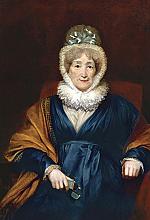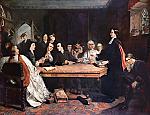 Show more
Subscribe to magazine
Subscription to Christian History magazine is on a donation basis
Subscribe
Support us
Christian History Institute (CHI) is a non-profit Pennsylvania corporation founded in 1982. Your donations support the continuation of this ministry
Donate