Christian History Timeline: Four Vivid Centuries of Medieval Lay Mystics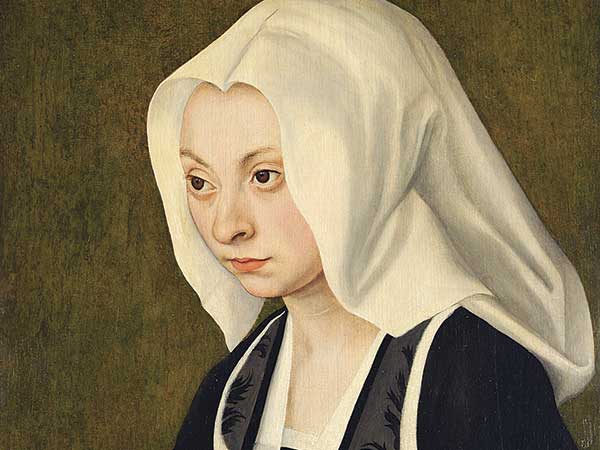 [Lucas Cranach's Woman Praying]
—Mid–1000s Pilgrimages to Rome, Santiago de Compostela in Spain, and the Holy Land grow in popularity.
—1046 Queen Margaret of Scotland undertakes reform in the Scottish church.
— 1088 University of Bologna is founded.
— 1098 Cistercians are founded as a reform of the Benedictine order.
— 1095 Pope Urban II calls for a crusade to aid Eastern Christians threatened by Muslims.
— 1096 Peter the Hermit leads the "People's Crusade" to disaster.
— 1115 Bernard of Clairvaux builds an abbey that becomes a center of Cistercian reform.
— c. 1128 Bernard of Clairvaux writes On Loving God.
— 1141 Hildegard of Bingen first writes of her visions.
— Mid–1100s Cathar and Waldensian movements spread.
— 1198–1216 Innocent III raises the papacy's power to its height.
— c. 1200 University of Paris founded; the doctrine of purgatory takes shape; the Beguine movement begins.
— 1204 Fourth Crusade sacks Constantinople.
— 1209 Franciscans are founded.
— 1212 Poor Clares are founded as a Franciscan order for women.
— 1215 Fourth Lateran Council declares the doctrine of transubstantiation, obliges Christians to confess sins and receive Communion once a year, and proclaims a crusade against Cathars; Magna Carta is signed in England.
— 1216 Dominicans are founded.
— 1223 Elizabeth of Hungary first encounters Franciscans; she will eventually become a member of the Franciscan Third Order.
— 1233 Pope approves the rapidly spreading Beguine movement.
— Mid–1200s Flagellant processions spread and inspire lay religious societies called confraternities; Mechthild of Magdeburg writes Flowing Light of the Godhead.
— 1260 Chartres Cathedral is consecrated.
— 1264 Feast of Corpus Christi is established.
— 1265 Thomas Aquinas begins writing the Summa Theologica.
— 1300 Pope Boniface VIII offers plenary indulgence to pilgrims who come to Rome.
— Early 1300s Friends of God movement begins in Basel and Strasbourg.
— 1305 Dante begins Divine Comedy.
— 1309–1377 The "Babylonian Captivity" (the pope resides at Avignon, France).
— c. 1330 Henry Suso publishes Little Book of Eternal Wisdom.
— 1337 Hundred Years' War begins.
— 1338 Johannes Tauler is exiled to Basel and connects with the Friends of God movement there.
— Early 1340s Richard Rolle writes The Fire of Love.
— 1344 Bridget of Sweden's husband dies and she becomes a Franciscan tertiary.
— 1347–1350 Black Death kills one-third of Europe, sparking flagellant processions and attacks on Jews.
— 1370 Pope Urban V approves the Bridgettines.
— 1374 Geert de Groote, who will inspire the Devotio Moderna, begins to follow Christ seriously.
— 1377 John Wycliffe is censured for the first time. His followers will develop into the Lollard movement.
— 1378 The Great Papal Schism begins. Christendom is divided between two (and, after 1409, three) rival popes; Catherine of Siena finishes dictating Dialogue of Divine Providence.
— 1380 John Wycliffe supervises a translation of the Bible into English.
— 1381 Peasants' Revolt takes place in England, in part sparked by Lollard views.
— 1386 Chaucer begins Canterbury Tales.
— c. 1395 Julian of Norwich's Revelations of Divine Love is published; Windesheim Congregation receives papal approval.
— 1414–1418 The Council of Constance restores church unity, burns Jan Hus for heresy, and declares Wycliffe a heretic posthumously, ordering his bones burned.
— 1418 Thomas à Kempis's The Imitation of Christ is first published.
— c. 1430 Margery Kempe dictates The Book of Margery Kempe to scribes, recording the story of her life and journeys.
— 1431 Joan of Arc is burned at the stake.
— 1455 First Bible printed by Gutenberg is published.
— 1473 Catherine of Genoa has her first mystical experience.
— Late 1600s The Practice of the Presence of God is published, detailing the life and thought of Brother Lawrence.
By Daniel Bornstein, Thomas O. Kay, and the editors.
[Christian History originally published this article in Christian History Issue #127 in 2018]
Daniel Bornstein is professor of history, religious studies, and Catholic studies at Washington University in St. Louis; Thomas O. Kay is emeritus associate professor of history at Wheaton College.
Next articles
Imitating Christ
Thomas à Kempis and the Brothers and Sisters of the Common Life
Greg Peters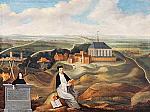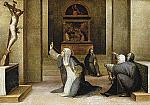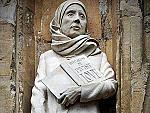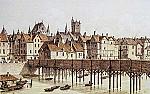 Show more
Subscribe to magazine
Subscription to Christian History magazine is on a donation basis
Subscribe
Support us
Christian History Institute (CHI) is a non-profit Pennsylvania corporation founded in 1982. Your donations support the continuation of this ministry
Donate