George Herbert Breathed Prayer in Famous Poems
HERBERT'S ORDINATION on this day, 19 September 1630, was a step of peace and resignation to the will of God. Friends said he was throwing away his talents. At one point in his life, he would have agreed with them. Well-educated, skilled in rhetoric, he had wrestled with God in poetry about his desire to achieve political eminence.
But having chosen a life devoted to God, Herbert would not and did not look back. Instead, he set himself high standards as a minister. These were published as A Priest to the Temple, or The Countrey Parson, His Character and Rule of Holy Life, a classic on pastoral care. Here is a bit of his advice to himself:
"Because Countrey people (as indeed all honest men) do much esteem their word, it being the Life of buying, and selling and dealing in the world; therefore the Parson is very strict in keeping his word, though it be to his own hindrance, as knowing, that if he be not so, he will quickly be discovered, and disregarded; neither will they believe him in the pulpit whom they cannot trust in his Conversation."
Herbert preached his first sermon with rhetorical flourishes. He never spoke that way again, but gave plain illustrations that farm folk could understand. Although a Calvinist, he did not preach determinism, but sought to woo people to Christ by stressing the love of God. That love had ravished his own soul, as one of his most famous poems says: "Love bade me welcome: yet my soul drew back, guilty of dust and sin."
Herbert lived frugally, preached faithfully, prayed earnestly, and gave freely. He repaired the buildings under his charge. His wife, Jane Danvers, was described as "young, beautiful and rich" but humble and eager to serve others. However, her wealth was either tied up or not so great as thought. The Herberts could barely afford to take in three orphaned nieces as they did.
Sir Izaac Walton recorded that on his way to make music with some friends, Herbert saw a poor man whose horse had fallen under a heavy load. Herbert removed his pulpit coat, helped unload the beast, get it to its feet, and reloaded it. He then gave the man some money to refresh himself and his horse, and advised him that if he loved himself he should be more merciful to his beast.
His friends were astonished at how dirty and messy he appeared when he finally joined them. After he explained what had happened, one of them remarked he lowered himself by stooping to such work. Herbert answered that what he had done "would prove music to him at midnight," and added that to have acted otherwise would have troubled his conscience every time he passed the place; "for if I be bound to pray for everyone who is in distress, I am sure that I am bound, so far as it is in my power, to practice what I pray for." He said he would not willingly pass a day without comforting a soul, or showing mercy. "And now let us tune our instruments."
Just three years after his ordination, Herbert succumbed to tuberculosis, a few weeks short of his fortieth birthday.
—Dan Graves
----- ----- -----
Christian History has written about George Herbert or reprinted individual poems a few times. See "Making drudgery divine?" in Christian History #110, Callings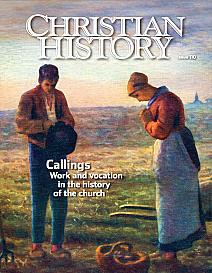 https://christianhistoryinstitute.org/magazine/issue/vocation
and "The Flower" (excerpts) in Christian History #119, The Wonder of Creation