DE MEL SOARED TO BECOME SRI LANKA'S FIRST HOME-GROWN BISHOP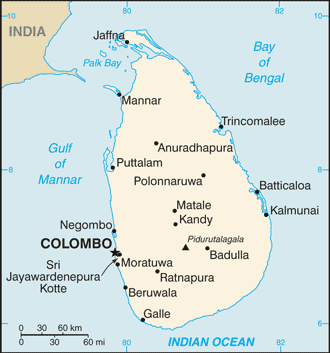 [CIA map of Sri Lanka]
LATE IN THE EIGHTEENTH CENTURY, the British began to colonize an island in the Indian Ocean they named Ceylon. By 1802, an Anglican chaplain had been assigned to the island. Ten years later the Anglicans founded a Bible society in Ceylon and in 1818 a team from the Church Missionary Society (CMS) arrived to found missions to convert the local population. Baddegama became their main center.
By 1845, Ceylon had its own bishop, with a see at Colombo. However, Europeans held the position well into the twentieth century. Not until 1950 did the Anglican Church of Ceylon have an indigenous bishop. This was Lakdasa de Mel, first bishop of the newly created diocese of Kurunegala.
His elevation roughly coincided with Ceylon throwing off British rule to become independent. The new nation named itself Sri Lanka, took Sinhala as its official language (creating resentment among its large Tamil minority), and gave Buddhism a privileged position. Eventually the Buddhist majority would resort to violence and write prejudicial laws to restrict Christianity. But those developments were in the future.
For many years before he became bishop, de Mel had already served in various capacities within the Sri Lankan church. CMS had been withdrawing from the nation leaving Baddegama foundering when de Mel took it over in the 1930s. With great energy and infectious laughter, he sought to foster a Sinhalese interpretation of Christianity. In the 1940s as a priest, he converted the liturgy to the Sinhala language and introduced Sinhala music into church services.
As bishop, he rebuilt the crumbling Christ Church building at his own expense, incorporating traditional Kandyan artistic motifs into the new design. Instead of pews, the new look offered traditional mats. He was noted for his good relationships with Buddhists.
In 1962, de Mel became Bishop of Calcutta and Metropolitan of Sri Lanka, Burma, Pakistan, and India. Thus he was the first Sri Lankan to serve the Anglican Church as an archbishop. He retired in 1970. Early in 1976 he was diagnosed with lung cancer. On this day, 23 October 1976, Lakdasa de Mel died.
—Dan Graves
--------------
For more about faith in the region, read Christian History Magazine #87 - Christianity in India: A Faith of Many Colors
-------------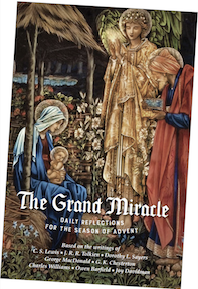 Contemplate the story of the Incarnation day-by-day throughout the season of Advent in our latest publication, The Grand Miracle. Based on the writings of C. S. Lewis, J.R.R. Tolkien, George MacDonald, Dorothy Sayers, and others, each day's reading offers a fresh look at the birth of Christ through the eyes of a modern author. Scripture, prayer, and full-page contemplative images complete each entry. 28 days, 64 pages. Preview the Devotional here.