MARIE RAFARAVAVY FLED TO ESCAPE MADAGASCAR'S ANTI-CHRISTIAN PURGE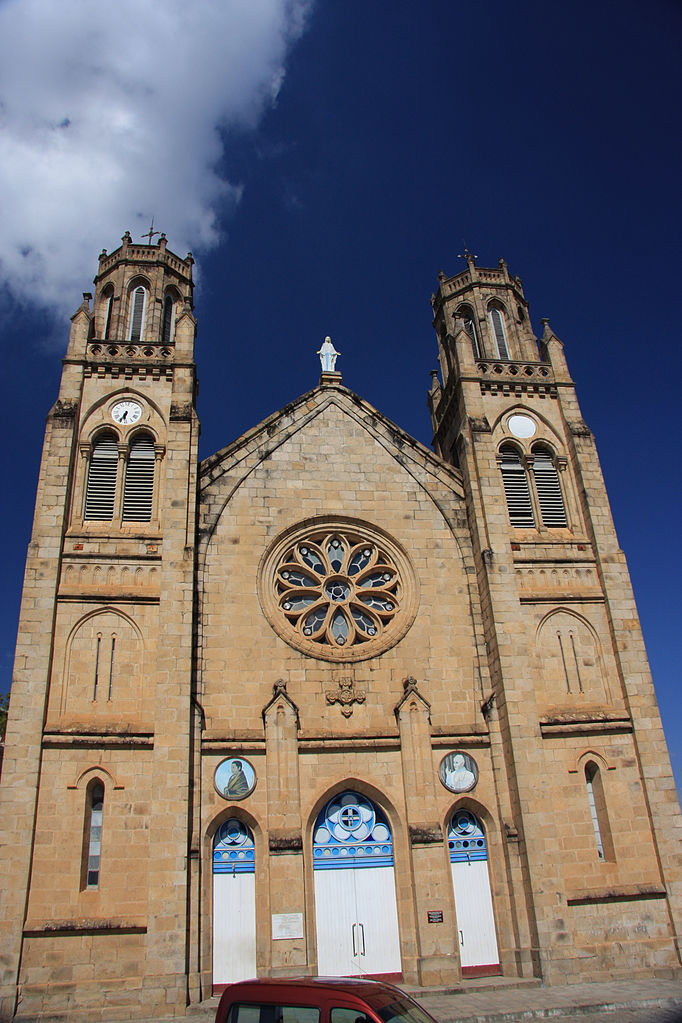 [Antananarivo Church]
IN 1828 Ramavo, a woman of the royal line, seized power in Madagascar through a well-planned coup. She took the name Queen Ranavalona. Her policies would be brutal and anti-Christian. Because "Christian" nations such as the Netherlands, Britain, and France had imposed their rule on much of Africa, often aided by Christian missionaries, she was deeply suspicious of Christians. In 1835 she forbade her subjects to practice Christianity and imposed a number of strictures on Christian missionaries.
Soon Madagascar's queen went further, forcing all Christian missionaries to leave. She required Christian converts among her people to renounce Christianity and return to ancestral paganism. Those who did not had their property confiscated and were either enslaved or killed, often with cruel tortures. Some were tested with ritual poison, from which many died.
One who would not relinquish her Christian faith was Marie Rafaravavy. Maids had denounced her. However, Rafaravavy's father, a pagan with power at court, interceded for his daughter and threw the maids into prison. Rafaravavy pleaded in their behalf and got them freed. Two became Christian converts as a result. The queen fined Rafaravavy half what she would have fetched if sold as a slave.
In 1837, open persecution of Christians flared again. Banned religious writings were unearthed at Rafaravavy's home. After imprisoning the Christian woman for several days, the queen ruled that all Rafaravavy's property could be seized by the public. Rafaravavy learned of this when people arrived and began plundering her house. Someone even seized the house itself and moved it to a new location. Rafaravavy was sentenced to die by spearing the next day. However, the capital city caught fire that night with extensive damage. All governmental business was postponed and Rafaravavy was forgotten for several months.
Eventually, because she was of noble blood, Rafaravavy was sold into slavery rather than being executed. Her master allowed her to do as she pleased and she conducted secret Christian services, praying and reading from translations of the Bible and of Bunyan's Pilgrim's Progress.
The general tenor of Rafaravavy's thought during these sufferings was:
Did not the Savior forewarn us that we should incur the hatred of all men for his sake? The Son of God has died in our stead, and that will shortly redeem us from all our sufferings. I know in whom I have believed; and though my blood be shed, the word of God must prosper in this country. Pray for me, that if it be the Lord's will I should suffer now, that he would take my soul to himself; but that, if I am spared, I may live more than ever to his glory.
Denounced once again, she fled with several Christian companions, hiding in caves for several months where they encouraged one another by reading pages torn out of Bibles and hidden in their clothes. However, this mode of subsistence could no longer be maintained. On this day 20 September 1838, she went to Tamatave to meet Mr. Johns, formerly of the London Missionary Society. The following month, with his help and the help of Ramiandrahasina, a Christian officer, Rafaravavy and her associates escaped from Madagascar by ship to Mauritania. They sailed to England by way of South Africa.
She reached Walthamshow, England, with her friends Sarah Razafy, David Ratsarahomba, Simeona Andrianomanana, and Josefa Rasoamaka. In 1842 Rafaravavy returned to Mauritania, hoping that circumstances on Madagascar would improve. They did not and so she worked among her country's refugees there until she died, just forty years old, in 1848.
Queen Ranavalona continued to rule in Madagascar until her death in 1861. She went down in history as one of the most murderous monarchs who ever lived. More than half of her subjects died (an estimated two and a half million deaths) either directly at her instigation or through her oppressive policies and her greedy mismanagement of the island nation, which led to widespread starvation and banditry.