Henry Bullinger Was a Popular Reformer and Prolific Writer
Henry Bullinger was illegitimate when born on this day, 18 July 1504. Since his father, Henry, Sr., was a priest and the dean of Bremgarten in modern-day Switzerland, he was unable to marry Anna Wiederkehr, the mother of his five children. Like other priests in his situation, he paid his bishop a fine every year for the privilege of having Anna live with him. Nonetheless, the Bullinger home was happy, for the dean and his common-law wife loved each other and were hospitable to everyone. When the Reformation came to Bremgarten, the dean converted to Protestantism and married the woman with whom he had lived so many years.
Henry's childhood was full of excitement, both good and bad. While still an infant, he contracted a plague and was thought dead. Indeed, he was about to be buried until he showed signs of life. Later, a tramp kidnapped Henry, but he was quickly rescued when passersby recognized him in his captor's hands.
At three years old, little Henry could say the Lord's Prayer and the Apostles' Creed. Nine years later, his parents sent him to the grammar school of Emmeric. Now expected to make his own way, Henry provided for himself by singing. In his late teens, he began studying the Bible, the church fathers, and the reformers Erasmus and Melanchthon. He became convinced that all Christian teaching must be Bible-based.
Bullinger studied with Ulrich Zwingli, the chief reformer of Zurich. After Zwingli died in the battle of Cappel, Bullinger was offered the vacant pulpit of Zurich and accepted. He would minister there for over forty years. He drafted both the first and second Helvetic Confessions, documents expressing the doctrines that unified Switzerland's Protestants. As surprising as it may sound, he wrote more than Luther and Calvin combined.
Willing to overlook differences and find common ground with theological opponents, Bullinger was among the most peaceful of the great reformers. He married Anna Adlischweiler, a former nun, and they had eleven children. Like his father's home, his own was always swarming with visitors. His hospitality to refugees from Mary Tudor's persecution of Protestants in England gave him influence with the Church of England when it was restored under Elizabeth I—so much so that the Puritans made his theology their own.
Among his popular writings were the Decades, a compilation of sermons on key doctrines. It was reprinted seventy-nine times in England within a single century. He emphasized covenant theology (the view that, since the coming of Christ, God deals with mankind through the "new covenant" foretold by Isaiah, Jeremiah, and Ezekiel) and the need for fellowship with Christ: "For God hath ordained and decreed to save all, how many soever have communion and fellowship with Christ, his only-begotten Son; and to destroy or condemn all, how many soever have no part in the communion or fellowship of Christ, his only Son."
While some children of pastors leave the church, it was not so with Bullinger's. All of his sons became Protestant ministers.
—Dan Graves
----- ----- -----
For more, consult "The king, the emperor, and the theologians" in Christian History #120, Calvin, Councils, and Confessions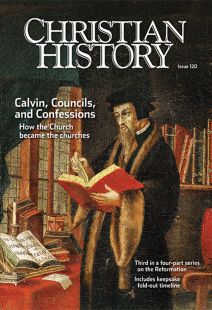 Never miss an issue of Christian History. Subscribe now.