Mary Webb Ran an Amazing Range of Ministries from Her Wheelchair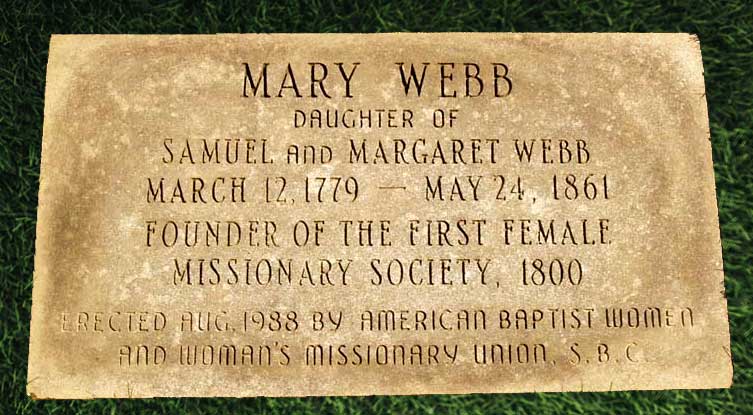 [above: Marker for Mary Webb against a background of grass]
When Albert Vail was researching Boston's Baptist history, he found Mary "Polly" Webb mentioned again and again. He tried to learn more about her but details were scarce. What was clear was that, although she was a paraplegic, her faith had transformed not only world missions, but the life of women in America. One woman told Vail, "My grandmother always said that Mary Webb, from her wheeled chair, brought forth more good to the needy than any other one woman in Boston."
Mary Webb was born in 1779. At five, she contracted an illness that paralyzed her legs. She had to get about in a little wheeled carriage. Wheelchair ramps did not exist, so she had to rely on others to carry her into buildings. Rather than mope, she accepted her limits so cheerfully that she was always surrounded by friends. When she was thirteen, her father died. To make ends meet, she and her mother operated a school from their home.
Webb became a Baptist. Thomas Baldwin, pastor of Boston's Second Baptist Church, was a second father to her. She was convinced she should be baptized by immersion but shrank from the ordeal because it would draw all eyes to her useless legs. Finally, she resolved to go through with it. To make matters easier, the church elders met at her home to review her candidacy. At nineteen she was carried down into the water. Far from feeling shame, she found joy.
When she was twenty, Mary read a sermon on missions. Nathanael Emmons took as his text 2 Chronicles 15:7, "Be ye strong therefore, and let not your hands be weak: for your work shall be rewarded." Eighteen months later, with the approval of Baldwin, twenty-one-year-old Mary Webb organized the Boston Female Society for Missionary Purposes. At that time, it was rare for women to take initiative in church matters. The frail woman in a wheelchair was blazing a new path. The ladies who joined her knew their example would be powerful because what was done in Boston was copied across the United States.
And indeed, many copycat societies sprang up, soon numbering over one hundred. Webb communicated with them all and united them in prayer at set times. As the treasurer, and then the secretary, of the Boston group, she promoted foreign and home missions for half a century, until she became too ill to serve any longer.
Missions were not her only focus. Among the efforts she spearheaded were support for poor youth who wanted to enter the ministry, a Sunday school for impoverished children, a society to clothe the needy, a day care program for working mothers, and efforts to rescue prostitutes.
The work among prostitutes was the most difficult. Powerful interests secretly tried to keep the Penitent Females' Refuge from acquiring a place to operate. But Webb and her allies succeeded. "It is easy for him [God] to work with or without means, and we may safely confide in his mercy and faithfulness," she said. By 1826 "The Hill," the notorious center of Boston's sex traffic, had been tamed.
The Boston Female Society for Missionary Purposes folded in 1856, a few years after Webb's health forced her to abandon an active role. This saddened her. However, many other societies now competed to accomplish similar work.
On this day, 24 May, 1861, Mary Webb died of breast cancer. She was eighty-two. Spunky and witty, she had done what she could with her limited financial means and reduced mobility. Few fully mobile people have conducted such a wide range of ministries as she did from her wheelchair.
—Dan Graves
----- ------ ------
Watch Gift Of Hope: Tony Melendez Story, a contemporary who has risen above limitations to witness for the Lord and play guitar with his feet.