Saintly English Bishop Aldhelm Died on a Preaching Tour
WHILE MAKING A PASTORAL VISIT to the village of Doulting in Somerset, Bishop Aldhelm of Sherbourne felt his end was near. He asked to be carried into a wooden church where on this day, 25 May 709, he breathed his last. Ecguin, Bishop of Worcester, ordered the body carried to Malmesbury where it was laid to rest. Aldhelm's admirers erected crosses every seven miles along the route from Doulting to his body's resting place.
Aldhelm was the first substantial literary figure produced by the Anglo-Saxons of England. He inspired such later figures as Bede and Alfred the Great while reviving the church of his day.
Connected somehow with the royal family of Wessex—he was possibly the nephew of King Ine—Aldhelm first studied under a Scot named Maildulf with a few other students at Malmesbury. Then he learned from Hadrian, Archbishop of Canterbury, who taught him some Greek and perhaps a little Hebrew. Among the subjects to which he applied himself were astronomy, Roman law, arithmetic, and Latin. When he wished to impress with his Latin, he wrote in an ornate style, but he was also capable of plain, sensible writing, too. He wrote Saxon poems, beloved by contemporaries, all of which have been lost. Fortunately, his riddles, some letters, and a treatise on virginity have survived.
Having completed his studies, he returned to Malmesbury where he became abbot of a new monastic house, acquired a wide selection of books, and taught eager pupils. His fame as a teacher and preacher spread across the land. He also tried to unify the Welsh and Saxon churches, but failed.
Aldhelm observed that the Saxons were apathetic toward Christian teaching. Gifted as a musician, he began to appear in public places, such as markets and bridges, where he played and sang. Once he had gathered an audience, he would introduce religious themes into his songs. By this means, he reawakened interest in the Gospel.
The king compelled Aldhelm to become the first bishop of Shelbourne. In vain, Aldhelm argued that he was already sixty-five years old and more ready for retirement than for a huge new undertaking. His monks pleaded with him to remain their abbot even though he was to be bishop, to which he agreed.
Despite his age, Aldhelm took his duties seriously. Walking from end to end of his large diocese, he preached the Gospel in every town and village along his path for four years. It was on such a preaching tour that at the age of sixty-nine he died. The common people and his monks immediately venerated him as a saint.
—Dan Graves
----- ------ ------
Like Aldhelm, the church since its inception has used music to win souls and enrich them. A History of Christian Worship: Part 4, The Music.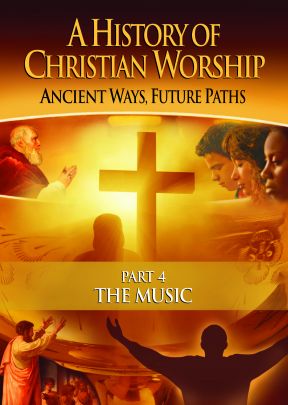 A History of Christian Worship Part 4: The Music can also be streamed at RedeemTV