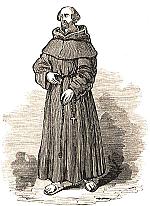 Devotional
Count on nothing but Christ
This very night your life will be demanded from you—Luke 12:20 (NIV). In the Savior's parable, God says to a...
Events
1067
Death of Lady Godgifu (Godiva) Buckingham, an Anglo-Saxon noblewoman and Christian, known for founding several monasteries. She had allegedly ridden through town naked (after requesting her people to close their doors and cover their windows) because it was the only way her husband would agree to relieve oppressive taxes on his people.
Authority for the date: http://www.geni.com
1622
Carlo Spinola, an Italian Jesuit, is roasted alive for his faith at Nagasaki.
Authority for the date: Boxer, C. R. Christian Century in Japan. University of California Press, 1967.
1880
Patrick Augustine Feehan is appointed first Catholic archbishop of Chicago.
Authority for the date: Wikipedia.
1898
Death in Red Bank, New Jersey, of Alexander Crummell, an African-American priest of the Episcopal Church who labored all his life to obtain equality for African Americans. He will be remembered in the Episcopal Church calendar.
Authority for the date: Wikipedia.
1918
The Communists execute the Orthodox priest Nicholas Ponomarev in Verkhoturye by shooting him.
Authority for the date: Moss, Vladimir. Holy New Martyrs and Confessors of the Urals, Siberia and Central Asia.
1922
Romania's first Pentecostal congregation opens.
Authority for the date: http://jurnalulpleroma.files.wordpress.com/2009/03/2004-01-iun-4-tipei.pdf
1937
Death of Burnett Hillman Streeter, biblical scholar. His 1924 book The Four Gospels: A Study of Origins, had argued that differences between Matthew, Mark, Luke and John show there were four written sources behind the four gospels. Although his conclusions were not widely accepted, his thorough research had become a major resource for Bible scholars.
Authority for the date: Standard encyclopedias.
1958
Kornelius Isaak, a Mennonite missionary, is wounded in Paraguay by a Morro Indian arrow, and dies the next day.
Authority for the date: Global Anabaptist Mennonite Encyclopedia Online http://www.gameo.org/encyclopedia/contents/I8338.html
1982
Burial of Joseph Adegbola Ishola Adekunle who had been a leader in Nigerian Baptist churches.
Authority for the date: Dictionary of African Christian Biography.