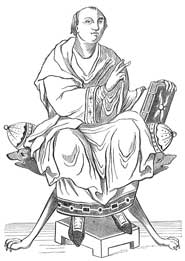 Devotional
Don't Hide from Truth (1865)
I have read of a foolish—I may say cruel—law among the Lacedemonians, that none should tell his neighbor any...
Events
1085
Death at Salerno, Italy, of Pope Gregory VII "Hildebrand," one of the most powerful medieval popes, who had excommunicated the German emperor, Henry IV.
Authority for the date: Britannica
1141
(probable date) Synod of Sens opens. At the insistence of Bernard of Clairvaux, this council pronounces selections from theologian Peter Abelard's writings erroneous and heretical.
Authority for the date: Werner Robl "The Council of Sens in 1141 and its aftermath." http://www.abaelard.de/030029senseng.htm
1510
Death in Lyon, France, of Cardinal Georges D'Amboise, minister of Louis XII, an able strategist and administrator, who had reduced taxes. He had also been a reformer of monasteries and the French judiciary and was known for his charity. In 1503 he was in position to seize the papacy by military force, but dismissed his troops and abided by the decision of the cardinals which went against him.
Authority for the date: Catholic Encyclopedia
1805
Death in Lincolnshire of William Paley. He had developed an influential apologetic based on natural history. He will become closely associated with the argument from design, using the analogy of a clockmaker and watch.
Authority for the date: Encyclopedia Americana.
1824
The American Sunday School Union ratifies its new name and constitution, organized out of the Sunday and Adult School Union. Its purpose was to use Sunday schools as a means to instill Christian and democratic values "wherever there is a population."
Authority for the date: Rice, Edwin Wilbur. The Sunday-school Movement and the American Sunday-School Union. Union Press, 1917.
1825
Death in Bristol, England, of Baptist hymnwriter John Ryland after saying "no more pain." He had helped William Carey organize the first Baptist mission and had written the hymn "Lord, teach a little child to pray."
Authority for the date: Burrage, Henry S. Baptist Hymnwriters and Their Hymns. Portland, Maine: Brown, Thurston & Co., 1888.
1855
Frederick Barker arrives in Australia where he will become the second Anglican bishop of Sydney.
Authority for the date: Larsen, Timothy T., David W. Bebbington, and Mark Noll. Biographical Dictionary of Evangelicals. IVP Academic, 2003.
1868
Death in Cornwall, England, of Billy Bray, once a profligate, but after his conversion a powerful Methodist evangelist in his native Cornwall. His most effective soul-winning had been done among fellow miners.
Authority for the date: Standard encyclopedias.
1909
Over 5,000 Knights Templar (a US organization that has taken the name of a Medieval order) march through Philadelphia to the stirring hymn of "Onward, Christian Soldiers." They are accompanied by sixty music bands and cheered by hundreds of thousands of onlookers.
Authority for the date: The Daily Star, May 26, 1909.
1931
The Supreme Court decides the case United States v. Macintosh, finding against theologian Douglas Clyde Macintosh, who had sought to become a naturalized citizen of the United States with the caveat that he would fight only in a just war. Some years later the Supreme Court will reverse itself. Meanwhile, Macintosh teaches at Yale. His theology stresses religious experience guided by faith in God and practice of Christian virtues rather than creeds or doctrinal purity.
Authority for the date: https://supreme.justia.com/cases/federal/us/283/605/case.html
1996
Thirty-six-year-old Zhang Xiuju is dragged from bed and beaten all night because of her Christian faith. Her dead body, with rope marks and signs of torture is returned two days later with the claim she died trying to jump from a moving police car.
Authority for the date: Paul Hattaway, China's Christian Martyrs. p. 478