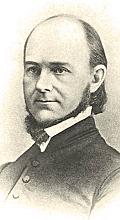 Devotional
Jesus is the best brother (1850)
[That a brother is born for adversity] may be true of others, but it is emphatically true of Jesus. We brought ourselves...
Events
1253
Death of Robert Grosseteste, a reform-minded English bishop who influenced John Wycliffe and formulated the scientific method.
Authority for the date: Standard encyclopedias.
1561
The Colloquy of Poissy ends. Held near Paris, the conference between the French Roman Catholic bishops and the Protestant ministers is unsuccessful in reaching accord, but paves the way for the 1562 Edict of St. Germain that will officially recognize and give limited freedom to French Protestantism.
Authority for the date: Standard encyclopedias.
1635
Roger Williams is sentenced to banishment by Massachusetts for his religious views. In exile, he will found Rhode Island on principles of freedom of conscience.
Authority for the date: Arthur Barsazou Strickland. Roger Williams, Prophet and Pioneer of Soul-liberty. pp. 20-21.
1747
Death of David Brainerd at age twenty-nine of tuberculosis. He had been a missionary to Native Americans in New England. His journal, published by Jonathan Edwards, will inspire many readers to become missionaries.
Authority for the date: Standard encyclopedias.
1800
Mary Webb, wheelchair-bound, organizes fourteen Baptist and Congregational women into the Boston Female Society for Missionary Purposes.
Authority for the date: Vail, Albert Lenox. Mary Webb and the Mother Society. Philadelphia: American Baptist Publication Society, 1914.
1845
John Henry Newman, formerly an Anglican and a leader of the Oxford Movement, is received into the Roman Catholic church.
Authority for the date: Barry, William. "John Henry Newman." The Catholic Encyclopedia. New York: Robert Appleton Company, 1911.
1860
Conversion of Robert Anderson, who will later head Scotland Yard.
Authority for the date: Orr, J. Edwin. The Second Evangelical Awakening. London: Marshall, Morgan and Scott, 1949.
1916
Irene Webster-Smith boards the Suwa Maru for Japan, where she will rescue Geisha children.
Authority for the date: Hitt, Russell T. Sensei: The Life Story of Irene Webster-Smith. Harper & Row, 1965.
1920
Orthodox reader Basil Ivanovich Katorgin is sentenced to death by Communists of Omsk province for "counter-revolutionary activity." The sentence will be carried out on October 23 when he is shot.
Authority for the date: Moss, Vladimir. Holy New Martyrs and Confessors of the Urals, Siberia and Central Asia.
1922
Death of Stephen Nelson Haskell, a Seventh-day Adventist pioneer, several times president of the California conference and co-founder of the Australian work and an organizer of the denomination's work in Europe.
Authority for the date: http://www.n
1935
Yin Renxian and his wife Faith Suyun Ding, who have been reaching out with the gospel to prison inmates and street people, baptize more than twenty prisoners.
Authority for the date: Biographical Dictionary of Chinese Christianity.
1940
Death of Wilfred T. Grenfell, vibrant missionary to Newfoundland and Labrador.
Authority for the date: Standard encyclopedias.
1954
Death of Vida Scudder, a socialist and peace activist in the Episcopal Church, founder of the Episcopal Church Socialist League, cofounder of Denison House in Boston (to provide social services and education to the urban poor), and an advocate of intercessory prayer.
Authority for the date: Episcopal Church. Holy Women, Holy Men.
1994
A Roman Catholic mob destroys an evangelical church in Acapulco, Mexico.
Authority for the date: Marshall, Paul A. and Lela Gilbert. Their Blood Cries Out. Thomas Nelson, 1997.
2011
The Egyptian army ruthlessly runs over or shoots Christians who are peacefully protesting the failure of the Muslim government to bring to justice Muslims who have burned Christian churches and attacked Christians. Twenty-seven protesters die. Two days later Muslims will also assault the Christian funeral processions.
Authority for the date: Persecuted: the global assault on Christians.