"Mine Was the Victory"
Perpetua (d. 203), a young, educated, Christian mother, was imprisoned for her faith pending her execution in a public spectacle. She wrote an account of her incarceration and trial up to the day before her execution.
IN THIS SAME SPACE of a few days we were baptized, and the Spirit declared to me, I must pray for nothing else after that water except only endurance of the flesh. After a few days we were taken into prison, and I was much afraid because I had never known such darkness. O bitter day! There was a great heat because of the press, there was cruel handling of the soldiers. Lastly I was tormented there by concern for the child.
Perpetua mosaic. Backhouse and Tylor. Early Church History. London: Hamilton, Adams and Co., 1885.
Then Tertius and Pomponius, the blessed deacons who ministered to us, obtained with money that for a few hours we should be taken out to a better part of the prison and be refreshed. Then all of them going out from the dungeon took their pleasure; I suckled my child that was now faint with hunger.
And being concerned for him, I spoke to my mother and strengthened my brother and commended my son unto them. I pined because I saw they pined for my sake. Such cares I suffered for many days; and I obtained that the child should abide with me in prison; and straightway I became well and was lightened of my labor and concern for the child; and suddenly the prison was made a palace for me, so that I would sooner be there than anywhere else. …
Order Christian History #123: Captive Faith: Prison as Parish in print.
Subscribe now to get future print issues in your mailbox (donation requested but not required).
A few days later, the report went abroad that we were to be tried. Also my father returned from the city spent with weariness; and he came up to me to cast down my faith saying: "Have pity, daughter, on my grey hairs; have pity on your father, if I am worthy to be called father by you; if with these hands I have brought you unto this flower of youth—and I—have preferred you before all your brothers; give me not over to the reproach of men. …" This he said fatherly in his love, kissing my hands and groveling at my feet; and with tears he named me, not daughter, but lady. And I was grieved for my father's case. …
Another day as we were at meal we were suddenly snatched away to be tried; and we came to the forum. … We went up to the tribunal. The others being asked, confessed. So they came to me. And my father appeared there also, with my son, and would draw me from the step, saying: "Perform the Sacrifice; have mercy on the child." And Hilarian the procurator—he that after the death of Minucius Timinian the proconsul had received in his room the right and power of the sword—said: "Spare your father's grey hairs; spare the infancy of the boy. Make sacrifice for the Emperors' prosperity." And I answered: "I am a Christian."
Later she describes one of her visions:
And the people began to shout, and my helpers began to sing. And I went up to the master of gladiators and received the branch. And he kissed me and said to me: "Daughter, peace be with you." And I began to go with glory to the gate called the Gate of Life. And I awoke; and I understood that I should fight, not with beasts but against the devil; but I knew that mine was the victory. —The Passion of Perpetua and Felicity, 3rd century, trans. W. H. Shewring
This article is from Christian History magazine #123 Captive Faith. Read it in context here!
By Perpetua
[Christian History originally published this article in Christian History Issue #123 in 2017]
Perpetua (d. 203) was a young, educated, Christian mother of North Africa, imprisoned for her faith and executed. She was the first known Christian woman author after Mary, the mother of Christ.
Next articles
Thinking long thoughts
From prison, Christians have produced classic literature that comforts and challenges.
Catherine Barnett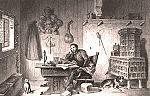 Paradoxes of prison
For some prisoners, the plunge into the depths became a step heavenward.
Dan Graves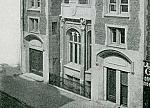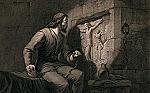 Show more
Subscribe to magazine
Subscription to Christian History magazine is on a donation basis
Subscribe
Support us
Christian History Institute (CHI) is a non-profit Pennsylvania corporation founded in 1982. Your donations support the continuation of this ministry
Donate