Hallowed Halls: Did you know?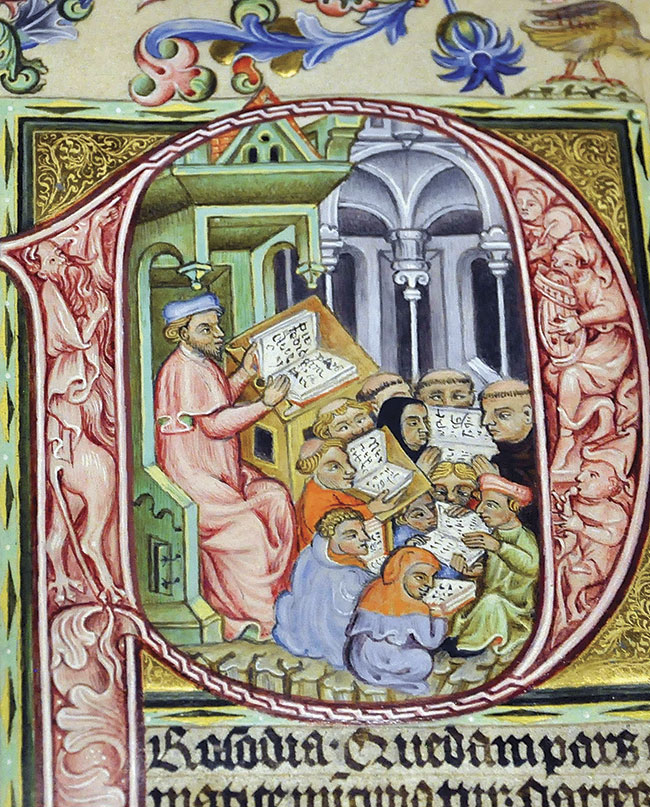 [ABOVE—Medieval Class, Bohemia Manuscript detail, 14 c.—Packare / [CC BY-SA 4.0] Wikimedia]


Science cannot be sold
The earliest recorded attempts at something like a modern university occurred in Bologna, Italy. In the late 1080s, a scholar named Irenius (c. 1050–c. 1125) gathered students for instruction in Roman law. He read the law code aloud and added his own "glosses" while the students dutifully took notes—proof that some university lecturing has changed very little in over a millennium! Unlike many other universities you'll soon read about, where theology headed the curriculum, the University of Bologna did not teach theology or the liberal arts until the 1300s.
Students at Bologna officially ran the school at first. They took up a collection to give a financial gift to their instructors because, as the school's history notes, "at that time science, as a gift of God, could not be sold." Eventually these gifts developed into regular salaries.
Do not attack the dean
The University of St Andrews in Scotland grew from a papal schism. In the fifteenth century, Scottish students who wished to pursue higher education attended the University of Paris (in Scotland's historic ally, France), rather than Oxford or Cambridge (in Scotland's historic enemy, England). But the Western Schism—in which French cardinals and the Scottish church supported rival popes—made this impossible. Scottish churchmen incorporated a new university in 1411, finally obtaining a charter from beleaguered Pope Benedict XIII in 1413. When the charter arrived, people set celebratory bonfires.
The early days of the university were tempestuous, between town-and-gown fights and the turmoil of the Protestant Reformation. Its school history notes, "In 1470, several masters and students were expelled for attacking the Dean with bows and arrows. In 1544 the university banned beards, the carrying of weapons, gambling and football [soccer]." At its founding St Andrews was a center of humanist scholarship, and, after Scotland became Protestant in 1560, it became a flagship school for the new movement.
Godless college, famous duel
One of Great Britain's first completely secular colleges, University College London, was founded in direct contrast to Oxford and Cambridge, which only allowed Anglicans to graduate. English educational reformer Thomas Arnold (1795–1842)—whose approach to character building would influence generations of English schoolchildren—called it "that godless college in Gower street." King's College London directly opposed University College: though King's admitted non-Anglican students, it also had mandatory chapel and doctrinal requirements for professors. The Duke of Wellington, prime minister at the time and supporter of Catholic rights, even fought a duel with the Earl of Winchelsea over King's refusal to limit students to Church of England members!
Who can flourish here?
Berea College in Kentucky is one of the few colleges in the United States to charge no tuition; every student receives a scholarship and enrolls in a work-study program on campus. Founder and nondenominational minister John Fee (1816–1901) explicitly began the school in 1855 to educate men and women, Black and White, in the first coed and integrated college in the South. He modeled his efforts on developments in Ohio at Oberlin (see pp. 43–45). In response in 1905, the state legislature passed "An Act to Prohibit White and Colored Persons from Attending the Same School"—specifically aimed at Berea, which was convicted and fined $1,000. Berea was forced to open the Lincoln Institute several hours away to educate Black students.
President and Congregational minister William Goodell Frost (1854–1938) announced a change of focus to poverty-stricken communities in eastern Kentucky; he is, in fact, credited with coining the concept of "Appalachia" as a cultural region. Not until 1950 could Black students again attend Berea. CH
By the editors
[Christian History originally published this article in Christian History Issue #139 in 2021]
Next articles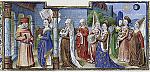 City of scholars
The University of Paris developed a model copied by many schools
Robert J. Porwoll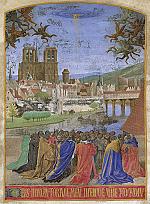 Show more
Subscribe to magazine
Subscription to Christian History magazine is on a donation basis
Subscribe
Support us
Christian History Institute (CHI) is a non-profit Pennsylvania corporation founded in 1982. Your donations support the continuation of this ministry
Donate