"A pure and holy love"
Written as an imaginary dialogue with a fellow monk called Ivo, "On Spiritual Friendship" by monk Aelred of Rievaulx (1110–1167) was a popular medieval expression of what it meant to be a friend to other believers. Here Aelred explains how he came to write about the subject—and why God created friendship.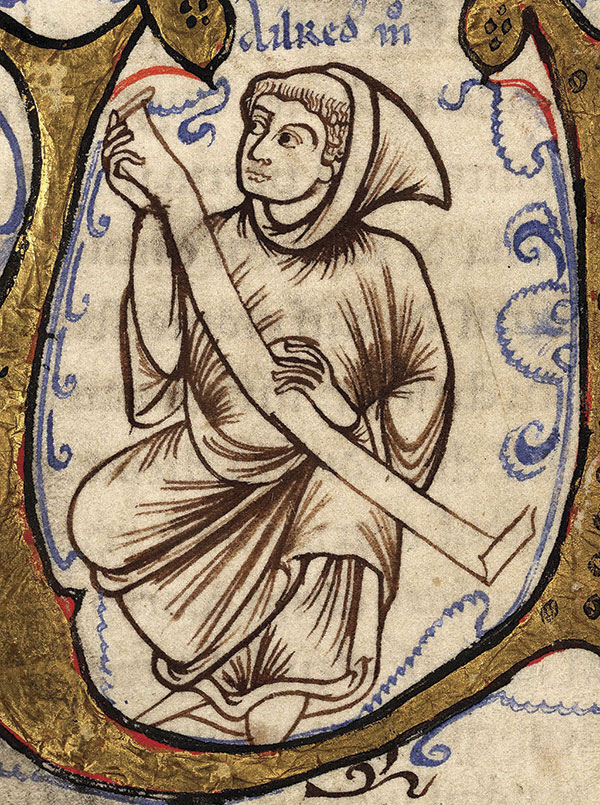 [Detail from Aelred manuscript, BM Douai, ms 392, f. 3—Douai Bibliotheque Municipal; Courtesy of Institut de Recherche et d'Histoire des Textes. Used with permission.]
WAVERING among various loves and friendships [as a boy at school], my spirit began to be tossed this way and that and, ignorant of the law of true friendship, was often beguiled by its mirage. At last a volume of Cicero's On Friendship fell into my hands. Immediately it seemed to me both invaluable for the soundness of its views and attractive for the charm of its eloquence. . . .
When my good Lord was pleased to restore the wanderer, to lift the fallen, and to heal the leprous with his saving touch, I abandoned the promise of the world and entered a monastery.
I immediately devoted myself to the study of the sacred writings, though previously, with eyes bleary and accustomed to the carnal gloom, I had not been able to see even their literal meaning. I began to acquire a taste for the sacred Scriptures and found that the slight knowledge the world had transmitted to me was insipid by comparison. Then I remembered what I had read in Cicero about friendship, but to my surprise it did not taste the same to me.
Even at that time, nothing not honeyed with the honey of the sweet name of Jesus, nothing not seasoned with the salt of the sacred Scriptures, wholly won my affection. Musing on Cicero's thoughts again and again, I began to wonder whether perhaps they might be supported by the authority of the Scriptures.
But when I read the many passages on friendship in the writings of the holy fathers, wishing to love spiritually but not able to, I decided to write on spiritual friendship and to set down for myself rules for a pure and holy love.—from the Prologue
You and I are here, and I hope that Christ is between us as a third. Now no one else is present to disturb the peace or to interrupt our friendly conversation. . . . What statement about friendship can be more sublime, more true, more valuable than this: it has been proved that friendship must begin in Christ, continue with Christ, and be perfected by Christ. . . .
In my opinion, nature itself first impressed on human minds the feeling of friendship, which experience then developed and the authority of law finally sanctioned. For God, who is supreme in power and goodness, is a good sufficient unto himself; he is himself his own good, his own joy, his own glory, and his own happiness. . . . He left no class of creatures isolated, but from the many he linked each one in a kind of society. . . . What plot of land or what stream turns up only one stone of a single kind? Or what forest produces only one tree of a single species? . . . Among sentient creatures, who could easily express how great a mirror of friendship and how great an image of a loving society they reflect? They so follow the leader, so frolic together, so express and display their attachment in actions and sounds together, and so enjoy one another's company with eagerness and pleasure that they seem to relish nothing more than what resembles friendship. Among angels, too, divine wisdom so provided that not one but several classes should be created. . . . Thus there was a host of angels to banish loneliness and a communion of charity in the various classes to multiply their joy.
Finally, when God fashioned the man, to recommend society as a higher blessing, he said, "it is not good that the man should be alone; let us make him a helper like himself" . . . this power created a woman from the very substance of the man. In a beautiful way, then, from the side of the first human a second was produced, so that nature might teach that all are equal or, as it were, collateral, and that among human beings—and this is a property of friendship—there exists neither superior nor inferior.
By Aelred of Rievaulx
[Christian History originally published this article in Christian History Issue #132 in 2019]
Text from "Spiritual Friendship" Copyright 2010 by Cistercian Publications, Inc. © 2008 by Order of Saint Benedict, Collegeville, Minnesota. Used with permission.
Next articles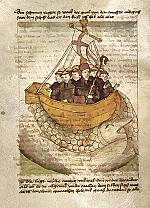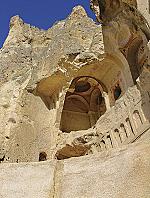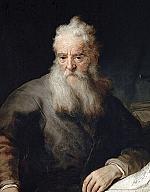 Show more
Subscribe to magazine
Subscription to Christian History magazine is on a donation basis
Subscribe
Support us
Christian History Institute (CHI) is a non-profit Pennsylvania corporation founded in 1982. Your donations support the continuation of this ministry
Donate