ELDER THA BYU, ILLITERATE BUT EFFECTIVE EVANGELIST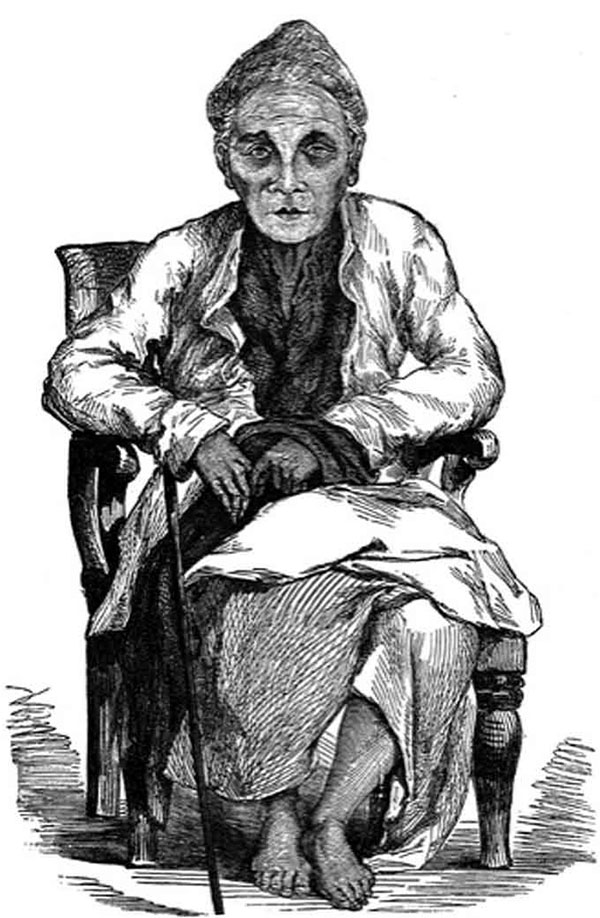 [Ko Tha Byu in old age]
THA BYU was a robber and murderer who became a great soul winner. By his own admission he had taken part in at least thirty murders. In Rangoon, he entered the service of a Mr. Hough who taught him something of Christianity. A Burmese Christian paid a debt Tha Byu owed and Tha Byu became his servant but was so unmanageable that the man turned him over to the missionary Adoniram Judson.
Under Judson's teaching, Tha Byu gradually comprehended the Christian faith and requested baptism, but the Burmese church refused it because Tha Byu could not keep his violent temper under control. It would be a year before the church saw enough change in him to agree to the rite. After an unavoidable delay, missionary George Boardman baptized him 16 May 1828. Three Karen tribesmen observed the ceremony, were impressed with what they heard of Christian teaching, and requested that Tha Byu (also a Karen) accompany them to teach them what he knew of the new doctrine. Tha Byu agreed.
Unlike most Asians, the Karen had a tradition of a single immortal god and some refused to worship idols. Thus they seemed primed to receive the Gospel. Tha Byu traveled among them whenever the weather allowed, and preached even when desperately ill. At first a few Karen here and there gathered around him and became converts. However, their witness was so effective that eventually crowds of hundreds and thousands came to hear him speak. Many became Christians.
While Tha Byu was away taking care of his sick wife, one missionary found himself overwhelmed by Karen inquirers. He wrote to another missionary, "We are in distress and send to you for relief. The Karens are thronging us from Dalla, Leing, Maubee, Kyadan, and many places I have not here named, men, women, and children, and all anxiously inquiring about the religion of Jesus." To his relief, Tha Byu was able to return to Rangoon where many Karen crammed into his small bamboo house to hear the Gospel: "Ko Thah-byu complains that the Karens throng his house, so that it is breaking down. Crowds have all day long been coming and going, and he has been busy preaching from morn till night." (The prefix "Ko" means "Elder".)
Because Ko Tha Byu was poorly educated, and was past his prime when he came to know Christ, his converts soon had more understanding of the gospel than he did. Because of this, he worked best as a pioneer in regions with no knowledge of Christ. He spent hours a day in prayer.
Persecution broke out and the Christians suffered various penalties. Ko Tha Byu had to flee to another region to work. By 1837 he suffered so severely from rheumatism and loss of sight that he was no longer able to make gospel journeys.
However, he still preached and taught near his home. Karen who had been converted under his ministry carried on the work.
On this day, 9 September, 1840, Ko Tha Byu died at Sandoway from a lung infection. His work had spanned barely twelve years, but those years had seen hundreds—even thousands—come to Christ among his people in Myanmar (Burma) and Thailand (Siam). He is fittingly known as "The Karen Apostle." Today there are hundreds of thousands of Christians in Myanmar, the largest proportion of them among the Karen tribes.
Ko Tha Byu's biographer Francis Mason wrote:
From the day of his baptism to his death, he never intermitted his labors in preaching Christ, where the Saviour had not so much as been named, from Tavoy to Siam; from Martaban to the borders of Zimmay; and from Rangoon to Arracan. And though he was the first of his nation to go down into the baptismal waters, he lived to see hundreds and hundreds follow his steps, in whose conversion he held a distinguished part. We cannot err in honoring those whom God honors; and it therefore seems proper, that the name of Ko Thah-byu should be rescued from oblivion, and inscribed among the worthies of the church; that the rising generation may learn what "very ordinary abilities," when wholly consecrated to God, may accomplish.
READ MORE ABOUT KO THA BYU AND THE KAREN IN CHRISTIAN HISTORY 90 ADONIRAM AND ANN JUDSON, AMERICAN MISSION PIONEERS