JANE FOX CREWDSON'S CHRISTIAN POEMS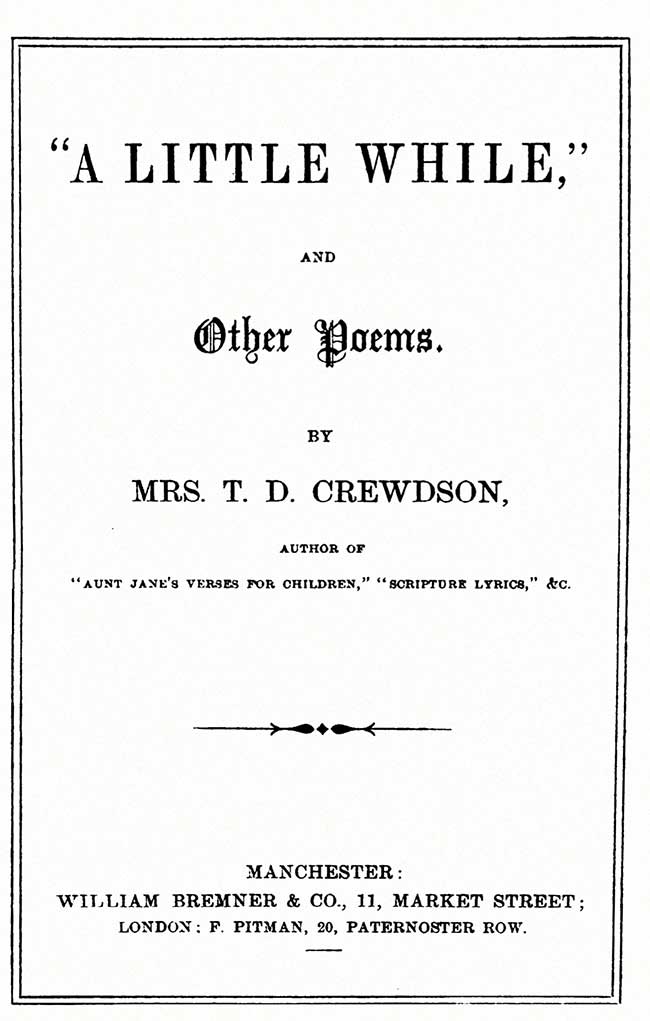 [Title page—Crewdson, Jane Fox. "A Little While." Manchester: William Bremner & Co., n.d.]
Invalidism and poetry were a frequent combination among women in Victorian England. Queen among these bedridden poets was Elizabeth Barrett Browning with her Sonnets from the Portuguese. Charlotte Elliot ("Just as I Am"), Sarah Flower Adams ("Nearer My God to Thee"), Christina Rossetti—later in life ("Love Came Down at Christmas"), and Felicia Hemans ("Calm on the Bosom of Thy God") were others. Number Jane Fox Crewdson among them.
Born in Cornwall in 1809 [Dictionary of National Biography alone says 1808], she married Thomas Dillworth Crewdson, a Manchester manufacturer, when she was about seventeen. The marriage register was marked under the Society of Friends but some accounts declare she was an Anglican.
Frail as a child, Crewdson was an invalid most of her life, but the nature of her ailment is not identified in contemporary accounts. However, ill-health did not detract from her personality. Her husband wrote,
Now as a constant sufferer, the spiritual life deepening, and the intellectual life retaining all its power, she became well prepared to testify as to the all-sufficiency of her Saviour's love. Many felt that her sick room was the highest place to which they could resort for refreshment of spirit, and even for mental recreation. From that apartment came many a letter of earnest sympathy, or of charming playfulness.
Intellectually gifted, Crewdson mastered classical learning and modern languages and wrote poetry. She contributed her first hymns to Lovell's Selection of Scriptural Poetryin 1848 and published Aunt Jane's Verses for Children, mostly on Bible stories, three years later. This was reprinted four years later and again shortly after her death. Other books of poetry from her pen were The Singer of Eisenach, Lays of the Reformation, and, after her death, A Little While.
The last book's title poem begins and ends:
Oh for the peace which floweth as a river,
Making life's desert places bloom and smile!
Oh for the faith to grasp heaven's bright "for ever,"
Amid the shadows of earth's "little while!"
. . . .
And He, who is Himself the Gift and Giver,
The future glory and the present smile,
With the bright promise of the glad "for ever,"
Will light the shadows of the "little while."
Jane Fox Crewdson died on this day, 14 September 1863, near Manchester, at the age of fifty four.