JOSÉ DE ANCHIETA BECAME THE "APOSTLE OF BRAZIL"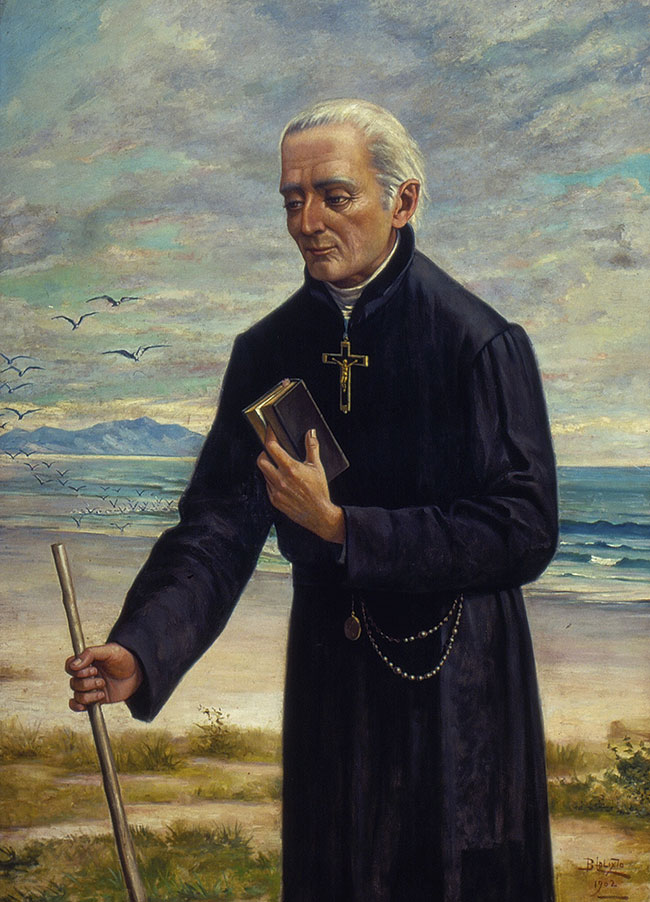 [Benedito Calixto, Retrato do Padre José de Anchieta (1902)—José Rosael / Hélio Nobre / Museu Paulista da USP / (public domain) Wikimedia]
In April 2014, Pope Francis canonized José de Anchieta, a sixteenth-century Jesuit who had labored in Brazil. Not only did Anchieta convert (baptize) as many as a million Indians into Christianity (especially in the São Paolo area), he interceded for native peoples, trying to protect them from enslavement.
Anchieta is known for much more than that. Born in the Canary Islands in 1534, he trained in Portugal before shipping to Brazil where he landed in 1553. Deeply interested in the inhabitants of the developing Portuguese colony, he wrote many letters describing their way of life, diseases, legends, and customs. He loved the indigenous people and they knew it, even when he urged them to renounce their cherished practice of cannibalism. He impressed them with his celibacy, self-mastery, and profound depth of worship.
During his first year in Brazil, Anchieta learned the Tupi language and wrote a grammar to assist others in mastering it—thus becoming a father of American linguistics. During that year, he opened a college in the then little settlement of São Paolo to train Jesuit novices.
Ever a scholar as well as a missionary, he described the flora and fauna of his adopted land in letters. Brazil's first dramas also emerged from his pen—morality plays intended to teach faith and decency, yet captivating to his forest audiences because he incorporated spectacle, dances, and music into them. He also tended the sick whenever asked, with such success he became known as a miracle worker. In the midst of these exalted endeavors, he also made alpargatas—tough shoes with rope soles—for fellow missionaries. What made his efforts all the more impressive was that his achievements came despite a bent frame and sickly body and the frequent, serious opposition of corrupt Portuguese planters and outraged indigenous people. The Tamoyos held him hostage for five months during negotiations with the European invaders. During those months he taught them religion and morals and composed a long poem to the Virgin.
When the French tried to seize Brazil from the Portuguese, Anchieta helped form and preserve the coalition that defeated them. He participated in many battles.
During his forty-four years in Brazil, he established other colleges, including the first in Rio de Janeiro (then known as St. Sebastian). He never returned to the Canary Islands for even a short furlough. In 1577, Everard Mercurian, the superior general of the Jesuits, made Anchieta provincial supervisor of Brazil's Jesuits, a position he would hold until 1591. That year he resigned, too worn out to continue the exhausting regimen he had imposed upon himself for thirty-eight years. During his waning years, he wrote a history of his order's activities in Brazil.
On this day, 9 June 1597, José de Anchieta died at Retirygba, Brazil. The town is now known as Anchieta. Portuguese and thousands of indigenous inhabitants came to pay their last respects.
—Dan Graves