JAMES MOULTON, EDUCATOR AND TRANSLATOR FOR TONGA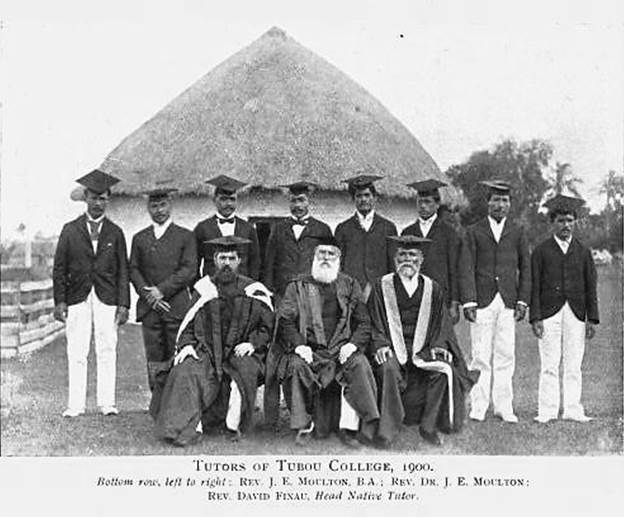 [Above: Linguist and teacher, James Moulton (center front), built a high-quality Christian college in Tonga from the ground-up.—J. Egan Moulton, Moulton on Tonga. London: The Epworth Press, 1921. Public domain.]
ON THIS DAY, 30 May 1865, Wesleyan Methodist missionary Dr. James Egan Moulton arrived in the Pacific nation of Tonga, an archipelago of over 150 small islands. Tonga's Christian ruler, King George Tubou, had requested the brilliant young educator-evangelist by name. Like the prophet Hosea, King George lamented that his nominally Christian people were being "destroyed for lack of knowledge." Although blessed by the work of previous missionaries, they remained largely ignorant of biblical truth. But their hearts and minds were open and the time was ripe for learning.
Just a few years earlier, Moulton would never have dreamed of becoming a missionary, having been dogged by a noticeable stammer from his youth. Nevertheless, he had tenaciously persisted in public speaking, eventually earning the respect of his mocking classmates. As a young man he unexpectedly wowed a foreign missions meeting; in an uncanny foreshadowing, the topic of his speech was Tonga's pious sovereign, King George! Because of this incident, Moulton was advised to leave his studies as an apprentice chemist to become a missionary. Yet his stammer stood squarely in the way of this change of course.
"Oh Lord," he prayed, "I am perfectly willing to work for Thee, but oh! remove this impediment!" Immediately, the stammer left completely and permanently. This miracle strengthened more than just his voice: it inspired him with lifelong zeal and total reliance upon God's provision.
Though a promising candidate for the ministry, Moulton was unreasonably rejected. While he waited for his way to become clear, he took a clerical job at a shipping company where his talents gave him excellent prospects. Untempted by worldly success, however, he reapplied for the Methodist ministry, and this time his offer to serve in foreign missions was accepted.
Initially delegated for China, Moulton was reassigned to Fiji, a much larger Pacific island nation than Tonga. With amazing quickness he gained fluency in Fijian, even writing an entire sermon in the language during the long ocean voyage. Once in Australia, however, Methodist leaders seized upon the highly-qualified Moulton to be the inaugural headmaster for Newington College, a brand-new seminary attached to a primary and secondary school. His enthusiasm, approachability, and musical abilities made him popular there. While setting a high standard in the classroom, he was also an active participant in the students' recreation.
Moulton's engagement to a young lady back in England survived their separation of over a year, and Emma Knight traveled to Australia to join him. Married two days before Christmas in 1864, they eagerly awaited orders from the mission to proceed to Fiji, though Moulton was sorry to leave Newington. However, King George's request, likely inspired by news of Moulton's success as an educator, changed his plans again.
On this day in 1865, after their ship barely survived a stormy voyage, Moulton and his bride found themselves in Tonga. Moulton threw himself into learning Tongan, and just five days later he was reading the Bible and the hymnal in Tongan for Sunday services. In only three months he was preaching in the language!
Moulton immediately took on the daunting task of developing Tongan higher education from scratch, founding Tubou College (named after the king), an institution that would go well beyond the elementary level of existing schools and prepare students for both ministerial and governmental positions. With the king's support, he was able to enforce uniform school discipline despite Tonga's ingrained double standard between upper and lower social classes.
Moulton obtained a printing press and taught himself to operate it so he could publish Tongan-language textbooks he authored in his "spare time." The musical program suffered a temporary setback when Moulton's students refused to learn their Do-Re-Mi's; Moulton found to his chagrin that the solfege syllables spelled out Tongan swear words, and he had to create a new system! He soon added music books to his printing operation.
With Tonga's new college an astounding success, Moulton returned to England temporarily to work intensively on translation. After his return to Tonga, his relations with King George soured because the king believed rumors that Moulton was working to annex Tonga for Britain. Despite serious political and denominational conflicts, the tragic loss of his daughter, and a near escape from drowning, Moulton worked tirelessly. However, the ongoing conflict with the king forced him to leave Tonga for Australia in 1888. Happily, the situation improved by 1891, and the breach with King George was healed before the ruler died.
In 1893 Moulton became president of both Newington College (which he saved from financial ruin) and the New South Wales Methodist Conference. Meanwhile, he remained closely involved with Tubou College and continued to write beloved Tongan hymns. His total mastery of Tongan idiom enabled him to prepare a dynamic revision of an earlier Bible translation. Moulton's version, which he worked on for years between his many other projects, was published in 1906 and remains in use today.
Though afflicted by asthma, Moulton continued translating in retirement until he went to his reward on May 9, 1909. Wrapped in a finely woven Tongan mat fit for a high chief, he was buried in Sydney with a copy each of the Tongan Bible and hymnal. The Tongans flew their capitol building flag at half-mast for three days.
—Nathan Hillanbrand
----- ----- -----
For more about how the gospel was brought to the South Pacific islands, read "Bringing Peace to Paradise" in Christian History #87, India: A Faith of Many Colors