ANNA WARING WROTE "IN HEAVENLY LOVE ABIDING"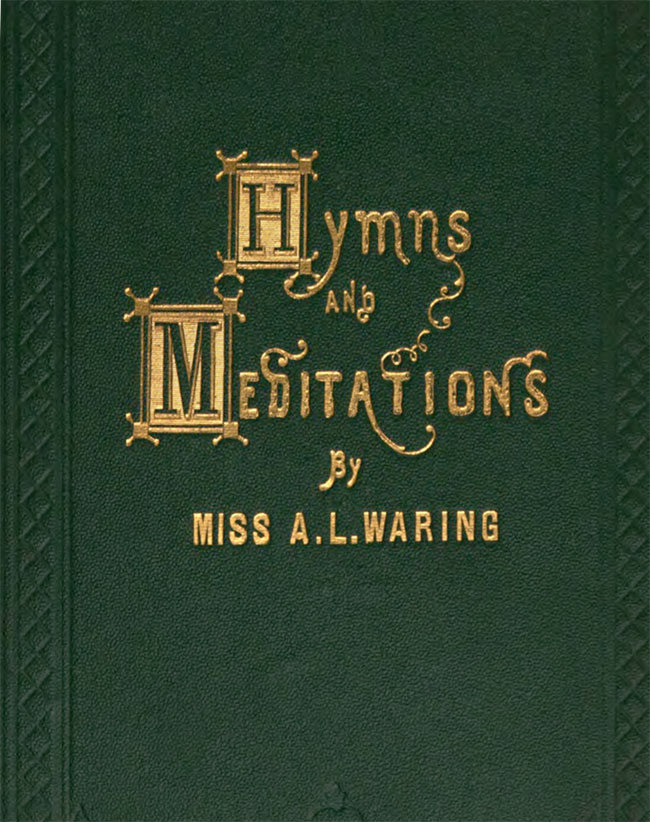 [Detail from the cover of Waring's Hymns and Meditations.]
In one of her best-known hymns, "Father, I Know That All My Life," Anna Letitia Waring wrote:
I would not have the restless will
That hurries to and fro
Seeking for some great thing to do
Or secret thing to know...
I have a fellowship with hearts
To keep and cultivate;
And a work of lowly love to do
For the Lord on whom I wait.
Those words are a summary of her life—what little we know of it. She was no publicity hound.
Waring was born on this day 19 April 1823 in Plas-y-Velin, Neath, Glamgorganshire, Wales. Her parents were Quakers. While still a teen, she migrated to the Church of England because she wanted to partake of the sacraments. Waring was baptized in 1842 at St. Martin's Church in Winnall, Winchester.
Four years later she wrote the hymn quoted above. Originally, she titled it "My Times Are in Thy Hand." She would publish two books of hymns, writing until late in life. But her only other hymn to become popular was "In Heavenly Love Abiding." Waring grounded her hymns in knowledge of biblical Hebrew, which she learned so she could read the Psalms in their original language.
Her "work of lowly love" took the form of visiting prisoners and aiding them after their release. Asked how she could bear contact with uncouth criminals, she answered that she found it worthwhile because she was able to pluck a jewel here and there from the gutter.
Waring's life mirrored that of her uncle, Samuel Miller Waring. He also migrated to the Church of England and published hymns. She died 10 May 1910 in Bristol.
—Dan Graves