ALEXANDER MERENSKY BUILT A CITY OF REFUGE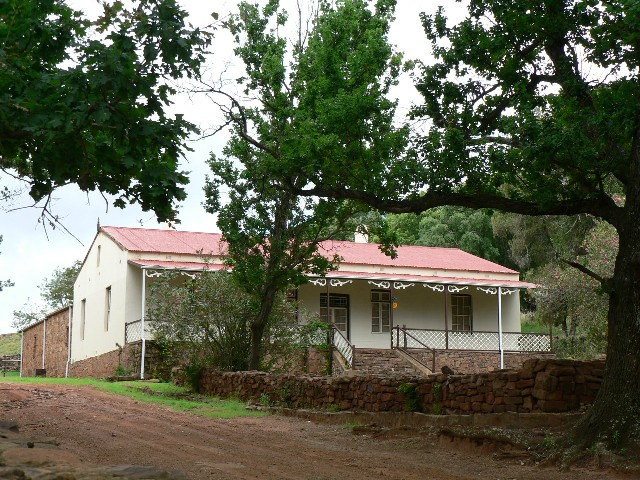 [Merensky House, Botshabelo Mission]
Alexander Merensky was raised at times by his extended family and at others in the Schindler Orphanage in Berlin. Under the ministry of an ardent pastor and hymnwriter, Gustav Knak, who was deeply interested in orphans and missions, the young Merensky decided to become a missionary. He was accepted by the Berlin Mission Society which trained him for three years for mission work. Included in his training were nursing and surgery.
Merensky and coworker Heinrich Grützner sailed for South Africa in 1858. Merensky was just twenty-one years old. Owing to African hostility, the two missionaries were forced to move from place to place. In 1863, Merensky was working at the second mission station he had founded in Africa when he married Marie Liers. The following year, forced again to move, Merensky opened his third mission station. However, persecution of African Christians soon followed.
One rainy night, a frightened convert hurried to Merensky with news that Chief Sekukhune had dispatched warriors to attack the mission. At that moment Marie went into labor. With warriors howling around the station, she gave birth to a daughter. Under cover of darkness, the newly-increased family fled, crossing a rising river just before it became impassable. Merensky bought a farm with his own money where, along with Grützner, he founded a fourth mission station and settled there with 130 refugee converts.
This mission acquired the name Botshabelo, "City of Refuge." Under Merensky's management it became a thriving place. He taught the Africans to make brick. For protection, they built a fort, named Fort Wilhelm after the German Kaiser. (Later it was renamed Fort Merensky and became a tourist attraction.) Merensky and the refugees also developed a school, medical facilities, a grain mill, and a press. Other trades Merensky established were book-binding, wagon-making, cabinet-making, and blacksmithing. Raising its own food, the Christian haven was self-sufficient. At its peak, it supported about 3,000 converts.
As if this work was insufficient, Merensky planted satellite stations, mapped the Transvaal region of South Africa, wrote scientific papers, and authored books on mission work. He and Marie also reared their seven children.
War between the Boers and British impeded the ministry. The British conscripted Merensky for medical work. From field hospitals, he observed the battles of Laing's Nek, Skuinshoogte, and Majuba Hill.
Merensky tended to be high-handed with colleagues and for this, and because of British and Boer distrust, he was recalled to Germany in 1882. There he was made inspector of the Berlin Mission. At first he was a strong advocate of German colonialism, but eventually decided it was better to place local churches under local authority. On this day, 22 May 1918, Alexander Merensky died in Berlin.
African Christians occupied Botshabelo into the 1970s when they abandoned the site for other opportunities. Fort Merensky was made a historic landmark. Botshabelo was also in process of receiving historic designation when descendants of the Africans who had lived there as refugees demanded the site under South Africa's land reform laws, intending to turn it into a pig farm.