Jealous Religious Leaders Kicked Gossner out of Russia
"PERISH, PERISH old Adam in me! Live, live, Lord Jesus!" John Gossner wrote those words in his diary near the end of the eighteenth century, shortly after he had come to understand the evangelical gospel.
Born in 1773, he was trained by Jesuits and became a Catholic priest in a small village. One day a friend said, "I have a book in my hand in which the name of Jesus stands on every page." Gossner replied, "And I have a book in my hand in which the name of Jesus is never mentioned. Shall we exchange?"
The book given him was Lavater's Letters to a Young Man on His Travels. Through it, Gossner was converted to a living faith. (What book he gave up seems not to have been recorded by his biographer.) He began to study the writings of John Michael Sailer, Martin Boos, Gerhard Tersteegen, and the Bible. They warmed his heart as his religious upbringing had not.
He began to tell others what he had learned, insisting that individuals must draw their spiritual life directly from God rather than through the agency of priests or the church. In 1802, the Jesuits investigated him in a church court. Uncertain of how to reconcile his evangelical thought with traditional Catholic teaching and urged by a highly placed Lutheran not to leave his church, Gossner agreed to tone down his teaching.
However, over the next two decades he demonstrated a gift for speaking and packed assemblies with listeners. Germans living in Russia invited him to become their pastor. He moved to St. Petersburg where from 1820-1824 he preached evangelical sermons after each mass. Hundreds of listeners packed the church, and he invited the most earnest to come to his home. Soon he had so many in attendance that he had to rent assembly halls. Russia's Orthodox leaders grew jealous of his success and petitioned the government to expel him. The Tsar ordered Gossner out of Russia.
After his return to Germany, the Catholic church also expelled him. So in 1827 Gossner became a Lutheran. He pastored Berlin's Bethlehem church, where he led large numbers of people to seek a deeper Christian life and founded philanthropic enterprises. Among these were kindergarten schools, deacon and deaconess agencies to visit the sick, a hospital, a nurses' training center, and a mission organization that carried the gospel to foreign countries, especially India. Meanwhile, he continued to write sermons that he mailed to his Russian flock. He also made a fresh translation of the New Testament into German.
When John Gossner died in Berlin on this day, 20 March 1858, thousands in Russia, Germany, and India had reason to bless his memory.
—Dan Graves
--------- ---------
For an inspiring documentary of German Christians in Russia, watch A Light In The Darkness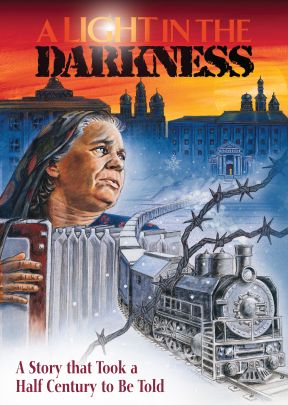 A Light in the Darkness can also be streamed at RedeemTV