Free at Last, Black Methodists Elected Their First Bishops
METHODISTS in the United States split over slavery in 1844 when a southern bishop acquired slaves. Anti-slavery Methodists proposed to ban the man from exercising his office as a bishop until he rid himself of his human property. While northern Methodists voted for the resolution, southern Methodists voted against it. Consequently, north and south parted ways.
A quarter of a million slaves worshipped with Southern Methodists at this point. However, they were not content to remain in this arrangement after the Civil War, and began going elsewhere. Rather than lose all their African-American brothers and sisters, leaders of the Methodist Episcopal Church South encouraged the emancipated slaves to form their own general conference.
In December 1870, African-American Methodists from eight states met in Jackson, Tennessee. Samuel Watson, one of the delegates and an eyewitness to the entire convention said, "I have never seen a more harmonious conference of any kind. There was a good degree of intelligence among its members." Under the leadership of Bishop Daniel Payne, they founded the Colored Methodist Episcopal Church,* forming a new branch of Methodists.
On this day, 21 December 1870, the fledgling organization chose its first two bishops. After praying for divine guidance, they elected William Henry Miles and Richard H. Vanderhorst. This was no easy or "in-name-only" job. The two would have to travel a good deal and subsist on meager pay. When the Committee on Church Organization presented its report, it said in part: "We request the bishops to organize our General Conference on the basis of the Discipline of the Methodist Episcopal Church, South, in its entire doctrine, discipline, and economy, making only such verbal alterations and changes as may be necessary to conform it to our name and the peculiarities of our condition."
Miles proved to be a great organizer and guided the Colored Methodists for twenty-two years. Vanderhorst was a powerful preacher, who brought people under deep conviction with his sermons. Everyone mourned when he died just eighteen months after his election.
—Dan Graves
———-
*In 1954 the name was changed to Christian Methodist Episcopal Church.
----- ----- -----
Christian History has done an issue on the African American experience and another on Methodists in America that touches on the experience of some famous Black Methodists. See Christian History #62, Bound for Canaan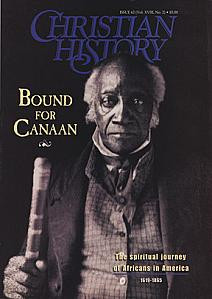 and Christian History #114, Francis Asbury: Pioneer of Methodism