Dying Schaff Placed His Trust in Christ
PHILIP SCHAFF was born in Switzerland, but did his greatest work in America. Trained at the Universities of Tübingen, Halle, and Berlin, he studied under some of the most famous theologians of his day, including Tholuck, Neander, and David Strauss. Schaff's sympathy was with evangelical Lutherans. He remarked that a theologian without faith is like "a sky without a star, a heart without a pulse, light without warmth, a sword without edge, a body without soul."
When Schaff left Europe in 1844 to become professor of church history and biblical literature at the German Reformed Theological Seminary in Mercersburg, Pennsylvania, he was already known for his vast learning. One of only two teachers, he taught every class at some time, edited the school's theological paper, and much more. His work was not without opposition. He evoked cries of protest when he urged that instruction be in English not German, arguing that the Lutheran church would not grow in America unless it adopted the dominant language. When he spoke too well of some medieval Catholics and of the Oxford Movement (an Anglican revival of Catholic ideas in his own day), he was accused of heresy and had to defend himself. A church council exonerated him.
Schaff did a prodigious amount of work. His output included six of the eight volumes of The History of the Christian Church, editorial oversight of the Schaff-Herzog Encyclopedia of Religious Knowledge, a three-volume study of The Creeds of Christendom, an edition of Lange's Commentary, and oversight of the twenty-eight volumes of the Nicene and Post-Nicene Fathers.
On a visit to Germany in 1854, Schaff gathered material for another book that he published as Germany, its Universities, Theology, and Religion. Not to be overlooked was his book for laypeople The Person of Christ. He described its object as "simply to show, in a popular style, that the person of Christ is the great central miracle of history, and the strongest evidence of Christianity." He also served on the revision committee developing a new translation to replace the authorized (King James) version. An advocate of hymn-singing, he increased hymns' use among German-American congregations.
During the American Civil War, the seminary at Mercenberg closed temporarily. Schaff moved to New York where he eventually became a professor at Union Theological Seminary, holding various chairs until his death on this day, 20 October, 1893. Felled by a stroke that year, he was unable to talk. Friends and family read passages of scripture to him and he indicated assent. In his last confession he said, "I am a sinner and place my trust in my Savior who died for me."
-----------------
Philip Schaff was committed to Christ and wrote of his centrality. Modern scholar N.T. Wright has a similar commitment, revealed in Jesus The New Way
-----------------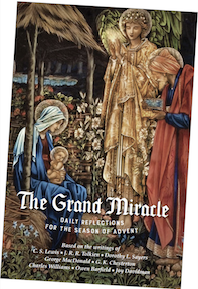 Contemplate the story of the Incarnation day-by-day throughout the season of Advent in our latest publication, The Grand Miracle. Based on the writings of C. S. Lewis, J.R.R. Tolkien, George MacDonald, Dorothy Sayers, and others, each day's reading offers a fresh look at the birth of Christ through the eyes of a modern author. Scripture, prayer, and full-page contemplative images complete each entry. 28 days, 64 pages. Preview the Devotional here.