GLADYS AYLWARD DREAMED BIG FOR CHRIST AND CHINA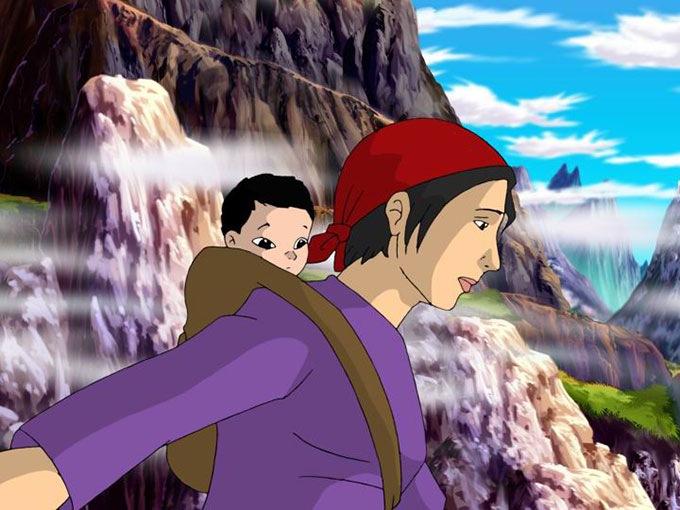 [Gladys Aylward in the mountains from Torchlighters: The Gladys Aylward Story]
Gladys Aylward worked as a parlor maid and dreamed of a stage career. One night her dreams changed. She attended a revival meeting and was challenged to dedicate her life to God's service. Taking the message to heart, she set her sights on China. But she was eliminated from a mission training program because she showed no aptitude for language learning. So, she turned her attention to rescuing women from brothels, but had little success. Then she heard of seventy-three-year-old Jeannie Lawson, working alone in China and asking for a helper. Gladys wrote and Mrs. Lawson accepted her—if she could find a way to China.
Aylward had enough money for rail fare across Europe and Siberia. On this day, 15 October 1932, she boarded a train at Liverpool for the first stage of her long journey. At the eastern edge of Russia, she was ordered from the train and her passport taken. She managed to snatch it back and throw it behind her into the room she had been assigned. She told the Russian interpreter he was not to enter. He declared himself her master, able to do as he wished. "Oh no you cannot," she said with bravado she did not feel. "You may not believe in God, but he is here. Touch me and see. Between you and me he has put a barrier. Go!"
Shivering, the man left.
With the help of locals, she escaped to a Japanese vessel and reached China. She found her way to Yengchang where Jeannie Lawson worked. Determined to spread the gospel, the two women hit on the idea of opening an inn for mule drivers. When the house was ready, Aylward stepped out and seized the lead mule of a train. After the first few weeks, she no longer needed to "kidnap" customers—they turned in at the inn by preference. The name, Inn of the Sixth Happiness, referred to "truth" in a Chinese list of virtues. The women shared Bible stories with the mule drivers.
About a year after Aylward's arrival, Mrs. Lawson suffered a fall and died. Aylward took over the mission with the aid of Yang, a Chinese cook. When finances became desperate, the local mandarin asked Aylward to become his salaried foot inspector. The government had banned the cruel practice of folding and binding girl's feet to keep them tiny. This job enabled Aylward to share the gospel. By then she was well on her way to mastering the local Chinese dialect.
More tasks devolved on her. She was ordered to end a prison riot in which armed soldiers feared to intervene. The warden said, "You have been preaching that those who trust in Christ have nothing to fear." Rather than let Christ down, Aylward walked into the courtyard and shouted: "Quiet! I cannot hear when everyone is shouting at once. Choose one or two spokesmen, and let me talk with them." She insisted the men be given work so they need not be idle and so they could afford food for themselves. Aylward gained the nickname "Ai-weh-deh," which means "Virtuous One."
Soon afterward, she purchased a malnourished five-year-old girl for ninepence. A year later, Ninepence came home with an abandoned boy, saying, "I will eat less, so that he can have something." Thus Ai-weh-deh acquired her second orphan, Less. Dozens more came into her care. Meanwhile, she was a regular visitor at the palace of the mandarin. In 1936, she became a Chinese citizen. When war broke out with Japan, she reported useful information to Chinese troops. The Japanese put a bounty on her head.
She determined to take her children to a government orphanage. For days she shepherded about one hundred children toward Sian. Some nights they found shelter with friendly hosts. Other nights they spent on mountainsides. On the twelfth day, they arrived at the Yellow River. The children asked, "Why don't we cross?"
"There are no boats," she answered.
They said, "God can do anything. Ask him to get us across." They all knelt and prayed. Then they sang. A Chinese officer heard the singing and arranged for a boat. However, the refugees' troubles were not over yet. They had to travel further because the region was teeming with displaced Chinese. When Aylward finally delivered her children to safety, she collapsed, suffering from typhus, pneumonia, relapsing fever, malnutrition, and exhaustion.
After her health improved, she started a church in Sian and worked wherever needed. But her health was permanently damaged and in 1947 she returned to England for an operation. In England, she scolded apathetic Christians.
Aylward returned to China in 1953, but because of the Communist takeover had to settle in Taiwan. There, she founded the Gladys Aylward Orphanage. She retired a few years before her death in 1970. Toward the end of her life, she wrote, "My heart is full of praise that one so insignificant, uneducated, and ordinary in every way could be used to his glory for the blessing of his people in poor persecuted China."
—Dan Graves