ELIZABETH PRENTISS WROTE OUT OF SUFFERING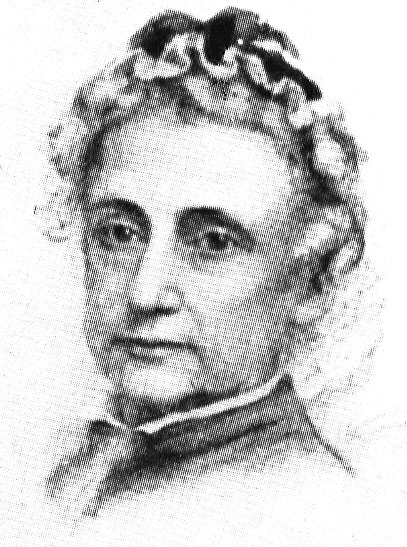 [Elizabeth Prentiss, from Stories of American Hymns]
ELIZABETH PAYTON was the daughter of Edward Payson—a beloved, sensitive, and God-hungry Congregationalist pastor in Maine. She would show a similar character. The flip side of both her and her father's desire to love Christ was that both experienced episodes of severe melancholy when they were unable to attain the level of sanctification they desired.
Elizabeth's favorite haunts were in New England, and New England was the backdrop for much of her literary output. At sixteen she first contributed to Youth's Companion, a Christian magazine, and continued to write Christian verse and stories until she died near sixty. Her works became popular, none more so than her novel Stepping Heavenward and her hymn "More Love to Thee."
To support herself, the young Elizabeth taught school and later managed a boarding school in Virginia. Friends, pupils, and acquaintances were hardly aware that she suffered chronic insomnia. This was because, although she had never felt well even as a child (when she was beset by migraines, fainting, and pain in one side), the face she turned to the world was radiant. She was determined to honor Christ by not complaining. Her love for Christ prompted frequent expressions such as, "To love Christ more is the deepest need, the constant cry of my soul."
In 1845, this daughter of one pastor married another: George Lewis Prentiss. In 1852 they lost a son, five-year-old Eddy, and a newborn baby, "Bessie," within months of each other. Elizabeth was too sick after Bessie's birth to hold the baby girl more than twice in the month the child survived.
Four years later, in 1856, after she had almost lost another daughter, two-year-old Minnie, Elizabeth wrote the hymn "More Love to Thee, O Christ." She was experiencing great physical, mental, and spiritual anguish when she penned it.
She would later say, "Much of my experience of life has cost me a great price and I wish to use it for strengthening and comforting other souls." This desire prompted her to write Stepping Heavenward (1869), the story of Katherine Mortimer, who struggles with sickness and with jealousy, bad temper, and other faults, as she grows up, learns faith, marries, and has children. It sold well in its own day and experienced a revival of interest late in the twentieth century. A contemporary said of Elizabeth's writing, "Her books were intensely personal; expressions, I mean, of her own experience. Many of her characters and scenes are simple transcripts of fact, and much of what she taught in song, was a repetition of what she had learned in suffering."
Her main afflictions remained depression and insomnia. To one friend she wrote about the insomnia in the year she wrote Stepping Heavenward:
I have to make it my steady object throughout each day, so to spend time and strength as to obtain sleep enough to carry me through the next; it is thus I have acquired the habit of taking a large amount of exercise, which keeps me out of doors when I am longing to be at work within. You say I seem to be always in a flood of joy; well, that too is seems. I think I know what joy in God means, though perhaps I only begin to know....
Surprisingly, Elizabeth had not shown the lines of "More Love" to anyone in the thirteen years since it was written. Now she did. When the hymn was printed—also in 1869—it became an immediate success and soon found its way into many hymnals.
On this day, 13 August 1878, Elizabeth Payton Prentiss died in Dorset, Vermont, where she and her husband had retired. Among her dying agonies was an excruciating gastro-enteritis. At her graveside, as the sun was setting, her friends sang "More Love to Thee, O Christ" to a tune composed by George W. Doane. Its second verse reads,
Once earthly joy I craved
Sought peace and rest
Now thee alone I seek
Give what is best;
This all my prayer shall be,
More love O Christ, to thee,
More love to thee,
More love to thee.
—Dan Graves