We are immortal
Today's Devotional
Marvel not at this: for the hour is coming, in the which all that are in the graves shall hear his voice, and shall come forth; they that have done good, unto the resurrection of life; and they that have done evil, unto the resurrection of damnation—John 5:28,29 (KJV).
Immortality is not conditional. It is inherent in human nature. It does not depend upon good behavior; it cannot be forfeited by sin. Even the most desperate criminals cannot escape from it, much less the most ignorant agnostics. Until all have stood before the judgment seat of Christ, until some have gone away into eternal punishment and other some into eternal life, until every man reaps that which he has sown, and having been judged according to the deeds done in the body, has received his reward, the Word of God affords no possible hope of escape from the truth of inherent and inalienable immortality, and after that none could wish for one. "It is appointed unto men once to die, and after that the judgment" [Hebrews 9:27]. If death is universal, so must judgment be; and if judgment be universal, it must be because the identity of each individual is retained beyond the grave, for judgment would be impossible or absurd without identity in the person judged.
Here, then, is a joyous hope for the believing, as well as a faithful warning—an affectionate, tender, truthful, and therefore faithful warning—for the unbelieving.
—George S. Payson
Then shall nature stand aghast,
Death himself be overcast;
Then, at her Creator's call,
Near and distant, great and small,
Shall the whole creation rise,
Waiting for the great assize.
—Dean Stanley.
__________________________________________________________________________________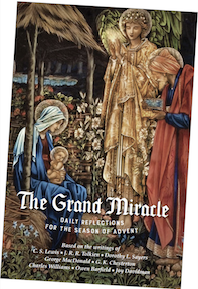 Contemplate the story of the Incarnation day-by-day throughout the season of Advent in our latest publication, The Grand Miracle. Based on the writings of C. S. Lewis, J.R.R. Tolkien, George MacDonald, Dorothy Sayers, and others, each day's reading offers a fresh look at the birth of Christ through the eyes of a modern author. Scripture, prayer, and full-page contemplative images complete each entry. 28 days, 64 pages. Preview the Devotional here.
__________________________________________________________________________________
About the author and the source
Rev. George S. Payson was minister of Mount Washington Presbyterian Church, New York. Arthur Penrhyn Stanley (1815–1881) was an English churchman, academic, and Dean of Westminster. The verse is from his translation of the 13th-century Latin poem, "Dies irae."
George S. Payson "The Dead Shall Be Raised Incorruptible" in Life's Golden Lamp for Daily Devotional Use, edited by R. M. Offord. New York: New York Observer, 1890.