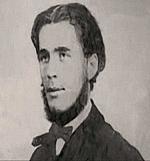 Events
1376
Gregory XI steps over his protesting father to return the papacy from Avignon to Rome.
Authority for the date: Brusher, Joseph. Popes Through the Ages, Third Edition. Neff-Kane, 1980.
1541
Calvin receives an uproarious welcome on his return to Geneva, whose authorities had banished him three years earlier.
Authority for the date: Greengrass, Mark. "Chronology of the Reformation at Geneva." lib329.bham.ac.uk/coreRes/reformat/geneva/chronref.htm
1601
Death of Meletius Pegas, who, as Orthodox patriarch of Alexandria, had endeavored to reunite the Greek and Coptic churches. A fierce opponent of Roman Catholicism, he had nonetheless accepted the doctrine of transubstantiation.
Authority for the date: Betz, Hans Dieter, et al. Religion Past and Present.
1629
Death in Basel of John Buxtorf the Elder, an eminent Christian scholar of Hebrew language, writings, and customs. His work had been shaped by his desire to convert Jews. Basel authorities once fined him 100 gulden because his interest in Jewish ceremonies had led him to attend a circumcision.
Authority for the date: Jewish Encyclopedia.
1816
Robert Moffat is ordained and set apart with eight other missionaries to work in South Africa. He becomes a notable translator and the father-in-law of David Livingstone.
Authority for the date: Larsen, Timothy T., David W. Bebbington, and Mark Noll. Biographical Dictionary of Evangelicals. IVP Academic, 2003.
1818
Samuel Leigh, Methodist missionary to Australia, lays the foundation stone of a chapel at Windsor, New South Wales, one of thirteen preaching places in a circuit he establishes.
Authority for the date: http://adb.anu.edu.au/biography/leigh-samuel-2348
1931
Pentecostal preacher Aimee Semple McPherson marries David Hutton, a vaudeville performer. The marriage (her third) will end in divorce.
Authority for the date: Biographical Dictionary of Evangelicals.
1984
Adano Andrew Tuye begins studies at the All Nations Christian College in England. He will be the first person from Kenya's nomadic tribes to become a bishop in the Anglican Church and will translate the entire Bible into the Borana/Oromo language.
Authority for the date: Dictionary of African Christian Biography.
1988
Qatar allows the first public Catholic mass since Islam conquered the region in the seventh century. Subsequently Qatar will authorize public worship by five other Christian denominations.
Authority for the date: Persecuted: the global assault on Christians.