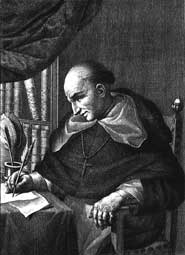 Events
1556
Death of Ignatius of Loyola, founder of the Jesuits, of an acute gallbladder attack. He had spent the day before in prayer.
Authority for the date: Delany, John. Saints for All Seasons. New York: Doubleday, 1979.
1765
Ordination of John Fawcett. He had been scrupulous about going into the ministry, wanting to make sure it was God's will. After his writings bring him fame, he will be called to London from a poor church in Wainsgate and will not pray about the move before he begins packing. With breaking heart his wife asks him to reconsider, and he does, deciding Wainsgate is where the Lord wants him. Out of that experience he will write the hymn "Blest be the Tie that Binds."
Authority for the date: Burrage, Henry Sweetser. Baptist Hymn Writers and Their Hymns. Portland, Maine: Brown, Thurston & co., 1888.
1834
Slaves that have been freed in the West Indian Islands hold midnight prayer and thanksgiving services.
Authority for the date: Pitman, E. R. Lady Missionaries in Many Lands. London: Pickering and Inglis, ca. 1900.
1847
Death of Methodist elder Orange Scott. He had presided over the convention that created the Weslyan Methodist Connexion, whose members felt that the Methodist Episcopal Church compromised on too many issues, including slavery.
Authority for the date: http://media.wesleyan.org/Orange%20Scott-en.pdf
1871
Death in Newport, Rhode Island of Phoebe Cary. She had written religious poetry, including the hymn "One Sweetly Solemn Thought."
Authority for the date: Cyberhymnal.
1889
Death of Horatius Bonar. An editor and pastor in Scotland's Free Church, he had been a prolific writer and poet, authoring several missionary biographies and over six hundred hymns, one of which would maintain its popularity for over a century: "I Heard the Voice of Jesus Say."
Authority for the date: Britannica.
1900
Martyrdom of evangelist Liu Fengshi, formerly a gambler and opium addict. When the Boxers come to Taigu, China, he offers to die first. His wife and daughter-in-law are also beheaded. By the end of the summer, eighty of Taigu's one hundred and twenty Christians will be martyred.
Authority for the date: Paul Hattaway, China's Christian Martyrs. p. 292
1903
Brazil's Presbyterian Church synod rules on three disputed questions: the practice of Masonry, building seminaries and colleges, and the role of missionaries. Unhappy with the decisions, seven ministers and several elders withdraw and soon will form Brazil's Independent Presbyterian Church.
Authority for the date: William R. Read, New Patterns of Church Grow
1955
Wang Ming-Dao, a Chinese evangelical pastor, is denounced by the Communist-controlled official church publication.
Authority for the date: Lyall, Leslie T. Three of China's Mighty Men. London: Hodder and Stoughton, 1980, 1973.
1978
In Minshiet Demillo, Province of Kaliobia, Egypt, a Muslim mob murders two Sunday school teachers, Dr. Emad Barbari and his brother Boushra Barbari, and throws their bodies into the river. The suspects will confess to the murders but no formal charges will be brought against them.
Authority for the date: Bistawros, Baheg T. "The Coptic Christians of Egypt Today: Under Threat of Annihilation."
1986
Death of Chiune Sugihara, an Orthodox Japanese diplomat, who, with his wife, Yukiko, had rescued thousands of Jews by providing them with Japanese visas so they could escape from Lithuania, where Chiune was Japanese Consul. His action had violated official Japanese diplomatic policy and he was eventually dismissed from his country's service. He will be remembered with other Righteous Gentiles in the Episcopal Church calendar on July 19
Authority for the date: http://www.jewishvirtuallibrary.org/jsource/Holocaust/sugihara.html