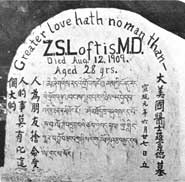 Events
1672
Cossacks murder Joseph, first metropolitan of Astrakhan, torturing him on a bed of coals in an effort to compel him to denounce a letter of excommunication as a forgery. He refuses to yield and is finally thrown from the city wall to his death.
Authority for the date: Bain, Robert Nisbet. The First Romanovs (1613-1725).
1685
At Wigton, Scotland, two Covenanter women named Margaret are cruelly tortured and drowned.
Authority for the date: Dryerre, J. Meldrum. Heroes and Heroines of the Scottish Covenanters. Religious Tract and Book Society of Scotland, 19
1885
Death in Calcutta of Krishna Mohan Banerjea, a pastor, college professor, and writer. He will sometimes be called the father of Bengali Christian literature—a language in which he wrote tracts, lectures, articles, and apologetic material, as well as studies of Hindu philosophy.
Authority for the date: Satthianadhan and Murdoch, Sketches of India
1918
Death of Huang Su'e (Mrs. Francis Lister Hawks Pott), notable for her work as a missionary, promotion and oversight of women's education, establishment of an orphanage for neglected girl babies, and other zealous Christian activities.
Authority for the date: Biographical Dictionary of Chinese Christianity.
1926
J. R. R.Tolkien and C. S. Lewis have their first long chat. Five years afterward, Lewis converts to Christ. Later the two men, with a group of friends and colleagues, will become members of the Inklings, a predominantly Christian group at Oxford.
Authority for the date: Carpenter, Humphrey. The Inklings. Houghton Mifflin, 1979.
1994
Death of Jim Broomhall who had served the Yi (Nosu) people of China as a medical missionary and when expelled by the Communists had worked in the Philippines.
Authority for the date: "Pray for China Fellowship" (September 1994).