The fires of love

[Rolle, from a British Library manuscript reproduced in a Radcliffe University publication]
Bernard of Clairvaux (1090–1153)
"There are those who seek knowledge for the sake of knowledge; that is Curiosity. There are those who seek knowledge to be known by others; that is Vanity. There are those who seek knowledge in order to serve; that is Love."—attributed; similar phrasing is found in his On Loving God
Bernard was born in 1090 into the Burgundian nobility. He was very fond of his parents, who encouraged their children to live moral lives. When his mother died, Bernard, only 19 years old, honored the influence she had on his development by leaving his studies and entering a Benedictine abbey called Cîteaux near Dijon.
The abbey had been established in 1098 as part of a movement to return the Benedictines to the Rule originally set down by Benedict. This new movement would eventually take the name Cistercian after the abbey (sometimes spelled Cisteaux). As a reform movement, the Cistercians attracted many young men.
Three years later Bernard was asked to establish a new Cistercian abbey a little north of Cîteaux, which was completed in 1115. Tradition has it that he named the abbey "Claire Vallée" (Clear Valley) after its location; this became Clairvaux.
As the abbey grew and members were sent out to establish even more abbeys, Bernard's influence increased. He was eventually ordained a priest, though it may have been after he was appointed abbot!
In 1128 Bernard was asked to participate in the Council of Troyes, a church council that, among other things, established the Knights Templar. There he served as the council secretary. Soon he was making his voice heard beyond his little valley. He vocally defended the church in the ongoing struggle between the church and secular authorities.
When two popes were elected in 1130—Anacletus II in Rome and Innocent II who was banished to France—the bishops asked Bernard to judge who was the rightful successor to the papacy. His decision to back Innocent swayed the great powers of Europe to support Innocent as well.
Bernard continued to play a role in church politics for the remainder of his life. He also wrote several great mystical classics: On Loving God (c. 1128) and Sermons on the Song of Songs (which he began in 1136 and was still writing when he died almost 20 years later).
In the former he famously described four degrees of love the soul goes through as it seeks union with God: loving self for self's sake, loving God for self's sake, loving God for God's sake, and loving self for God's sake. Published widely for centuries, these books spread the concept of bridal mysticism (see p. 10), which invited untold numbers of men and women into an intimate relationship with Jesus.
In response to the defeat of Christian armies in the Holy Land in 1144, Pope Eugene III asked Bernard to promote enrollment in the Second Crusade through his preaching. Thanks to his powerful message, a reluctant public soon enlisted in great numbers. Even royalty responded to his call.
The eventual failure of the Second Crusade turned sentiment against Bernard. He tried to call a new crusade, but eventually quit and retired to Clairvaux, where he died in 1153. The pope canonized him in 1174, and in 1830 he was made a Doctor of the Church.
Hildegard of Bingen (1098–1179)
"I am the fiery life of the essence of God; I am the flame above the beauty in the fields; I shine in the waters; I burn in the sun, the moon, and the stars. And with the airy wind, I quicken all things vitally by an unseen, all-sustaining life."—Book of Divine Works (c. 1170–1173)
Few saints can claim to be as accomplished as Hildegard. She was an influential Benedictine abbess, a writer of visionary theology, a composer of liturgical music, the author of a musical morality play (perhaps the earliest one in history), a philosopher, and a mystic. She also studied and wrote on natural history and medicine. And at some point, she invented her own alphabet!
Hildegard was born in Germany around 1098 into a family of lower nobility. She was the youngest of a lengthy line of siblings—eight or ten, depending on who you ask—and was said to have been a sickly child. Early on, however, she began to experience visions.
At 14 she became an oblate of the Benedictine monastery at Disibodenberg on the Rhine River along with Jutta, an older woman who was the daughter of Count Stephan II of Sponheim. Hildegard may have been in Jutta's care since she was eight. She later wrote that Jutta had taught her to read and write.
At the monastery Hildegard continued to have visions. She possibly learned to read music as well as play it from a monk named Volmar. Hildegard told Jutta and Volmar of her visions, which they approved of as a gift from God.
When Jutta died in 1136, Hildegard's fellow nuns elected her to lead them. Instead of submitting to the authority of the abbot and the results of the election and assuming the role of prioress, Hildegard asked permission to establish a convent in Rupertsberg, which she did. She later established another convent at Eibingen.
In 1141 Hildegard received a vision in which God commanded her to record her visions. She resisted at first and took ill, but eventually relented. It was several years before the pope heard of her writings. In 1147 or 1148, Pope Eugenius gave her papal approval and deemed her visions to be from the Holy Spirit.
Hildegard died on September 17, 1179, at the age of 81. The nuns present reported that two streams of light appeared in the sky as she was dying and crossed over her room. She was unofficially celebrated as a saint for centuries, and in 2012 Pope Benedict XVI officially added her to the sanctoral calendar and proclaimed her a Doctor of the Church.
Elizabeth of Hungary (1207–1231)
"As in heaven Your will is punctually performed, so may it be done on earth by all creatures, particularly in me and by me." —attributed
"We are made loveless by our possessions." —attributed
Elizabeth was a Hungarian princess, daughter of King Andrew II. At 14 she was married to Louis IV, Landgrave of Thuringia (a state in what is now modern Germany).
Franciscan friars spiritually influenced Elizabeth after she moved to Thuringia. She eventually lived with them and engaged in charitable works. One of the first Franciscan tertiaries, Elizabeth is the patroness of the Third Order of St. Francis today.
Of the miracles attributed to Elizabeth, the most well known is the Miracle of the Roses. One day, while sneaking bread out of the castle to feed the poor, Elizabeth was supposedly discovered by her husband and his hunting party. She hid the bread beneath her cloak. The noblemen in the hunting party accused her of stealing from the castle and demanded she open her cloak. When she did the bread was miraculously transformed into red and white roses.
In another miracle it is said that she laid a dying leper in her bed. When Louis was told, he stormed into the bedroom. Throwing back the covers, instead of a leper he saw the crucified Christ.
At 20 Elizabeth became a widow; Louis died of a fever in Italy on his way to join the Sixth Crusade. Louis's brother stepped in as regent of Thuringia because Elizabeth's eldest son was still a minor. Consequently her three children were sent away, she had to take vows of celibacy, and her dowry became a point of contention.
Eventually she recovered the dowry and used it to build a hospital, where she helped care for the sick, even as she continued caring for the poor. She died in 1231 after a brief illness at the age of 24 and was canonized by the church only four years later, in 1235. Another quote often attributed to her is the haunting "How could I bear a crown of gold when the Lord bears a crown of thorns? And bears it for me!"
Bridget of Sweden (1303–1373)
"The world would have peace if only men of politics would follow the Gospels."—attributed
Bridget of Sweden was born Birgitta Birgersdotter in 1303 into a rich landowning family in Uppland. Through her mother's side, she was related to Sweden's royal family. At a young age, she had a dream of the "Man of Sorrows"—Jesus on the cross. She asked him who put him on the cross, and he replied, "They who despise me, and spurn my love for them."
She would continue to have visions throughout her life. A record of many of her visions was later published beginning in the 1340s as Revelationes coelestes, or Celestial Revelations.
When she was 14, Bridget married Ulf Gudmarsson. They had eight children. Six survived infancy, including a daughter who would become St. Catherine of Sweden (c. 1330–1381). Bridget developed a reputation for caring for unwed mothers and their children.
When Magnus Eriksson, the king of Sweden, married Belgian noblewoman Blanche of Namur, he asked Bridget to be the new queen's principal lady-in-waiting. In 1341, after years of serving in court, Bridget and Ulf made a pilgrimage to Santiago di Compostela (in modern-day Spain). On the return trip, Ulf became seriously ill.
While praying at Ulf's bedside, Bridget was met in a vision by a bishop who declared that Ulf would recover. She asked the bishop who he was, and he said he was Denis, the patron saint of France. Ulf did recover but died several years later.
Ulf's death devastated Bridget. She joined the Third Order of St. Francis and embarked on a life of caring for the poor and the sick. Eventually she established her own order, the Order of the Most Holy Savior, or the Bridgettines.
Later Bridget made a pilgrimage to Rome to secure authorization for her order (which she got in 1370). She stayed on in Rome for the rest of her life—aside from a few pilgrimages—becoming known for her acts of charity. She also championed ecclesiastical reform, calling out the church for low morals and abuse of position and power. In 1391—less than 20 years after her death—the church canonized her.
Richard Rolle (c. 1305–1349)
"I cannot tell you how surprised I was the first time I felt my heart begin to warm. It was real warmth, too, not imaginary, and it felt as if it were actually on fire. . . . [O]nce I realized that it came entirely from within, that this fire of love had no cause, material or sinful, but was the gift of my Maker, I was absolutely delighted, and wanted my love to be even greater."—The Fire of Love, trans. Clifton Wolters
Born into a farming family around 1305 in Thornton-le-Dale, a village in North Yorkshire, Richard Rolle went on to become one of the most widely read English writers of his day. He studied for a time at the University of Oxford, but he left school at around 18 years old to become a hermit and later began to have mystical experiences of God's love.
He lived for a few years with a squire in Pickering, but scholars do not know what happened to him for some years after that. By 1348 he had made the acquaintance of Margaret Kirkby, an anchoress in Yorkshire who became his disciple (see p. 33 for more on anchoresses). Rolle's written works include commentaries, epistles, and treatises. The chronology of his books is unclear, but it is significant that he wrote many in English and in a style more accessible to laypeople.
For example he wrote a Commentary on the Psalter in Latin—then another in English. The latter included his English translation of the Psalms; for 200 years, it was the only English translation of any portion of the Bible approved for use in the Roman Catholic Church.
Rolle may have written these English-language books to aid Kirkby. He is perhaps best known for Incendium Amoris (The Fire of Love), where he recorded his mystical experiences. In late September 1349, he died at the Cistercian nunnery at Hampole, a town in present-day South Yorkshire. It is unlikely he was ever ordained. Rolle has never been canonized in the Catholic tradition, but several groups of Anglicans venerate him.
Catherine of Genoa (1447–1510)
"I am so submerged in the sweet fire of love that I cannot grasp anything except the whole of love, which melts all the marrow of my soul and body."
—The Life and Doctrine of Saint Catherine of Genoa (1551), excerpt trans. Martin Buber in Ecstatic Confessions
Caterina (Catherine) Fieschi was born into a noble Italian family in 1447. As a girl she wanted to join a convent but was denied admittance because of her age. At 16 years old, she was married off to Giuliano Adorno, a nobleman from Genoa. Adorno was neither a kind man nor a faithful one, and Catherine was married for 10 unhappy years before she had her first mystical experience in 1473.
One day while in the confessional, a deep sense of God's love for her overwhelmed Catherine; she left without even finishing her confession. That marked the beginning of a lifelong desire for a closer union with God. She prayed, received Communion daily (an unusual activity for a layperson, as Margery Kempe had earlier proved), and began caring for the sick.
After years of misspending the family fortune, her husband repented his ways under her influence. He joined her in caring for the infirm and eventually became a Franciscan tertiary. The couple moved into Pammatone, a Genoese hospital, and gave themselves to caring for others.
When the plague swept through Genoa in 1497 and 1501, Catherine became a local hero, known for her unselfish efforts to comfort the diseased and dying. She died in 1510.
While Catherine's reputation was already celebrated in Genoa, the publication of The Life and Doctrine of Saint Catherine of Genoa in 1551 established her reputation abroad. This book contained her teachings, including her "Treatise on Purgatory." When the book was examined by the Holy Office, they said that her doctrine alone made her worthy of beatification. She was eventually canonized in 1737. CH
By Matt Forster
[Christian History originally published this article in Christian History Issue #127 in 2018]
Matt Forster is a freelance writer living in Houston, Texas.
Next articles
Medieval mystics: Recommended resources
Here are some recommendations from CH editorial staff and this issue's authors to help you understand medieval mystics and their world.
The issues authors and editors
George Müller, Did you know?
Enjoy these classic stories of george Müller and his influence from Delighted in God by Roger Steer
Roger Steer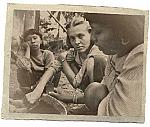 Show more
Subscribe to magazine
Subscription to Christian History magazine is on a donation basis
Subscribe
Support us
Christian History Institute (CHI) is a non-profit Pennsylvania corporation founded in 1982. Your donations support the continuation of this ministry
Donate