Suffering and sovereignty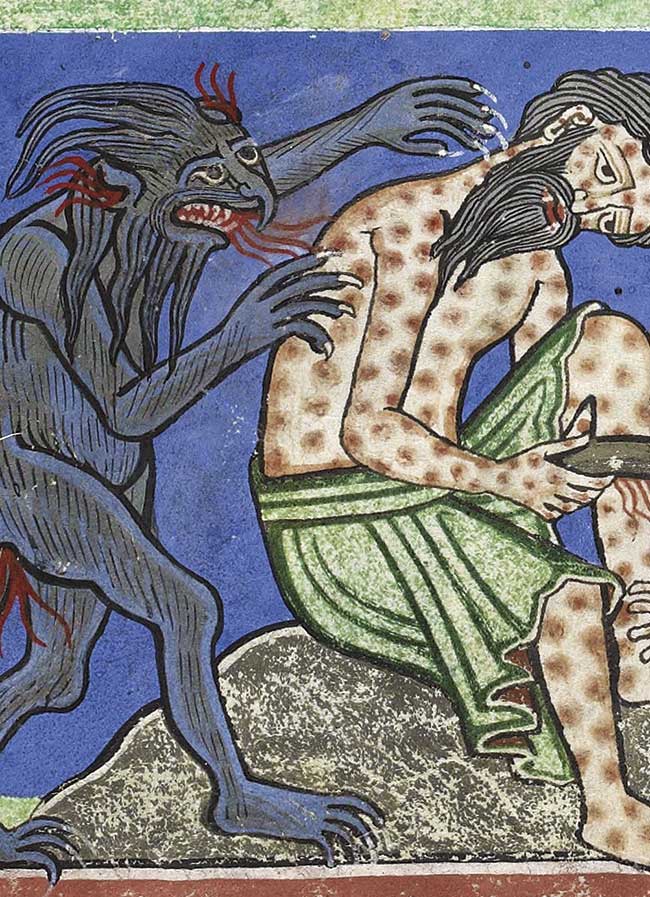 [Detail from Job on the Dunghill is Afflicted with Leprosy to the Dismay of His Friends—Last part of this work—Manuscript Department, Latin 15675, fol. 5v. Gallica / National Library of France
Scriptures taken from the Holy Bible, New International Version®, NIV®. Copyright © 1973, 1978, 1984, 2011 by Biblica, Inc.™ Used by permission of Zondervan. All rights reserved worldwide. www.zondervan.com. The "NIV" and "New International Version" are trademarks registered in the United States Patent and Trademark Office by Biblica, Inc.™]
Plague, epidemic, and illness concerned the biblical writers—and perhaps nowhere more so than in the book of Job. Here are a few excerpts from that story.
Then the Lord said to Satan, "Have you considered my servant Job? There is no one on earth like him; he is blameless and upright, a man who fears God and shuns evil. And he still maintains his integrity, though you incited me against him to ruin him without any reason."
"Skin for skin!" Satan replied. "A man will give all he has for his own life. But now stretch out your hand and strike his flesh and bones, and he will surely curse you to your face."
The Lord said to Satan, "Very well, then, he is in your hands; but you must spare his life."
So Satan went out from the presence of the Lord and afflicted Job with painful sores from the soles of his feet to the crown of his head. Then Job took a piece of broken pottery and scraped himself with it as he sat among the ashes. His wife said to him, "Are you still maintaining your integrity? Curse God and die!" He replied, "You are talking like a foolish woman. Shall we accept good from God, and not trouble?"
In all this, Job did not sin in what he said.
When Job's three friends, Eliphaz the Temanite, Bildad the Shuhite and Zophar the Naamathite, heard about all the troubles that had come upon him, they set out from their homes and met together by agreement to go and sympathize with him and comfort him. When they saw him from a distance, they could hardly recognize him; they began to weep aloud, and they tore their robes and sprinkled dust on their heads. Then they sat on the ground with him for seven days and seven nights. No one said a word to him, because they saw how great his suffering was. (Job 2:3–13)
After seven days of silence, Job's friends spend many chapters telling him that his suffering is a result of sin. This is one of his responses:
I am nothing but skin and bones;
I have escaped only by the skin of my teeth.
Have pity on me, my friends, have pity,
for the hand of God has struck me.
Why do you pursue me as God does?
Will you never get enough of my flesh?
Oh, that my words were recorded,
that they were written on a scroll,
that they were inscribed with an iron tool on lead,
or engraved in rock forever!
I know that my redeemer lives,
and that in the end he will stand on the earth.
And after my skin has been destroyed,
Yet in my flesh I will see God;
I myself will see him
with my own eyes—I, and not another.
How my heart yearns within me! (Job 19:20–27)
Another man, Elihu, interrupts and suggests other reasons people suffer. Then God himself answers Job:
Who is this that obscures my plans
with words without knowledge?
Brace yourself like a man;
I will question you,
and you shall answer me.
Where were you when I laid the earth's foundation?
Tell me, if you understand.
Who marked off its dimensions? Surely you know!
Who stretched a measuring line across it?
On what were its footings set,
or who laid its cornerstone—
while the morning stars sang together
and all the angels shouted for joy? (Job 38:1b–7)
Finally Job replies to God:
I know that you can do all things;
no purpose of yours can be thwarted. . . .
Surely I spoke of things I did not understand,
things too wonderful for me to know. (Job 42:2, 3b)
By Anonymous
[Christian History originally published this article in Christian History Issue #135 in 2020]
Next articles
Seeking renewal
Reflections from a CH staff member on Christian life during epidemics —in the past and at this moment
Dan Graves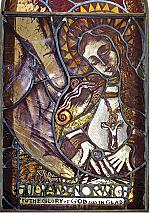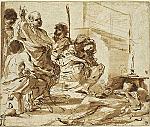 "We learn not to fear death"
The plague of 250 roused the Christians of Carthage to action under the leadership of their bishop Cyprian.
Cyprian of Carthage
Show more
Subscribe to magazine
Subscription to Christian History magazine is on a donation basis
Subscribe
Support us
Christian History Institute (CHI) is a non-profit Pennsylvania corporation founded in 1982. Your donations support the continuation of this ministry
Donate