History of Worship: Recommended resources
I. Overview histories and reference books
Oxford History of Christian Worship, ed. Geoffrey Wainwright and Karen Westerfield Tucker. Excellent one-volume scholarly overview of Christian worship across the centuries and around the globe. Articles written by Roman Catholic, Protestant, and Eastern Orthodox authors focus on theological, historical, and geographical topics.
The Complete Library of Christian Worship, ed. Robert Weber. Probably best described as an encyclopedia, these seven volumes feature discussions of worship from scriptural, historical, theological, and practical angles. Includes many primary-source texts. Emphasizes recapturing the richness of liturgical tradition for contemporary use.
The Study of Liturgy, ed. Cheslyn Jones et al. Features many short essays on historical eras of Christian worship and on important topics: initiation, the Eucharist, ordination, the daily office, music, and the Christian year. As with the Oxford History, contributors come from across the Christian spectrum.
Introduction to Christian Worship by James F. White. This is frequently used as a seminary textbook in classes on worship. It opens with a discussion of what is meant by worship and proceeds topically through liturgical time and space, church music, the service of the Word, and the sacraments.
A Brief History of Christian Worship by James F. White. Written in the same readable style as his Introduction, this is a short but clear survey of how Christians have worshiped from New Testament times to the present.
Liturgical Literacy by Dennis Smolarski, S. J. A useful short dictionary to have on hand when trying to navigate unfamiliar liturgical terms. It focuses on their use in current practice.
Bibliography of Christian Worship by Bard Thompson. Although now over 20 years old, this was at the time of its compilation the most complete guide to books and articles on the subject of worship and remains an excellent window into older literature on the topic.
II. Liturgical theology
Eucharist: Christ's Feast with the Church; Baptism: Christ's Act in the Church; and Calendar: Christ's Time for the Church by Lawrence Hull Stookey. These books discuss their respective topics both historically and practically, with an eye toward improving current church practice.
Sunday Dinner: The Lord's Supper and the Christian Life and Remember Who You Are: Baptism as a Model for Christian Life by William Willimon. Bishop Willimon focuses on these two sacraments practically and devotionally.
III. Primary sources
Documents of Christian Worship by James F. White. Presents a broad cross-section of documents from all Christian eras, as well as photographs and plans of worship spaces. Arranged topically rather than by era to correspond to White's Introduction.
Liturgies of the Western Church by Bard Thompson. Includes services of Word and Eucharist for a number of eras and traditions, from Justin Martyr to John Wesley's Sunday Service, with a helpful historical introduction to each service.
Prayers of the Eucharist: Early and Reformed by R. C. D. Jasper and G. J. Cuming. Eucharistic prayers from the early church to the later Middle Ages, and (despite the "Reformed" in the title) from Lutheran, Anglican, and Calvinist liturgies from the Reformation until the eighteenth century.
IV. The early church and the Early Middle Ages
The Shape of the Liturgy by Dom Gregory Dix. This is a classic, and highly detailed, account of how the Eucharist developed during the first few Christian centuries.
Women in the Early Church by Elizabeth Clark. This book discusses all aspects of women's roles in early Christianity, including their roles in worship.
The Early Church by Henry Chadwick and Western Society and the Church in the Middle Ages by R. W. Southern. These are the first two volumes of the Penguin History of the Church series, and both devote considerable space to issues of worship.
V. The High and Late Middle Ages
The Forms and Orders of Western Liturgy from the Tenth to the Eighteenth Century: A Historical Introduction and Guide for Students and Musicians by John Harper. Extensively detailed orders of service, with a special emphasis on how music was used in the liturgy.
The Stripping of the Altars: Traditional Religion in England, 1400–1580 by Eamon Duffy. Although the second part of this book focuses on changes made due to the Reformation, the first part is an evocative and detailed account of exactly what it felt like to be a medieval English worshiper, and why.
The Reformation of Ritual: An Interpretation of Early Modern Germany by Susan Karant-Nunn. Like Duffy, Karant-Nunn prefaces her story of Reformation changes with a thorough picture of pre-Reformation practice.
VI. Church music
The Story of Christian Music by Andrew Wilson-Dickson. Detailed historical account of church music from the New Testament to the twentieth century, full of pictures and primary-source excerpts.
A History of Western Music by Donald Jay Grout et al. Now in its eighth edition, this is a classic music history textbook that, due to the centrality of the church to Western musical tradition, extensively discusses the use of music in worship. CH
By The editors
[Christian History originally published this article in Christian History Issue #102+ in 2012]
Next articles
A pilgrim's Eucharist
In this excerpt from her autobiography, mystic and pilgrim Margery Kempe tells of her visit to the Holy Land and her desire to receive the Eucharist at various holy sites
Margery Kempe
Who led worship?
The wide variety of church leadership roles
Jennifer Woodruff Tait
Show more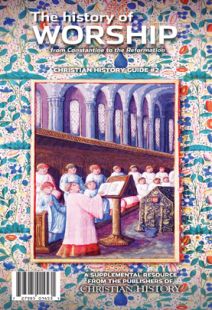 History of Worship Guide
Subscribe to magazine
Subscription to Christian History magazine is on a donation basis
Subscribe
Support us
Christian History Institute (CHI) is a non-profit Pennsylvania corporation founded in 1982. Your donations support the continuation of this ministry
Donate