A pilgrim's Eucharist
AFTERWARDS she was houselled [received the Eucharist] on the Mount of Calvary, and then she wept, she sobbed, she cried so loud that it was a wonder to hear it. She was so full of holy thoughts and meditations and holy contemplations on the Passion of Our Lord Jesus Christ, and holy dalliance that Our Lord Jesus Christ spoke to her soul that she could never express them after, so high and so holy were they. Much was the grace that Our Lord shewed to this creature whilst she was three weeks in Jerusalem. Another day, early in the morning, they . . . came to Mount Sion. And ever this creature wept abundantly . . . for compassion of Our Lord's Passion. On Mount Sion is a place where Our Lord washed his disciples' feet and, a little therefrom, He made His Maundy [Last Supper] with His disciples.
And therefore this creature had great desire to be houselled in that holy place where Our Merciful Lord Christ Jesus first consecrated His precious Body in the form of bread, and gave it to His disciples. And so she was, with great devotion and plenteous tears and boisterous sobbings. . . . And when this creature came to the place where the apostles received the Holy Ghost, Our Lord gave her great devotion. Afterwards she went to the place where Our Lady was buried, and as she knelt on her knees the time of two masses, Our Lord Jesus Christ said to her:
"Thou comest not hither, daughter, for any need except merit and reward, for thy sins were forgiven thee ere thou came here and therefore thou comest here for the increasing of thy reward and thy merit. And I am well pleased with thee, daughter, for thou standest under obedience to Holy Church, and because thou wilt obey thy confessor and follow his counsel who, through authority of Holy Church, hath absolved thee of thy sins. . . . Notwithstanding all this, I command thee in the Name of Jesus, daughter, that thou go visit these holy places and do as I bid thee, for I am above Holy Church, and I shall go with thee and keep thee right well." CH
By Margery Kempe
[Christian History originally published this article in Christian History Issue #102+ in 2012]
Next articles
Who led worship?
The wide variety of church leadership roles
Jennifer Woodruff Tait
Show more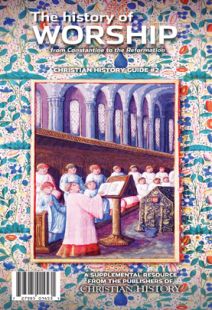 History of Worship Guide
Subscribe to magazine
Subscription to Christian History magazine is on a donation basis
Subscribe
Support us
Christian History Institute (CHI) is a non-profit Pennsylvania corporation founded in 1982. Your donations support the continuation of this ministry
Donate