Mama was "a real theologian"
"RUTH AND I DON'T HAVE a perfect marriage, but we have a great one," wrote Billy Graham in the closing pages of Just as I Am, his 1997 autobiography.
Billy grew up on a dairy farm and moved from the Associate Reformed Presbyterian Church into the raucous world of mid-twentieth-century Protestant revivalism. Ruth was born and reared on a Chinese mission field dominated by southern Presbyterians. As his wife of more than 60 years, Ruth shaped him in the myriad untraceable ways that any spouse shapes a partner. A close look at how these two worked out the practical and theological give-and-take of their commitment and forged a life together reveals more about Billy and Ruth than most people have known. Their marriage reflected their mutual love, but also their working partnership. In addition, Ruth proved to be a generational link: she infused Billy's work with her father's influence and molded their elder son's vision in a way that may permanently reshape the Graham legacy.
Early in their marriage, Billy committed a now storied newlywed blunder by accepting a call to pastor a church without consulting Ruth. The 1943 event marked a turning point on his learning curve as a husband. Ruth had never wanted to be a traditional pastor's wife—a role that historically subjected women to public scrutiny but brought them little public power or tangible reward. And she did not believe that her calling included Billy's pastoral role at Western Springs Baptist Church, not far from Wheaton College where the pair had met. But she did feel called to evangelism, and she worked with him on evangelistic projects such as the Sunday evening radio program, Songs in the Night, broadcast from the church's basement.
As they grew together in marriage, Billy came to rely on her more as a trusted adviser than as an accessory, a reliance that crossed public and private lines.
Ruth's voracious reading habits and creative eye supplied Billy with sermon illustrations and references to contemporary culture for his writing. He claimed that they cowrote his first major book, Peace with God (1953), after they discovered that the ghostwriter hired by the publisher was out of her depth. Ruth seems to have singlehandedly revised the book for its 1984 edition, plowing plenty of illustrations into the text which were drawn from the world of technological progress—like NASA's shuttle program—while sharpening criticisms of the nation's moral decay, as epitomized by the "blasphemous words of punk rock."
Ruth acted as a personal and theological mainstay for Billy. Where he spread a message of Christ's mercy and joy, she held to a more sober, sin-drenched story of rescue for sinners. Where Billy was eager to please and often disregarded the long-term implications of split-second decisions, she was more circumspect about the connections and commitments that competed for his energies. In building the Montreat, North Carolina, home where Billy still lives, Ruth supplied more than a permanent address: she rooted him in one of the hearts of American Presbyterianism.
Montreat had been founded as a nondenominational Christian retreat center in hopes that it would attract organizations devoted to evangelism and good works. But it soon became a decidedly Presbyterian place. This location positioned the Billy Graham Evangelistic Association (BGEA) at a theological and social crossroads, one where impassioned supporters of decision-oriented evangelism and staid predestinarians could encounter one another. It made the BGEA more influential in American Protestantism.
While a missionary doctor, Ruth's father had praised her mother, a mission nurse, for giving priority to her duties as mother of four. He disapproved of "women on the field" who put work ahead of "children and home." The independently minded Ruth married another man with conventional ideas about male headship. Having absorbed her father's views and her mother's priorities, she became the effective head of household. Because she managed children and home, Billy was able to travel and preach.
Having affiliated with the Southern Baptists in 1939, Billy once told Ruth that her father, L. Nelson Bell, could not claim to be a "man of God" without being baptized by immersion, but in the face of her resistance, Billy dropped that notion. Indeed, he came to depend on Dr. Bell in many ways, both personal and professional. Bell provided the Graham children, who called him Lao E, a Chinese name for grandfather, with a father-figure who was consistently present when Billy was not.
Like father, like daughter
Ruth Bell Graham also depended heavily on her father. In 1945, when she was pregnant with their first child, Ruth decided to move to Montreat to live with and then across the street from the Bells. Her determination to stay in that most Presbyterian of places—rather than Minnesota, Switzerland, or Florida, all potential home bases during the 1950s and 1960s—ensured that the children grew up surrounded not only by loving grandparents, but also by Presbyterian clergy and missionary families. This meant that all five Graham children were embedded in networks of Christian connection and Presbyterian purposefulness. The children—especially Franklin, born when Nelson and Virginia Bell were still relatively young—imbibed their worldview, shaped as it was by decades of mission evangelism and service.
In Montreat Ruth's parents, especially her father, reinforced her adamant personality. She closely resembled her father in temperament. Father and daughter were both skilled at sidestepping opponents. With what Billy Graham biographer John Pollock called "Nelsonic shrewdness," Dr. Bell barreled through natural, political, and bureaucratic obstacles as director of Love and Mercy Hospital in Tsingkianpu, building it into the largest Presbyterian Church (PCUS) hospital in China.
Bell also ran public interference for Billy among critics, especially those more conservative like Bob Jones. Bell could persuasively rebut those opponents because of his own reputation for theological conservatism. Spicier in tone than Billy and possessed of insistent theological precision—which he exercised in debates within the PCUS—Bell allowed Billy to keep his distance from denominational politics, while still maintaining clear evangelical commitments. Where Billy sought inclusion more than division, Bell seems to have reveled in debate. Bell's taste for disputation helps us appreciate even more Billy's characteristic conciliatory stance. Moreover, Bell recognized and admired his son-in-law's unique ability to smooth a sometimes rancorous group of supporters into a "homogeneous group" and bucked him up frequently in letters written during the young evangelist's budding career. Billy highly valued Bell's support.
Bell catalyzed one of the most important moves Billy Graham made in the mid-twentieth century. Vexed for years by the skeptical approach of biblical studies that, in his view, placed reason over revelation and created a Christianity built on "a program" rather than "a Person," Bell worked with Graham to get Christianity Today magazine off the ground in 1956.
Graham wanted an intellectually rigorous publication that could compete with the Christian Century. Fourteen years earlier, Bell had created the Southern Presbyterian Journal to defend orthodoxy in the PCUS. Thus he was able to contribute both experience and a strong desire to give a larger platform to a form of Protestantism that rejected both skeptical modernism and obscurantist fundamentalism. John Pollock even gave Bell credit for Christianity Today's title, borrowed from a short-lived newspaper he read in the early 1930s that took a "scholarly stand" against biblical modernism. One of Nelson Bell's most significant contributions was to cultivate Sun Oil Company's J. Howard Pew as the magazine's major benefactor. Both Ruth and her father contributed regular columns to the magazine. And Billy recalled taking Ruth's advice when it came time to appoint the magazine's second editor.
The Franklin factor
Ruth Graham's choice to raise their children under her father's influence displayed its fruit most clearly in the Grahams' eldest son, Franklin, who succeeded his father as head of the BGEA in 2000. Ruth made Franklin who he is, temperamentally and theologically, in much the same way that Dr. Bell shaped her. This family inheritance demonstrates how private connections can have public effects.
Franklin's public face resembles the early Billy Graham—confrontational and vociferously anticommunist. Billy's bite in those days may have come more from his reading of the religious and social contexts of the 1940s and 1950s than from deeply rooted conviction, since he moderated his tone and his message over the years. Franklin's spikiness has endured, which could indicate a lasting inheritance from his mother and grandfather. Franklin may display his taste for controversy even more freely since 2007 because his mother has not been around to chastise and temper him as only she could.
In his 1995 autobiography Rebel with a Cause, Franklin wrote that he inherited his adventurous spirit from his mother. Maybe Ruth's missionary ambitions were at least as much about the adventure of being in Tibet as a single woman in the early 1940s as about sharing the gospel of Jesus Christ. The woman who wanted to ride a motorcycle (as her father had done in China and as few women did in her era) and risked her life testing a zip line reared a son who did ride his own motorcycle and, in the summer of 1971, drove a Land Rover from London, England, to a mission hospital in Mafraq, Jordan.
Franklin and his mother shared a stubborn streak, a love of practical jokes, and a desire to win any argument. Franklin reflected later on the many times he and his mother clashed over points of morality, often to comic effect. Determined to break him of a developing habit, Ruth once had a young Franklin smoke a whole pack of cigarettes in one sitting. He got sick, repeatedly, but smoked through the pack because, he wrote, "It gave me great satisfaction not to give in." Many times, his mother's punishments simply appeared to Franklin as a "new adventure." While Ruth's daring spirit was tempered by marriage and motherhood, Franklin's leadership continued to be defined by impulsiveness.
Franklin described his sister Anne as "a real theologian (like Mama)." Ruth held stubbornly to her theological commitments. There is a common thread of theological intransigence passing from Nelson Bell to Ruth to Franklin.
The combined influences of Ruth, her parents, and the Montreat ethos surely made a powerful case to Franklin for orienting his career toward missions. Although Samaritan's Purse, the organization that Franklin has led since 1979, provides disaster relief and material support to people around the world, it works in a way that Bell would have approved—sharing the gospel while addressing physical needs. Just as Bell oversaw his hospital's unprecedented success treating the parasitical infestation known as black fever as a way to spread the Christian message, and just as Ruth opened her mountain home to wayward college students to share Christianity with them, so SP's Operation Christmas Child addresses the needs of both givers and receivers while sharing the gospel. Franklin became a pragmatic and gospel-driven person like his grandfather and his mother.
What shape will the BGEA's future work take? The organization's immediate future hinges on how the influences of Nelson Bell and Ruth Graham play out in Franklin Graham's life. At the close of his autobiography, Franklin described his work with Samaritan's Purse and his growing call to preach. At the end of the twentieth century, he anticipated combining Ruth's mission aspirations and Billy's preaching work. Indeed, Samaritan's Purse continues its worldwide outreach, and the BGEA's Festivals of Hope with Franklin Graham are carrying the tradition of international mass meetings into the twenty-first century.
Nelson Bell and his daughter gave untold support to Billy Graham during his long public ministry. In the end, Graham's legacy may depend on what they gave to Franklin. CH
By Anne Blue Wills
[Christian History originally published this article in Christian History Issue #111 in 2014]
Anne Blue Wills teaches the history and culture of US religions at Davidson College. She is currently writing a biography of Ruth Bell Graham.
Next articles
Confessor-in-chief
Billy Graham shared the spotlight—and moments of intimate prayer—with more presidents than any other Christian leader
Stephen Rankin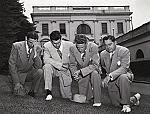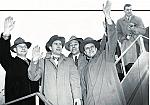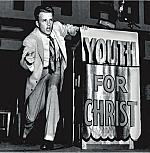 Billy Graham, Did you know?
Billy Graham's political temptation, his friendships with entertainers and heads of state, and the impact of his music team
the editors
Show more
Subscribe to magazine
Subscription to Christian History magazine is on a donation basis
Subscribe
Support us
Christian History Institute (CHI) is a non-profit Pennsylvania corporation founded in 1982. Your donations support the continuation of this ministry
Donate