Letters, Christian History 134
Our spiritual friends
Truly enjoyed CH issue #132, p. 9, "Don't call it a list." Now I want to read the book, When the Roll Is Called Down Here by Fred Craddock. Your magazine is magnificent and I am very grateful for the beautiful copy.—Pam Malcolmson, Canyon Lake, CA
I look forward with great anticipation to receiving CH magazine and once again, issue #132 was a delight to read and study. Many of the stories are familiar and some new ones were insightful. It is a gift having them all bound in one volume. I especially appreciated your emphasis on friendship that knows no boundaries such as age, class, race, etc. I even chuckled when I read of some who even placed their friendship above theological conviction. We need that example today.—Tom Edmunds, Washington, NJ
Spreading the word
Got #133 today. I want to order more to give to my history teacher colleagues at the high school where I teach. Excellent issue! Thank you. . . . Whenever you have a good issue that has significant implications for world history, as this issue does, I like to hand it out to my peers. —Greg Yankey, Owasso, OK
Thank you for sharing our work with your colleagues! We've received a number of comments about issue #133—asking about our treatment of biblical exegesis, supersessionism, anti-Semitism, and Christians during the Holocaust—and we'll be devoting the letters page of #135 to addressing them.
Praise for more past issues
Just wanted to say a big THANK YOU for the great work you all do and especially for the Grand Miracle devotional. It was such a blessing and I was sad to see it end.—Scott Dove, Rockingham, VA
We've heard from many people that this was a meaningful Advent journey for our readers.
I don't know when I've been more inspired than during and after reading "Our First Woman Reformer" [Argula von Grumbach] from issue #131. The issues stack up, unread much of the time, I'm sorry to admit; but I'm encouraged to diligently find the time to read each issue as there's no telling how many other articles I would have enjoyed, much less benefited from. If you have contact with the author, Peter Matheson, please thank him from a reader for sharing this courageous lady with your reading public.—Sharon Bridges, Kingwood, TX
We let Dr. Matheson know, and he was very pleased to hear it!
Young Pliny, please stand up
On p. 8 of issue #133, we referred to Pliny the Elder as governor of Turkey in the early second century and author of a famous letter to Trajan about Christians. It was his nephew, Pliny the Younger, who was intended.

Meet the staff: Dan Graves
How long have you been at CHI and what is your role?
The details of my hiring in 1996 are miraculous. Troubled by the material I handled as a prison librarian, I had given notice; on my last day I had no idea what I was going to do next. Months earlier I had bought a Vision Video product that included a set of CHI's Glimpses bulletin inserts about scientists. I had long wanted to issue similar resources; angry that someone had preempted my dream, I crushed the Glimpses. The Holy Spirit rebuked me: "You should be glad someone is doing what you don't have the resources to do." So I contacted founding director Ken Curtis, but he lost my info. The day my job ended, he found it and called me. Talk about providential timing! I began as a part-time writer and later found myself doing website development and magazine layout.
What is your favorite part of the job?
I enjoy the variety of responsibilities that come with researching and writing about Christians.
What do you most wish readers knew?
I wish readers understood we don't agree with every person or movement CH covers. We are telling history, not endorsing points of view.
What do you do in your spare time?
I enjoy family, friends, and church—and I write. Lately I've produced science fiction: A Severe Paradise and His Last Recursion and Other Stories. For refreshment I read, solve sudokus, and listen to Christian music (from Schütz to Delirious). While on vacation I search thrift stores for used books and CDs, and I play spider solitaire. CH
By readers and editors
[Christian History originally published this article in Christian History Issue #134 in 2020]
Next articles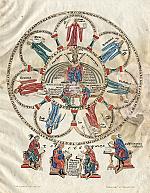 Show more
Subscribe to magazine
Subscription to Christian History magazine is on a donation basis
Subscribe
Support us
Christian History Institute (CHI) is a non-profit Pennsylvania corporation founded in 1982. Your donations support the continuation of this ministry
Donate