"God is here, deliverance has come, and there is hope"
Eric Dickerson is incarcerated in Pennsylvania and hopes to be released in the fall of 2018. He has been writing to CHI staff for more than a decade.
AS WE LOOK INTO the Scripture we clearly see that once people come into the presence of Jesus, that's when their lives were transformed forever. They then set about glorifiying Christ. … The Holy Spirit is comforting me, teaching me, and/or purposing me for something. We shall see. To God be the glory. All that I know is that time spent with Jesus is life transforming. Whom the Son sets free is free indeed.
Matthew Harper has been in prison since 1999 for murder and arson and is scheduled to be released in 2029. He is studying for the Episcopal priesthood and wrote these reflections for the website Lecto Carcere: Prison Lectionary.
WITH OVER TWO MILLION men and women incarcerated in America today, and millions more under custodial supervision, it is perhaps time to ask ourselves, what's the point?
Prison is not a new concept, we know that Christ spent a night in one, and the apostles spent many nights in them. When the Old Testament makes reference to setting prisoners free, we can safely assume there were prisons to be set free from.
There are traditionally three reasons given for prisons, and the first is simple punishment. We have done what is wrong, and we pay for that wrong with some period of our life. With limited opportunities and freedoms, we atone for our crimes
with our most valuable earthly possession, time.
The second reason is for protection. Not the protection of the criminal, but protection of innocent people from criminals. We are locked up to keep you safe.
The third reason … is for repentance and amendment of life. We are incarcerated with the hope that in our punishment we will repent of our wrongdoing and in doing so we will cultivate compassion and social responsibility. By sending us to prison society hopes we will one day return as better people. . . .
Jesus makes the point succinctly [in Luke 12]. There was a rich man, who got even richer, and then died. What did his riches matter? Paul tells the Colossians to leave their past life in the past. Put it to death, bury it in Christ. Set your mind on what is above, move forward, and keep the faith.
That is easier to say than do. Especially in here, where, for both punishment and protection, I am constantly reminded of my past [Colossians 3:1–11]. But there is still a third reason … built on repentance and forgiveness. There is punishment and captivity, but it isn't forever. God is here, deliverance has come, and there is hope.
That hope cannot be found in one of our programs, and it cannot be founded on a twelve-step program. Those things may help build the house, but the foundation must rest on Christ. Our hope, our redemption, our new life, must be built on our relationship with God. That isn't the only point of prison, but it is the one I will hold on to. It's the only one that matters.
By Eric Dickerson and Matthew Harper
[Christian History originally published this article in Christian History Issue #123 in 2017]
Next articles
Family Ghost?
Were disgruntled parishioners responsible for the apparitions?
the editors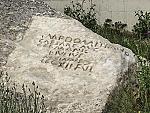 Show more
Subscribe to magazine
Subscription to Christian History magazine is on a donation basis
Subscribe
Support us
Christian History Institute (CHI) is a non-profit Pennsylvania corporation founded in 1982. Your donations support the continuation of this ministry
Donate