Christian History Timeline: Baptists, 1600–2000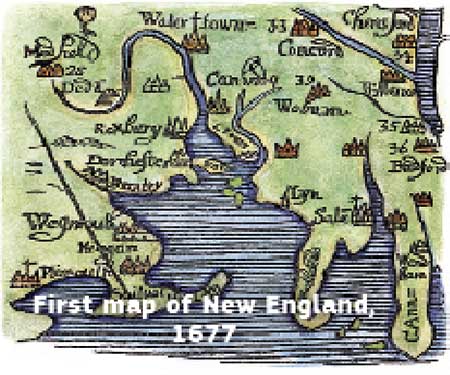 — 1609 Former Anglican John Smyth rebaptizes himself and 40 others by pouring in Amsterdam.
— 1612 Thomas Helwys forms the first Baptist church in London.
— 1638 Roger Williams forms the first Baptist congregation in America in Providence, Rhode Island.
— 1646 New England Puritans enact laws requiring attendance at Congregational churches.
— 1654 Henry Dunster, first president of Harvard, is forced to resign because of his Baptist views.
— 1661–1664 British parliament passes acts that exclude and penalize Baptists and other Nonconformists.
— 1665 Thomas Goold organizes the first Baptist church in Boston.
— 1682 First Baptist Church is formed in Kittery, Maine, then moves to South Carolina, becoming the first Baptist church in the South.
— 1707 Congregations in Pennsylvania and New Jersey unite to form the Philadelphia Baptist Association (PBA).
— 1727 Free Will Baptists are founded in North Carolina.
— 1740s First Great Awakening prompts Baptist growth.
— 1750 Silver Bluff Baptist Church is founded in South Carolina, the US's oldest African American church.
— 1755 PBA organizes a home missions program, alarming Baptists who fear too much organization.
— 1764 Baptists found the school later called Brown University, only the seventh institution of higher education founded in the colonies.
— 1773 Isaac Backus publishes An Appeal to the Public for Religious Liberty.
— 1780 Another line of Free Will Baptists is organized in New Hampshire.
— 1802 Thomas Jefferson writes to the Danbury Baptists.
— 1812 Adoniram and Ann Judson and Luther Rice leave for India as Congregationalists but become convinced of Baptist doctrine.
— 1814 Triennial Convention is formed in Philadelphia.
— 1815 Two black Baptist ministers, Lott Carey and Collin Teague, and a white deacon, William Crane, form the first black mission society. It sends Carey and Teague to Liberia.
— 1822 Baptist preacher William Miller announces the coming end of the world, beginning the Millerite movement.
— 1827 Kehukee Association Declaration signals the rise of Primitive or Hard Shell Baptists.
— 1832 Triennial Convention establishes Home Mission Society.
— 1833 Triennial Baptists approve New Hampshire Confession of Faith.
— 1840 American Baptist Missionary Convention, the first black Baptist convention, is formed.
— 1844 In the "Millerites' Great Disappointment," the world does not end on October 22.
— 1845 Southern Baptist Convention (SBC) is formed.
— 1846 Free Will Baptists license Ruby Knapp Bixby as the first licensed female Baptist preacher in the US.
— 1851 Landmarker Movement arises, arguing that Baptists trace back to the New Testament.
— 1854 Baptist preacher Charles Spurgeon becomes pastor of the New Park Street Chapel in London.
— 1866 AMBC and other black-led conventions form the Consolidated American Baptist Convention to help black Baptists set up state conventions free of white interference.
— 1873 Lottie Moon goes to China.
— 1891 Southern Baptists form a Sunday school board, today the Christian bookstore chain LifeWay.
— 1895 National Baptist Convention U.S.A. (NBCU) forms out of three smaller African American groups.
— 1900 Nannie Helen Burroughs delivers speech "How the Sisters Are Hindered from Helping."
— 1905 Baptist World Alliance forms in London.
— 1907 Northern Baptist Convention (NBC) is formed; pastor Walter Rauschenbusch publishes Christianity and the Social Crisis.
— 1909 Burroughs founds the National Training School for Women and Girls in Washington, DC.
— 1910 The Fundamentals begins publication.
— 1916 The NBCU splits over issues related to the Publishing Board.
— 1923 William Bell Riley, "The Grand Old Man of Fundamentalism," sets up the Anti-Evolution League of Minnesota and the Baptist Bible Union.
— 1926 Pastor J. Frank Norris is acquitted of murdering Dexter Chipps on grounds of self-defense.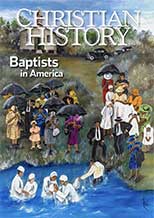 Buy Christian History #126 Baptists in America.
Subscribe to Christian History.
— 1933 Norris founds the Premillennial Missionary Baptist Fellowship to protest SBC modernism.
— 1935 Two different streams of Free Will Baptists form the National Association of Free Will Baptists.
— 1939 SBC, NBC, and NBCU jointly sign the American Baptist Bill of Rights as a statement of religious liberty.
— 1947 Billy Graham holds his first crusade; he will hold over 400 in 185 countries and retire in 2005.
— 1950 NBC renames itself American Baptist Convention (ABC).
— 1961 Pat Robertson founds Christian Broadcasting Network; Progressive National Baptist Convention leaves the NBCU; Ralph Elliott publishes The Message of Genesis.
— 1963 A bomb at 16th Street Baptist Church in Birmingham, Alabama, kills four young girls; responses to Elliott prompt the Baptist Faith and Message statement by the SBC.
— 1964 Watts Street Baptist Church in North Carolina ordains Addie Davis, the first woman pastor ordained by the SBC.
— 1968 Martin Luther King Jr. is assassinated.
— 1971 Jerry Falwell founds Liberty University.
— 1972 ABC changes its name to American Baptist Churches USA.
— 1976 Jimmy Carter is elected president after referring to himself as "born-again" while campaigning.
— 1979 At the SBC's annual convention, conservatives are elected to key positions.
— 1984 SBC delegates pass a resolution against women pastors.
— 1987 Alliance of Baptists is formed by SBC liberals.
— 1991 Cooperative Baptist Fellowship is formed by SBC moderates.
— 1995 SBC issues 150th-anniversary resolution on racial reconciliation.
By Association of Religion Data Archives, the Baptist History and Heritage Society, and other sources
[Christian History originally published this article in Christian History Issue #126 in 2018]
Next articles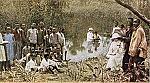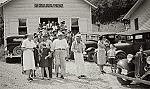 Show more
Subscribe to magazine
Subscription to Christian History magazine is on a donation basis
Subscribe
Support us
Christian History Institute (CHI) is a non-profit Pennsylvania corporation founded in 1982. Your donations support the continuation of this ministry
Donate