DIETRICH BUXTEHUDE, LÜBECK'S STERLING MUSICIAN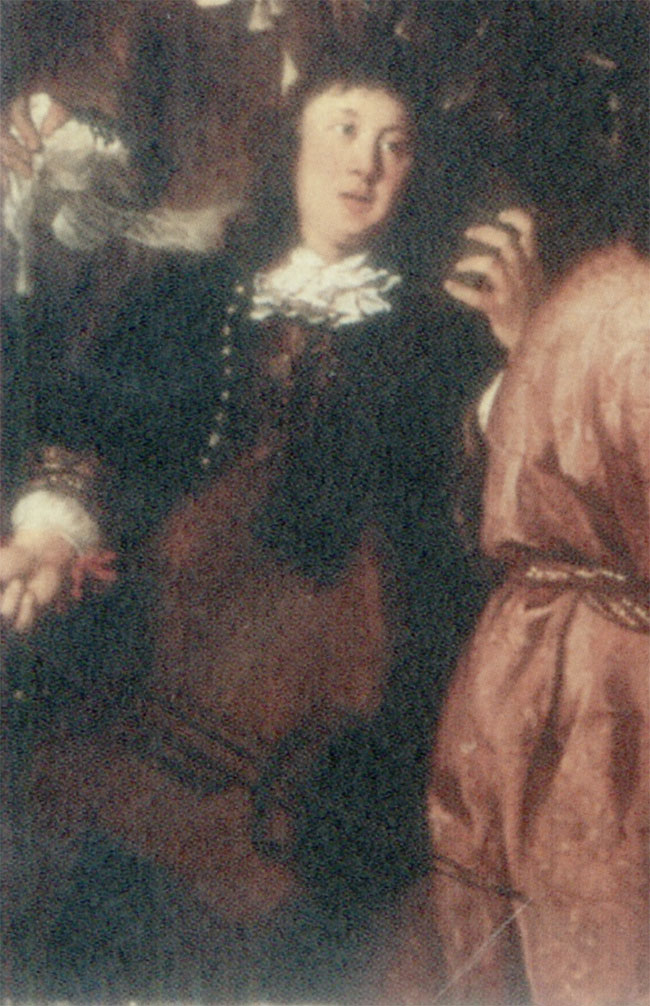 [Viola da gamba player, thought to be Buxtehude—Johannes Voorhout "Musical Party," 1674]
Several cities in Northern Europe vie to claim Dietrich Buxtehude as their son. While scholars cannot say with certainty where he was born or even exactly when (it was around 1637), he considered himself a Dane. His most notable post, however, was as organist at the Church of St. Mary at Lübeck, Germany, where he labored thirty-five years, composing mostly religious music, performing on the pipe organ and harpsichord, holding regular instrumental performances, and keeping the church's accounts. As the church's finance officer, he disbursed all payments for its supplies and work until about six weeks before his death.
Dietrich Buxtehude developed such a reputation as an organist and music director that in 1705 Johann Sebastian Bach traveled two-hundred-and-fifty miles one way on foot to observe his technique. Bach must have been impressed: he had promised his own employers he'd return to Arnstadt after four weeks' observation, but instead remained with Buxtehude twelve. Adding in travel time, Bach was gone sixteen weeks; the Arnstadt consistory called him on the carpet when he got home. Musical scholars say some of Bach's compositions show the influence of Buxtehude.
Like Bach, Buxtehude was a Lutheran, and seems to have held a heart-felt faith. Both were influenced by Pietism, a movement that called Lutherans to deeper spiritual life. At any rate, Buxtehude often chose to set Pietist verses to music. The music itself incorporated elements that some Pietists found objectionable, such as breaking words into swiftly-sung short syllables and prescribing exuberant musical passages to be played during Communion, distracting those who preferred meditation at the solemn moment.
Regrettably we have little personal information about Buxtehude. Johann Mattheson in company with Georg Friedrich Handel visited Buxtehude in 1703 and noted that the organist had three unmarried daughters; the oldest was twenty-five and the youngest twenty. Apart from that, contemporaries did not say much about the man except to praise his musical abilities, which included composing, playing organ and harpsichord, and conducting concerts. As was common even for greater composers, such as Bach, many of Buxtehude's compositions are lost. Few were printed while he was alive, although some were so highly regarded they were copied by hand generation after generation.
Samples of his music are readily available today. He is considered one of the greatest composers of the German baroque period. Dietrich Buxetehude, Lübeck's sterling musician, died on this day, 9 May 1707.