POPE BONIFACE REPURPOSED A PAGAN BUILDING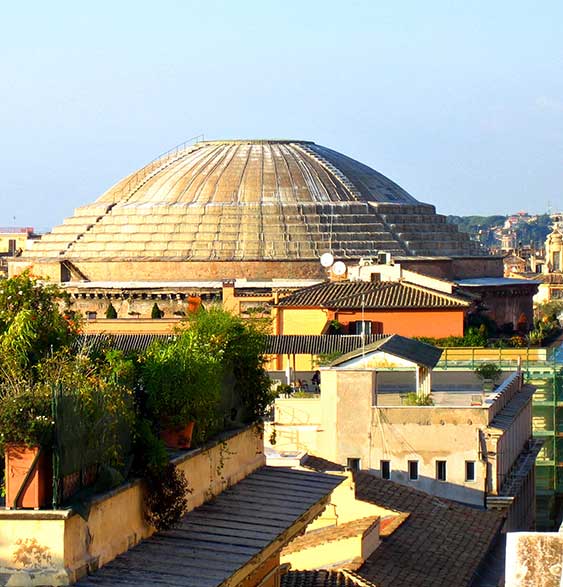 [The dome of the Pantheon. This image was originally posted to Flickr by antmoose at https://www.flickr.com/photos/antmoose/56334720/. It was reviewed on 4 January 2007 by FlickreviewR and was confirmed to be licensed under the terms of the cc-by-2.0.]
DURING THE EARLY MEDIEVAL PERIOD, popes began converting ancient Roman buildings and pagan temples into churches for Christian use. The old Roman Senate building became the Sant' Adriano in Foro church. The Temple of Romulus became the church Santi Cosma e Damiano. Christians also co-opted several other sites sacred to discarded pagan gods, such as Minerva.
The first pagan building co-opted in this way was the Pantheon, one of the best-built of the old Roman structures. Two wooden pantheons had previously occupied its spot, but both had been destroyed by fire—the last ignited by a lightning strike. The third was constructed as a domed building using pumice concrete. Completed around AD 125, Emperor Hadrian's inscription credited Consul Marcus Agrippa, who had ordered the original wooden pantheon built on the spot.
The Pantheon's dome was the same height as the width of the rotunda, so that in theory a giant sphere could have fitted snuggly in the interior. Seven niches in the interior walls honored the "gods" of the seven known planets. Parts of the interior were sheathed in bronze. (Pope Urban VIII later removed much of the bronze to make cannons.) Marble columns, colored tiles, friezes, and carvings beautified the whole.
When Boniface IV (pope from 608–615) decided to convert the Pantheon to a church, he needed, and obtained, permission from Emperor Phocas. In doing so, he set a precedent for converting Roman structures to churches. And he also established a new feast.
On this day, 13 May 609, Boniface dedicated the Pantheon as a Catholic church. Twenty-eight carriages brought the bones of martyrs in a solemn procession from various Roman cemeteries. The new church was consecrated to the Virgin Mary and to all the Martyrs (today it is known as Santa Maria Rotunda).
Boniface inaugurated the Festival of All Saints and ordered an annual celebration. May 13 seems to have also been a pagan memorial for the dead. In the following century, Pope Gregory III moved the date of All Saints to November 1st.
Although Pope Boniface IV may be best known for converting the Pantheon to a church, he also held a council in Rome to reform monastic life. He was buried in the portico of St. Peter's, but his remains were moved several times. Eventually the Catholic Church declared him a saint.