ISAAC MILNER, CULTIVATOR OF EVANGELICALS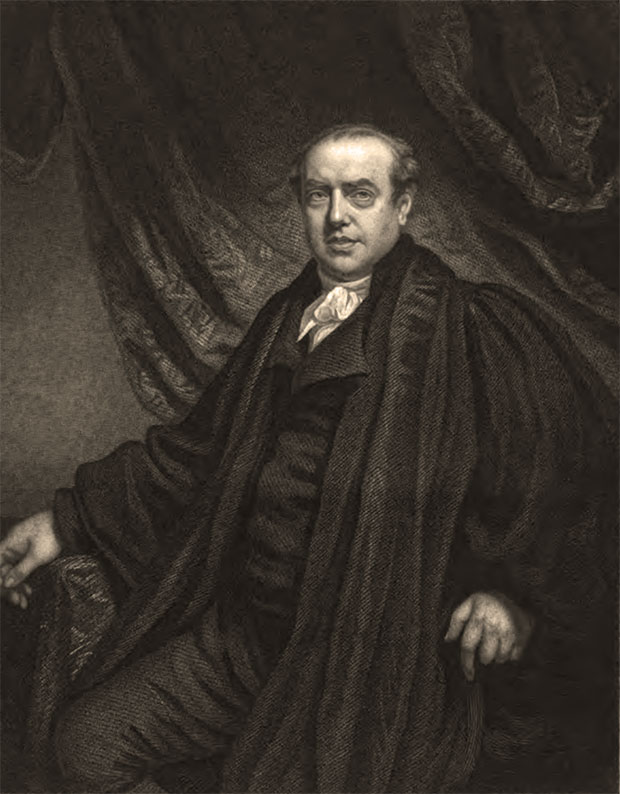 [Issac Milner]
In 1760, when Isaac Milner was ten, his father died and the boy was pulled from school and sent to work as a weaver where he labored until he was eighteen. Despite this inauspicious start, he became a notable educator.
Through assistance of friends, Milner's older brother Joseph obtained a Cambridge degree. When he became a master at Hull Grammar School, he considered making Isaac an usher and sent a friend to determine his younger brother's suitability. The friend found Milner at work at a loom with a Latin copy of Tacitus at hand as well as a volume in Greek. The boy had been educating himself.
Milner made good use of his two years at Hull, and moved on to become a sizar at Queen's College, Cambridge, in 1770. A sizar was a student given an allowance in return for service to other students. His experience was so disagreeable he vowed to end the practice when he got the power to do so. Milner soon topped his class in mathematics, taking coveted prizes. Over the next few years he became a deacon in the Church of England, fellow of his college, tutor, priest, junior proctor, and by 1788 president of Queen's College. As he had vowed, he eliminated the menial responsibilities of the sizars.
Many other honors came to Milner, including membership in the Royal Society and the first professorship of a newly-established chair of natural philosophy. However, it was as an evangelical Christian he made his most-lasting mark.
In 1784 he spent the better part of a year touring Southern Europe with William Wilberforce. They read the New Testament in Greek and discussed it. The two also read and discussed Philip Doddridge's The Rise and Progress of Religion in the Soul. Through these influences, Wilberforce was converted and Milner's own spiritual life deepened. Wilberforce became a great parliamentarian and social reformer. Milner would support most of Wilberforce's benevolent efforts, including the abolition of slavery, but the two could not see eye to eye on Catholic emancipation, which Milner was against.
Milner made Queen's College "a nursery of evangelical neophytes," rejecting as tutors and as candidates for fellowships anyone who struck him as a free-thinker or infidel. While raising the spiritual tone of the college, he did not fail to strengthen its intellectual standing.
Made Dean of Carlisle, Milner preached in its cathedral frequently, but only once resided there more than three months in a year, devoting the bulk of the time to his college duties. However, he was generous where charitable contributions were needed and threw his authority behind many efforts for moral improvement.
Faith was important to him to the end. In one of his last letters to Wilberforce he wrote, "O, my friend! may we only be surely anchored on good ground, and all the rest will be as nothing. I rejoice in the very few words you yourself write, towards the close of your letter, of loving the Saviour."
In 1819 he became largely incapacitated, suffering from a severely irregular pulse. On this day, 1 April 1820, Isaac Milner died at Kensington Gore, London. The day before, he had attempted to have prayer with his servant, whom he asked to read John 14 aloud for him, a chapter he had long loved. When the reading was over, he put his hand to his forehead and said, "I cannot tell what is the matter with me, but I cannot think; my mind is gone."
In many parts of the Western world, 1 April is known as April Fools' Day. Milner might have enjoyed the association of that day with his death, as he had always been delighted by the burlesque and had an irrepressible fund of good humor that had made him the life of any party he attended.