ELIZABETH RUNDLE CHARLES PROTECTED HER PRIVACY WITH A PSUEDONYM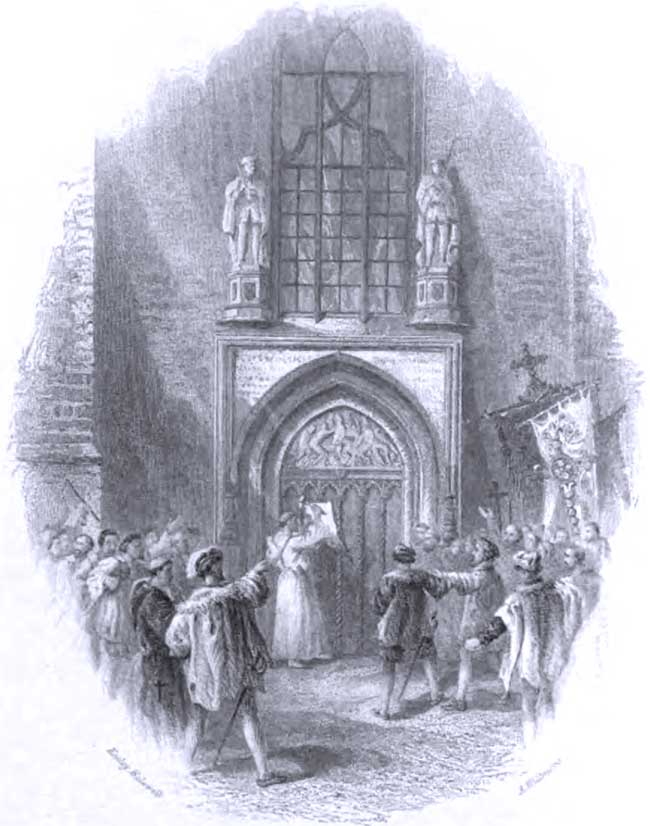 [Above: Frontpiece of Chronicles of the Schönberg-Cotta Family depicts Martin Luther posting the 95 Theses. New York: T. Nelson and Sons, 1864.]
"The author of Chronicles of the Schönberg-Cotta Family." This was the pseudonym used by a popular Christian author of nineteenth-century Britain. Chances are you have never heard of Elizabeth Rundle Charles, but neither had most of her contemporaries. (She was, however, personally known to James Anthony Froude and Alfred Lord Tennyson.)
Born on the second day of 1828, Elizabeth Rundle had a happy childhood. Much of her youth was spent in scenes of beauty and enlivened by play with her cousins. Almost as soon as she could walk, she rode horses. Educated at home, she learned Bible languages and several European tongues. "Reading was always—I am told from three years old—my great diversion." Favorite authors included Maria Edgeworth, Lord Byron, and Captain Marryat. Soon she was writing her own dramas and enacting them with her collection of dolls.
By 1848, her works were finding their way into print. From the first, her titles reflected her interest in Christian themes: Rest in Christ, or the Crucifix and the Cross (1848) and Tales and Sketches of Christian Life in Different Lands and Ages (1850).
In 1851, she and Andrew Charles were married. He was a barrister (lawyer), soap and candle manufacturer, and philanthropist. During the 50's the Charleses lived in Tavistock Square, London. Andrew ran a ragged school (a school for impoverished children) and Elizabeth taught in a nearby charity school that prepared girls for domestic service. She continued to write, and Andrew invested her royalties.
Andrew's health was poor. He suffered from a common complaint of the day: consumption (probably tuberculosis). For the sake of his health, the pair made a four-month tour of Bible lands. Elizabeth journaled the trip and published it as Wanderings in Bible Lands and Seas (1862). It consists of short, vivid descriptions of the places they visited and spiritual lessons or personal reflections from each scene. In its opening chapter, she vindicated the trip with these words:
To our faith Hudson's Bay, of which the apostles never heard, is as holy as the Sea of Galilee; and the streets of London, which Christians tread, as sacred as the streets of Jerusalem. . . . But our religion is a religion of facts as well as truths,—a history of things which have been done, as well as a revelation of unseen realities which are eternal; and it is this which gives the undying interest to Eastern travel.
Meanwhile a publisher had approached her to write a life of Martin Luther to appear as a serial in his periodical, the Family Treasury. This was the inception of her most famous book, Chronicles of the Schöneberg Cotta Family (1862). A hit, it went through many editions and was translated into most European languages, Arabic, and several languages of India.
After Andrew's premature death in 1868, Rundle lived on the interest of their investments. To supplement her income, she continued to write, and many more titles flowed from her pen, although none as successful as her story of Luther. Among her works were many poems and several Bible studies. One of her better-known hymns was "Never Farther than Thy Cross."
Her Bible studies have real depth. For instance, in a short study of the Beatitudes, she points out that Jesus began his public teaching with the word "blessed."
He inaugurates this new code, this common law of Christendom, in an altogether new way; not with prohibitions and penalties, but with benedictions: with character and the beatitudes belonging to it. He begins it not as a new Decalogue, a table of injunctions, but as a new psalm; not with "Thou shalt not," but with, "Blessed is the man."
On this day, 28 March 1896, Elizabeth Rundle Charles, aka "The author of Chronicles of the Schönberg-Cotta Family," died in Hampstead.
—Dan Graves
----- ----- -----
For more stories of women who changed the world, read our book Great Women in Christian History