ABERI BALYA MADE A LASTING IMPACT ON FAITH AND LIFE IN UGANDA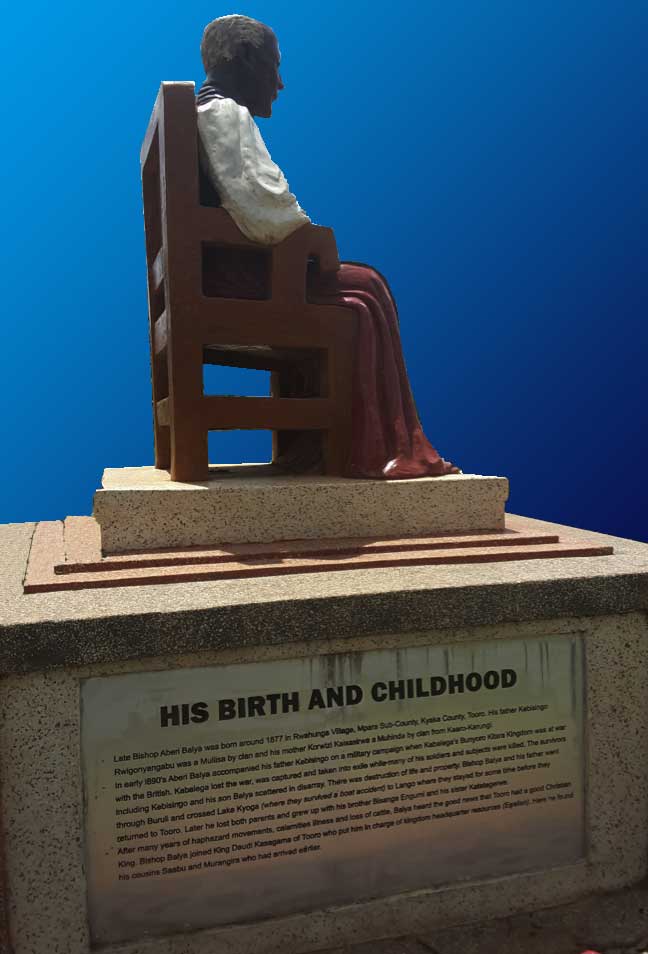 [Statue of Balya outside St. John's Cathedral]
When Bishop Aberi Kakyomya Balya died in 1979, he was awarded a state burial in Uganda. This was fitting because he had been enormously influential in his nation. Thousands of students had come through schools he founded. Thousands of individuals had come to Christ through his labor and preaching. Thousands had read the Bible in the Runyoro/Rutooro translation he helped prepare. Thousands had worshiped in the St. John's Cathedral he built at Kabarole. And thousands of villagers had safe water supplies because of his efforts.
Born in Uganda in 1877, Balya experienced much hardship growing up: his father had been a soldier in an army that fought the British and lost. Afterward the family wandered a good deal. Eventually he settled in an area which had a strong Christian king. In 1901 he was baptized. Two years later he experienced a call to Christian ministry.
Balya was a go-getter for the things of the Lord. He traversed Uganda on foot and crossed rivers in dugout canoes to preach the gospel. Anglican leaders observed his hard work and his spiritual worth. They steadily promoted him to higher positions of responsibility and influence: teacher, canon, deacon, vicar, bishop. His extensive efforts in behalf of Christ and the church took him throughout Uganda and into Zaire and Sudan.
During 1910 he was a member of a team that translated the Scriptures into Runyoro/Rutooro. Later he inspired and oversaw the building of St. John's Cathedral in Kabarole, a project that he completed in 1939. A statue of him now sits near the church.
Conscious of God's holiness, Balya always entered churches shoeless, considering them holy ground: had not God commanded Moses to take off his shoes at the burning bush?
When Balya retired at 83 years of age, he did not cease his efforts, merely downsized them. He had built a church in his home region of Bunyonyi-Kihumuro: there he continued to preach as well as in nearby churches. His wife Ketura Byanga (also a Christian worker) died in 1952. She had given him ten children. Five years later, he remarried and had two more children by his second wife.
Balya died on 26 November 1979 at 102 years of age. His state burial took place four days later on this day, 30 November 1979, in the cathedral he had built. Many buildings and organizations in Uganda were subsequently named for him.
—Dan Graves