ONANGWATGO ORDAINED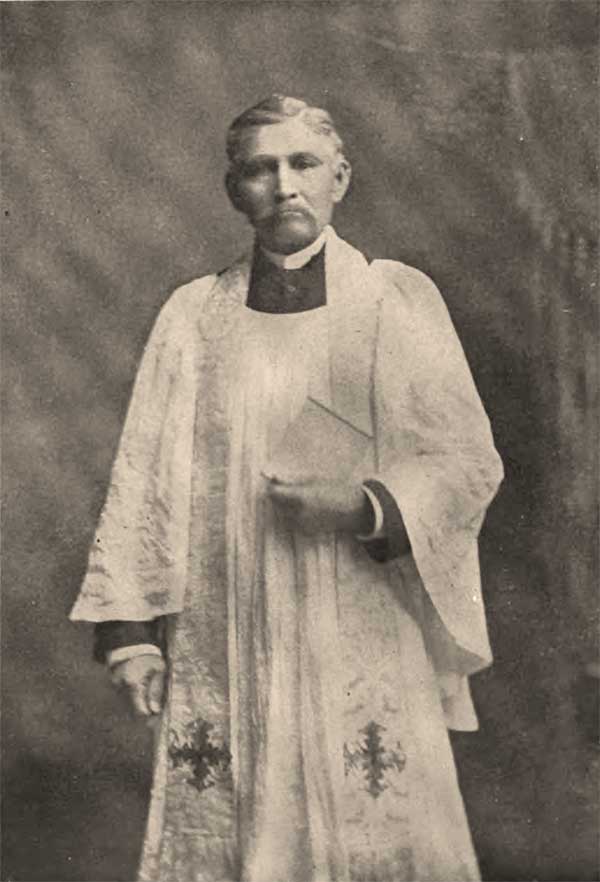 [Onangwatgo—J. K. Bloomfield, The Oneidas. New York: James Stewart, 1909.]
WHEN CORNELIUS HILL was thirteen, Oneida leaders summoned him from his studies at the Episcopal Church mission in Nashotah, to attend a feast in his honor. As the son of an Indian chief of the Bear clan in Wisconsin, he was about to assume the role of a chief himself. In the ceremony that followed, he was given his tribal name, Onangwatgo, "Big Medicine." He would bring honor to that name.
By the age of eighteen, having learned English and the ways of whites during five years of study, he defended his people's land when unscrupulous government agents tried to force them off. He secured the dismissal of one corrupt federal agent in New York. He also struggled to have the terms of treaties enforced, including clauses that promised fishing rights. For a time he was appointed to handle annuities paid to the Oneida by the United States Treasury for their service in the Revolutionary War. He also handled the census of his tribe. Several times he went to New York and Washington, DC, to advocate for his people.
Through Onangwatgo's efforts, the Wisconsin Oneida obtained a hospital and boarding school for their reservation.
An adherent to the Christian faith since childhood, Onangwatgo had acted as an interpreter and Bible reader in church. His fervent desire was to hold an ordained position in the Episcopal Church. On this day, 27 June 1895, his wish was granted. Bishop Charles Chapman Grafton (who took a keen interest in the Oneida) ordained sixty-one-year-old Onangwatgo as an Episcopal deacon—the first Oneida so honored.
During the service, for which he also had to serve as interpreter, Onangwatgo broke into sobs. His infant son had just died in an epidemic and the funeral service was to follow the ordination.
As deacon, Onangwatgo assisted in parish work, continued his work as interpreter and translator, and visited the sick. Eight years later, on 24 June 1903 Onangwatgo became the first member of the Oneida nation ordained as a priest. He died three and a half years later after a month of illness.
The Episcopal Church honors him in its calendar on this day. His daughter Josephine also was a strong supporter of the Episcopal Church and developed a lace-making industry among Oneida women.