Spiritual leprosy has befouled many
Today's Devotional
Naaman, commander of the army of the king of Syria, was a great man with his master and in high favor, because by him the Lord had given victory to Syria. He was a mighty man of valor, but he was a leper—2 Kings 5:1 (ESV).
Did you ever ask yourselves which is the worse—the leprosy of sin, or the leprosy of the body? For my own part, I would a thousand times sooner have the leprosy of the body eating into my eyes, and feet, and arms! I would rather be loathsome in the sight of my fellow-men than die with the leprosy of sin in my soul, and be banished from God forever! The leprosy of the body is bad, but the leprosy of sin is a thousand times worse. It has cast angels out of heaven. It has ruined the best and strongest men that ever lived in the world. Oh, how it has pulled men down!
__________________________________________________________________________________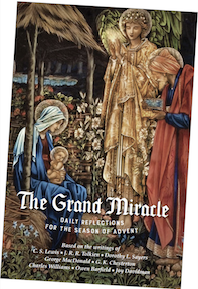 Contemplate the story of the Incarnation day-by-day throughout the season of Advent in our latest publication, The Grand Miracle. Based on the writings of C. S. Lewis, J.R.R. Tolkien, George MacDonald, Dorothy Sayers, and others, each day's reading offers a fresh look at the birth of Christ through the eyes of a modern author. Scripture, prayer, and full-page contemplative images complete each entry. 28 days, 64 pages. Preview the Devotional here.
__________________________________________________________________________________
About the author and the source
When Dwight L. Moody (1837–1899) determined to let the world see what a man wholly devoted to the Lord could accomplish, he was already a successful evangelist. Following his filling by the Spirit, he led half a million people to Christ, founded a pastoral training school, a church, and a printing house, and authored several books. Others compiled works based on his writings and sermons, too—among them the devotional from which we took today's entry.
D. L. Moody. The D. L. Moody Year Book: A Living Daily Message from the Words of D. L. Moody, selected by Emma Moody Fitt. East Northfield, MA: The Bookstore, 1900.